Whether we're swinging flies for salmon and steelhead or skating mouse patterns for resident rainbow trout, when it comes to leader material plain ol' Maxima Ultragreen has become a staple at our lodges in Alaska and British Columbia. Why? It's super strong, abrasion resistant, relatively stiff for nylon monofilament, and pretty inexpensive compared to most other high-tech leader materials.. All good things.
However, by and large our least favourite thing about Maxima is the lack of a 'retainer,' often allowing material to spring off of the spool, creating a frustrating mess in the process. If you've fished Maxima before, odds are you know exactly what we're talking about.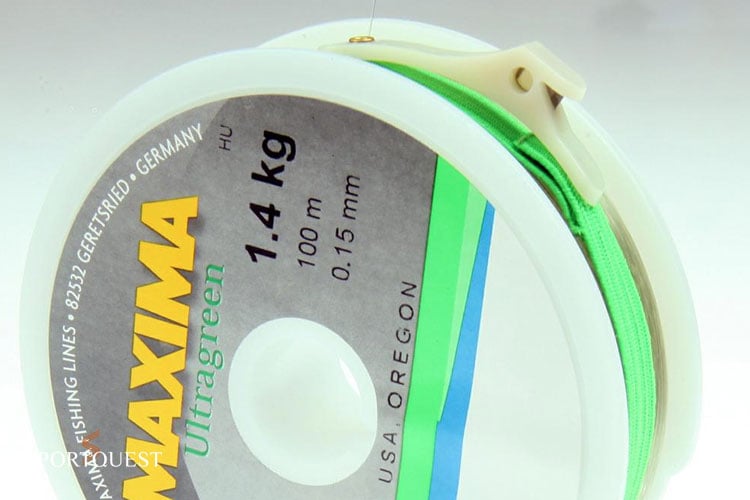 Way back in 2012 we told you about a product produced by Loon Outdoors called Shark Tooth; an elastic tippet retainer/cutter offered in sizes wide enough to fit standard Maxima spools. We really liked the Shark Tooth system, but much to our dismay they were eventually discontinued.
Luckily, the good folks at Maxima must have heard our whines as they recently bought the rights to the Sharktooth Line Management System and they're now available at your local fly/tackle shop!
Maxima Sharktooth Line Management System
The Sharktooth system is beautifully simplistic. Simply wrap the elastic around your spool and thread leader material through the grommet behind the razor blade cutter. To cut a leader, pull off a length of leader material (the elastic will slide while leader is pulled off the spool), wrap around the cutter blade and use your thumb to provide pressure against the cutter while pulling the leader.
Once the leader is cut, approximately an inch or so of leader material remains protruding through the grommet in the elastic to keep from slipping out of the retainer as is common with most tippet retainers included with other leader/tippet materials.
Available in three different sizes and sold in 3-packs, the Sharktooth is one of the handiest solutions we've found to keeping your Maxima tidy and we highly suggest giving them a try.
To see all our freshwater Fly fishing destinations click HERE