Arctic Char are one of those fish that often get regarded as a 'nice bycatch' when anglers are targeting bigger Trout or Salmon species. This is mainly because waters that hold trophy Sea run Char are not as plentiful as that of Trout and Salmon. When you do get the chance to fish waters with big Arctic Char in them they are worth targeting using Arctic Char flies as their spirit and beauty surpasses that of nearly all other Salmon and Trout species that I can think of.
There are many methods of targeting Arctic Char but as with most species of fish the bigger they get the more predatory they become. With this in mind, when chasing that trophy Char it can be a good idea to look at using streamer flies. Streamer patterns normally represent small fish or large invertebrates that bigger specimen Char feed upon, these patterns can be fished in a few different ways to best get a response.
Stripping Flies for Arctic Char
Stripping streamer patterns can be an extremely effective way to get Arctic Char revved up. The time of year and the water conditions will dictate the speed and depth that you fish the fly. A good rule of thumb is always to start up high in the water column and strip your flies above the fishes head as this will start to get their attention without spooking them.
When I start to fish down in the water column I like to fish a weighted fly with a long leader but still on a floating line, this allows me to get the fly down slightly closer to the fish without running the fly line through the shoal and risk spooking them. If this still doesn't induce a take I will then drop the size of my fly and add help from a sink tip to get the fly even deeper.
Sometimes Arctic Char like a fly in front of their faces and this can make a huge difference. The speed and technique of your retrieve can make a great deal of difference to how the fish react and paying attention to these details will greatly improve your chances. Sometimes it is worth using a fast strip and stop retrieve, this will often result in savage takes as the rush in for the take, other days a slower figure of eight will be more to their liking.
Swinging Flies for Arctic Char
This is very similar in its approach to that of stripping streamers. Swinging streamers is just another way of giving them movement. By using a small double-handed rod or a single-handed fly rod and casting between 12 and 2 O'clock when facing the river, you can use the current of the water to put life in the fly.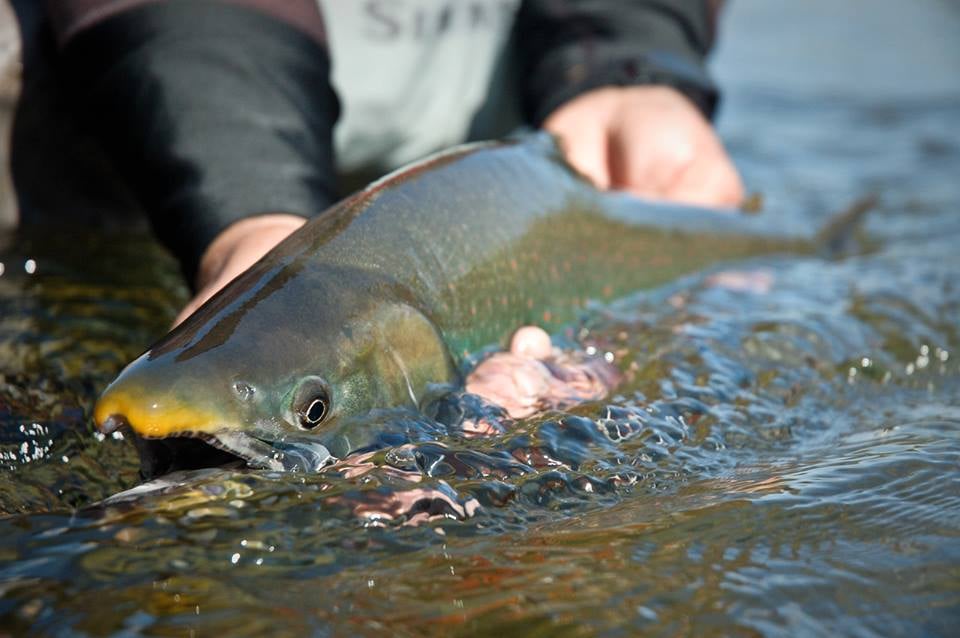 I like to use the same philosophy as I use with stripping Arctic Char flies by starting way up in the water column and working my way through until I find that magic taking spot. Line control is paramount with this kind of fishing as doing the correct things with the line will allow you to slow down or speed up your fly depending on what the fish want. It can be effective to put a little bit of stripping action into you're swinging fly as this extra bit of movement can sometimes make the difference.
Favourites Flies for Arctic Char
There are so many good patterns to fish for Arctic Char it would take long time to mention them all from dry flies to wet flies but I will mention a few that I have had personal success within my fly box. The world-famous Pattegrisen fly has been a great Char pattern for me and can be deadly stripped back in a twitch, twitch pause motion.
The Sunray shadow tube fly has been another big hitter for me in the past as its slender profile darting around in a current seems to drive fish mad.
When I have been forced to fish a bit deeper the good old bunny leach has always served me well, it can be fished very slowly and due to its soft hare body continues to wiggle enticingly.
When the Char are tight to the bottom flies like the belly scratcher and Clouser minnow have been good to get down to the fish quickly and not get snagged due to their upturned hooks. Another good method is using bead heads to create a small Salmon egg imitation
Destinations to Catch Arctic Char
There are many world class places to catch Arctic Char around the world, however, we always get asked what our favourite destinations to target these fish. Therefore below we have compiled a shortlist of all our favourite destinations for Arctic Char where you are assured of a great fishing adventure for most fly fishers.
Kangia River Lodge | Fly Fishing Arctic Char | Greenland
A fly fishing dream in stunning scenery where you can cast a line in crystal clear streams that are full of fresh aggressive Arctic Char. Kangia River is a river truly made for fly anglers, with cut-banks, rapids, slow and deep stretches, waterfalls, and pocket-water all the way down to the tidal influenced delta… Read more
Ata Lodge | Salmon Fly Fishing | Alaska
Alaska Trophy Adventures Lodge is the perfect wilderness fishing retreat. Boasting a world-famous run of all five species of Pacific Salmon, plus a host of resident fish, such as Leopard Rainbow Trout, Arctic Char and Grayling. No set itineraries fish with your guides each day for the species of your choice… Read more
Alaska West Camp | Salmon Fly Fishing
Located on the Kanektok River, only 5.5 miles from its mouth is by all standards a remarkably diverse fishery. Perfectly suited to both single-hand and spey anglers, offering one of Alaska's best opportunities to catch Salmon where high catch-rates and easy wading is the norm… Read more
Rapids Camp | Salmon Fly Fishing | Alaska
Rapids Camp sits right on the bank of the famous Naknek River and is just a 15-minute drive from the King Salmon airport. This is the most diverse and flexible lodge in Alaska, where you the customer, decide what to fish for in your itinerary each day. All five species of Salmon plus huge Rainbows make this lodge very popular… Read more
Bristol Bay Lodge | Salmon Fly Fishing | Alaska
Bristol Bay Lodge is a fishing paradise for Salmon fishing, each year 40-50 million Sockeye Salmon enter the waters. If you want to experience this spectacular sport, we have the perfect location for you. Bristol Bay Lodge is strategically placed in the unspoiled and untouched surroundings of Alaska's pristine Wood-Tikchik State Park… Read more
Goodnews River Lodge | Salmon Fly Fishing | Alaska
If you are looking for a Fishing Lodge that puts you and the fishing first, then look no further. Goodnews River Lodge is the ONLY full-service lodge on the entire river system. Experience the solitude and peaceful beauty of Alaska; it's just you and the fish. No crowds, no flying to the "best" river. It's all here on the Goodnews River – Read more
Contact us
If any of these destinations are of interest or you would like to talk further about Arctic Char fishing, please feel free to contact our fly fishing specialists on 01603 407596 or email peter@sportquestholidays.com. If you would like to see some live action from our lodges, take a look at our dedicated Arctic Char playlist.
Tight lines,
Peter