After reading a recent thought-provoking article in the TTG (Travel Trade Gazette), I thought I should put pen to paper and share what I'd read; as for our company and our industry, it was very relevant. It started with this statement from the CAA or Civil Aviation Authority:
"Pandemic driving up recognition of ATOL brand and its importance.'
For those that don't know, ATOL is a licence that companies (like us) have to qualify for, and we get put through a series of vigorous financial tests, amongst other things, which, if we pass, we get granted a licence. This licence means we can provide packaged holidays with flights and complete financial protection to all our customers who book with us.
The stats in the article made for interesting reading, as it appears now after Covid, more than ever, an ATOL certificate is an essential feature for customers booking a holiday. After all, an annual holiday is usually the largest single purchase a household makes each year.
7 in 10 customers said it was even more critical to have their holiday protected by ATOL since the onset of Covid-19.
4 in 5 customers (83%) also felt it was 'imperative' to ensure they book a holiday with a company with an ATOL licence.
Meanwhile, almost two-thirds of the 3,500 customers surveyed said they believed their last holiday was financially protected.
Michael Budge, the CAA's head of ATOL, said: "Holidays can be a significant financial outlay, especially in the current economic climate. Our research shows that many consumers thought it important to have a trip financially protected by ATOL."
So, please remember to check the financial protection on offer whenever you're booking your holiday.
Ensure you are booking a package holiday. Your Tour operator should provide details confirming that you are booking a package holiday; if you are unsure, it's simple to ask for confirmation in writing.
Check that the tour operator is financially protected. It is simple to check. The ATOL website provides an online tool to search either by the company's name or their ATOL number (If a company displays the ATOL logo, inside the logo is a number unique to that company).
This online tool can quickly check that the company is ATOL registered and offers ATOL protection. It is worth checking for peace of mind and reassurance that your 'holiday of a lifetime' is protected.
You can check if a company is ATOL-protected here: https://siteapps.caa.co.uk/check-an-atol/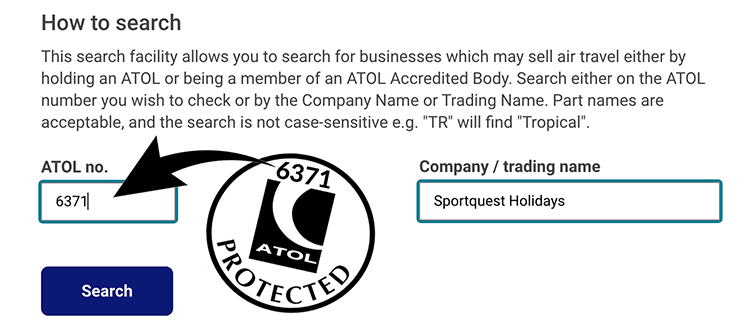 Question what other protection does the company you are booking through offer? For example, Sportquest Holidays offers a "Book With Confidence Policy" We are the only fishing and shooting travel company offering such a policy which gives you even more protection and freedom than any other company.
Therefore it is always worth asking the question, what if? We know these are often the last questions on our minds when booking exciting holiday destinations, but a little bit more time researching what and who you are booking with will always pay dividends if something goes wrong.
CONTACT US
If you have any questions or are unsure about anything, call us in the office on 01603 407596, and we will happily talk you through it all, or you can email me directly at peter@sportquestholidays.com.