Iceland is often known as the land of fire and ice and it's also very well known in the fishing world for its 1st class fly fishing. However many people who visit Iceland for fishing are not aware of just how much else there is to see or do. There is so much to offer Iceland is also the perfect destination to make a family holiday that combines fishing and non-fishing days. If you would like to enjoy everything Iceland has to offer call our offices on 01603 407596 and our staff will only be too happy to talk you through some of your options.
Iceland is a subarctic Island in the middle of the North Atlantic. Iceland's landmass consists of glaciers, mountains, lava fields, lakes and rivers. The Island is actually still geologically and Volcanically active which helps add to its huge diversity of natural interests.
Bookable activities in Iceland
If stunning natural scenery is something that you are interested in then Iceland has to be the number 1 country to visit. To write a list of all the awe-inspiring landmarks to visit in Iceland would take forever and a day so I have put together our top favourites.
Thingvellir
Thingvellir (Þingvellir) is a fantastic national park that includes unbelievable scenery as well as many historical interests such as the ruins of stone shelters and Thingvellir church. Situated in a rift valley the area is often subject to unusual volcanic and tectonic activity.
Another reason why Thingvellir National Park is such a hit with us at Sportquest Holidays is that it is home to a world famous Trout lake, Lake Thingvallavatn. Lake Thingvallavatn is the largest natural lake in Iceland and due to the volcanic waters that flow into it, it is home to a huge array of aquatic life. The area is the meeting point for the North American and Eurasian tectonic plates and the Silfra that is formed from this is a popular spot for divers and snorkelers to investigate.
Situated approx. 40 km northeast of Iceland's capital, Reykjavik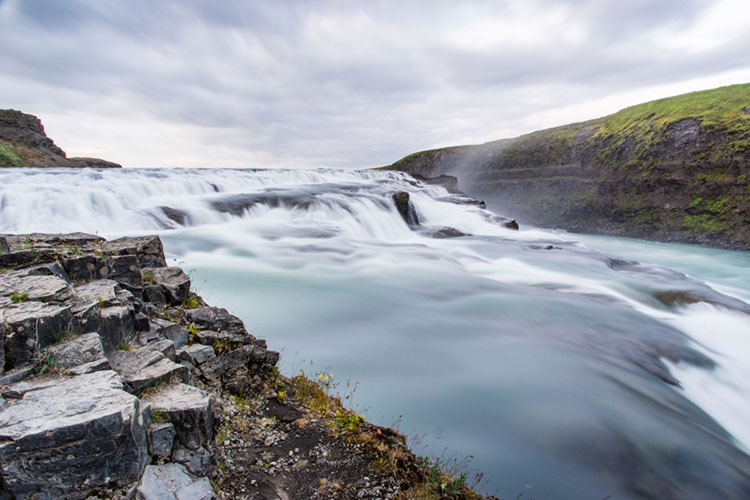 Gullfoss
Gullfoss is during the summer glacial melt. It is the largest waterfall (in terms of volume) in Europe. The waterfall cascades from a 90° bend in the Hvítá river. The river is fed by Icelands second biggest glacier and the crystal clear waters drop down 32 meters in a two stage tier as they flow over Gullfoss. Due to the enormous volume of water that Gullfoss falls creates the air above the falls is thick with moisture and spectacular rainbows are often seen on sunny days.
Situated approx. 116km northeast of Iceland's capital, Reykjavik
Jökulsárlón, is a glacial lagoon with dark blue waters and many floating icebergs dotted throughout. It is a great place to see some of Iceland's wildlife as the fish rich waters of the lagoon bring in many birds and mammals to take advantage of the easy feeding that it supplies. Jökulsárlón has a length of 1.5km but it is its depth of 248m that is most staggering, looking into the clear blue waters and watching the visibility disappear into the dark inky abyss conjures images of lurking sea monsters to the imagination.
Situated approx. 379km southeast of Iceland's capital, Reykjavik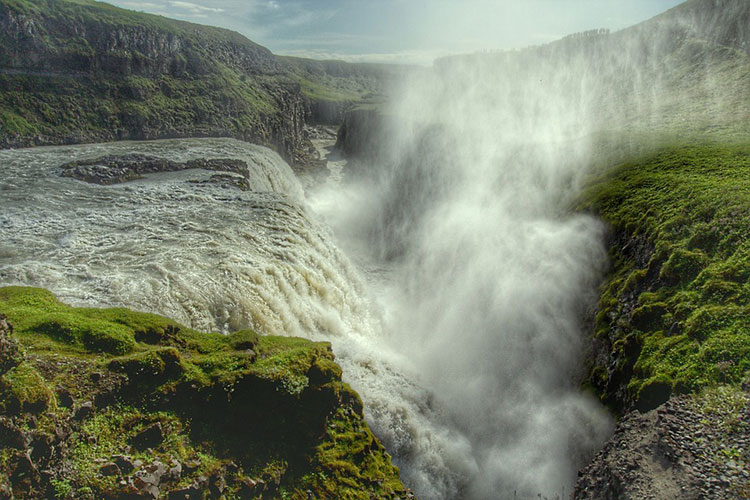 Blue Lagoon
The Blue Lagoon is a geothermal spa. The Blue Lagoon has incredibly mineral-rich waters that are believed to have healing powers for bathers that visit the spa. The Lagoon is actually man-made and is the largest in the world of its type.
It was formed in 1976 as a pumping site for the geothermal power plants waste water. After several years of non-regulated bathing and stories of the supposed healing powers of the water the Blue Lagoon company was formed in 1992. Now the Blue Lagoon replenishes water from the geothermal power plant every two days to keep the water at a constant temperature. The strict codes of hygiene mean that all guests visiting the spa need to shower in the showers supplied before entering the pools. The company has made the whole complex accessible to wheelchair uses so that enjoyment is guaranteed for all.
Situated approx. 50km southwest of Iceland's capital, Reykjavik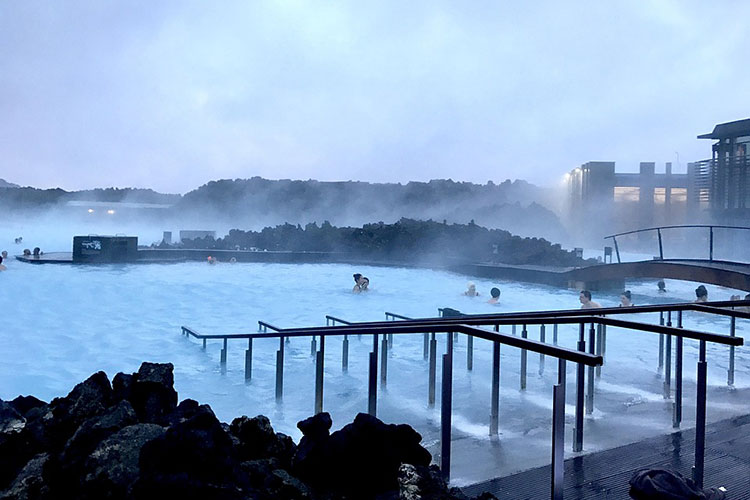 The Great Geysir
The Great Geysir is Iceland most famous geothermal spurting hot spring. It was, in fact, the first Geyser to ever be written about in printed sources and known to Europeans and has given its name to all geyser's. The Great Geysir erupts at regular interval's normally between every 5-10 minutes, there is a roped off area that keeps visitors at a safe bay from the boiling gush of water.
The Great Geysir has been sadly been demoted to just Geysir by many in recent years due to the much smaller spurt it produces now compared to its former years. Many scientists believe that all the Geysir needs to put the 'Great back into its name with some sustained seismic activity. In 1845 its spurt reached a colossal 170 metres and its because of this awesome potential and history surrounding it that we still regard it as The Great Geysir.
Note: The geothermic area that surrounds The Great Geysir, is also home to Strokkur geyser that is definitely worth a look.
Situated approx. 100km northeast of Iceland's capital, Reykjavik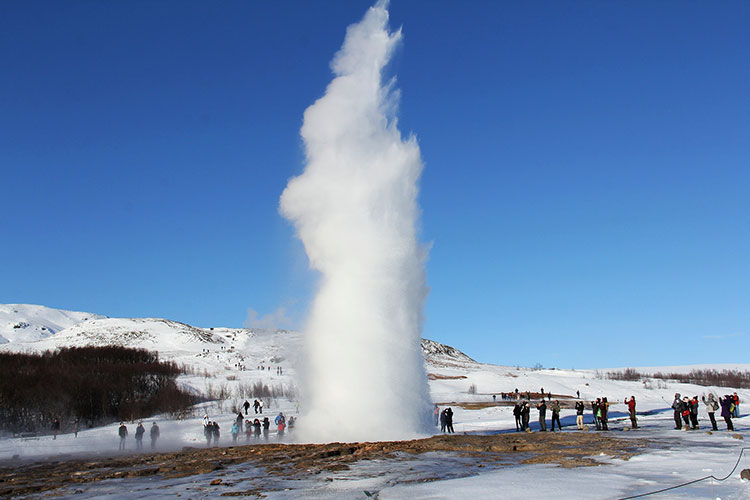 Snaefellsnes Peninsula
Snaefellsnes Peninsula protrudes from the western coast of Iceland, at its furthest point is the Snæfellsjökull National Park that has some unique landscapes. The stand out feature is its  700,000-year-old glacier-capped stratovolcano, there is a path a that leads through many lava fields to a black pebble Djúpalónssandur beach.
Situated approx. 190km northwest of Iceland's capital, Reykjavik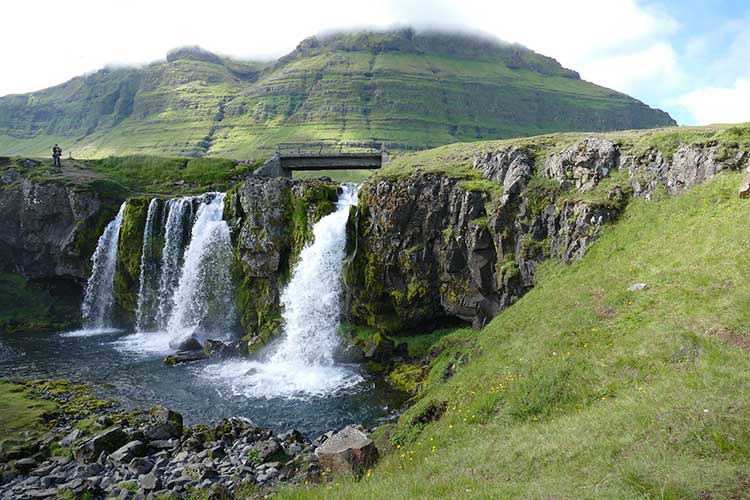 Skaftafell
Skaftafell is another of Iceland's famed national parks, surrounded by wilderness and a super place for camping in nature. The park is awash with mountains, waterfalls, valleys and volcanoes. Skaftafell is the perfect place to lose yourself in, spending time in a place like this you begin to realise why Icelandic people believe in such things as fairy's and trolls.
Situated approx. 326.2 km southeast of Iceland's capital, Reykjavik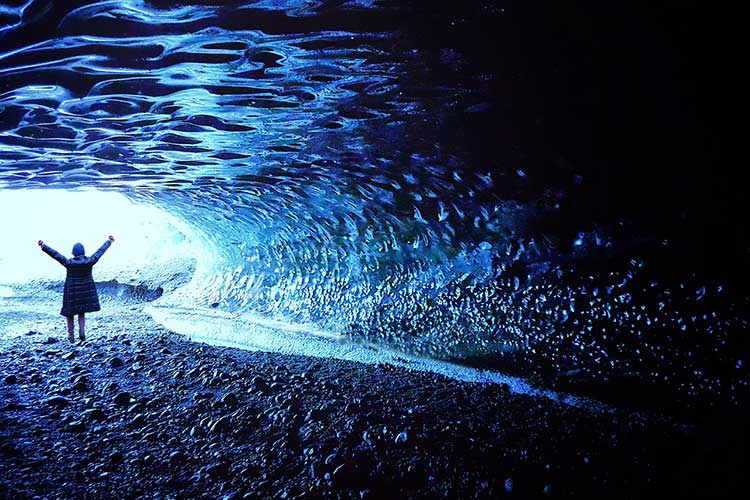 Goðafoss
Goðafoss is a C shaped waterfall of particular beauty, the water flows from the river Skjálfandafljót over a width of around 30m. It is believed that the waterfall is cursed by the Norse gods, this is due to their statues being thrown into the falls after the country turned to Christianity in the year 1000. The Goðafoss is without doubt one of the most stunning waterfalls in the whole of Europe and a must see when sightseeing in Iceland, for a particularly spectacular experience visit during the winter months and view them under the Northern Lights.
Situated approx. 422 km northeast of Iceland's capital, Reykjavik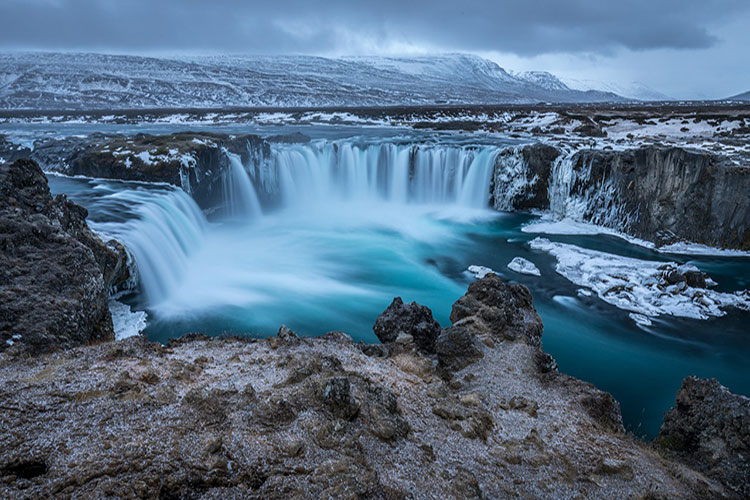 Contact us
As you can see this is only a snapshot of what wonders and delights Iceland has to offer, so we all look forward to seeing you and welcoming you soon. Remember if you would like to speak to our fly fishing expert, Peter Collingsworth, on peter@sportquestholidays.com or call us directly on 01603 407596. If you would like to take a look at all of our Iceland tours, you can do so here.