Essentials of Sea Fishing Clothing for a Norwegian Adventure
Setting off for a sea fishing adventure in Norway is nothing short of thrilling. The land of the midnight sun is well-known for its rich marine life and exceptional fishing locations. But as anyone who's ventured into the North Atlantic will tell you, the right clothing can be as vital as your fishing gear.
Weather in Norway can be unpredictable and extreme, which is why proper fishing clothing is key to enjoying your trip. This guide will walk you through the essentials of sea fishing clothing for a Norwegian holiday.
Understanding Norwegian Weather
Before we dive into the gear, let's set the scene. Norway's climate is influenced by the Gulf Stream, which brings relatively warm water northward along the country's coast. This means coastal areas have milder winters than you might expect for such a northerly latitude.
However, don't be deceived – the weather can change quickly, with bright sunshine turning into chilling winds, rain, or even snow within minutes.
Just a few weeks difference at Mefjord, Norway
Layering – Your Best Friend
The secret to staying comfortable in Norway's changing weather is layering. Multiple clothing layers allow you to easily adjust to changing conditions. Start with a moisture-wicking base layer to keep sweat away from your skin.
Add a warm middle layer (like a fleece or wool sweater) for insulation, and top it off with a waterproof and windproof outer layer to shield you from the elements.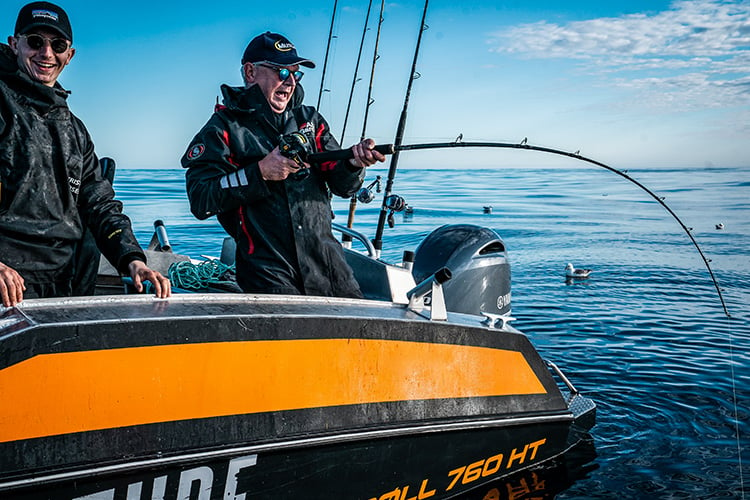 Waterproof & Windproof Jacket
A quality waterproof and windproof jacket or flotation suit is a must. Fishing trips often involve long periods out on open water, where wind and spray can quickly soak through lesser outerwear.
Look for jackets or complete suits designed for sea fishing or sailing, as they typically offer robust weather protection and often have features like high collars, adjustable cuffs, and secure pockets that are handy on a boat.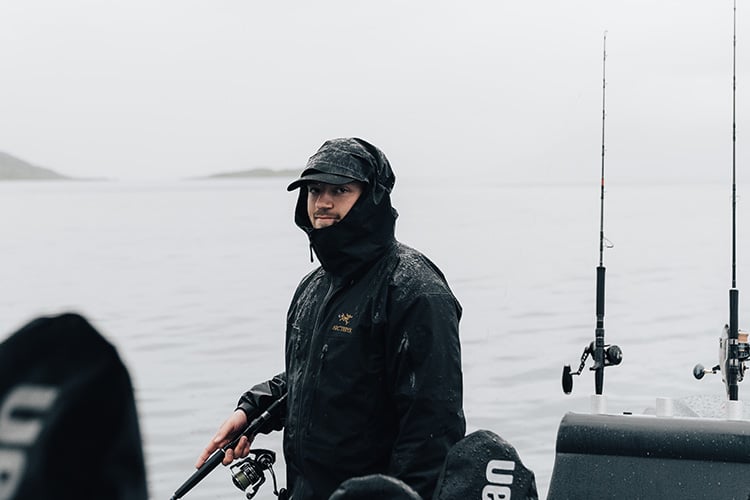 Insulated Trousers
Insulated waterproof trousers are another essential item. Like your jacket, these should be windproof and waterproof. Bib-style fishing trousers are a popular choice because they offer extra coverage and warmth around your core.
Boots
Good footwear is critical. Look for insulated, waterproof boots that have non-slip soles for safety on wet decks. Some anglers prefer boots that come up to the knee for extra waterproof coverage, while others find shorter boots more comfortable.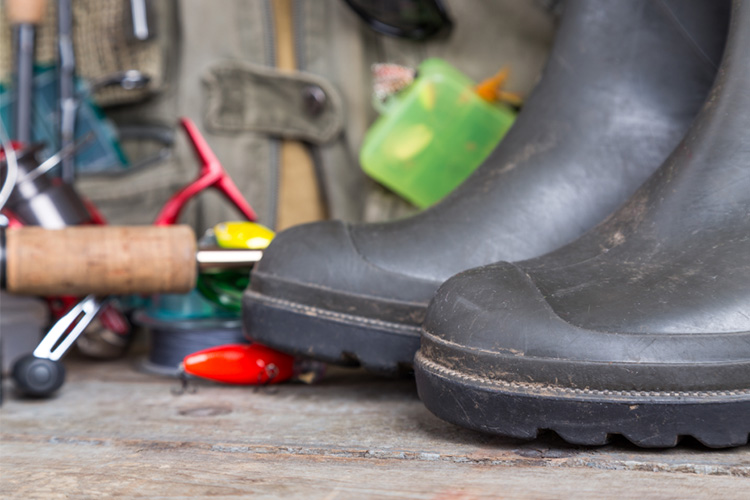 Gloves & Hats
A warm hat and waterproof gloves are a must to protect against heat loss. Consider gloves designed for angling, as these often have features like cut-off fingers for better dexterity when handling fishing line.
It is highly recommended that you take at least two pairs of gloves, one for fishing and one for driving around.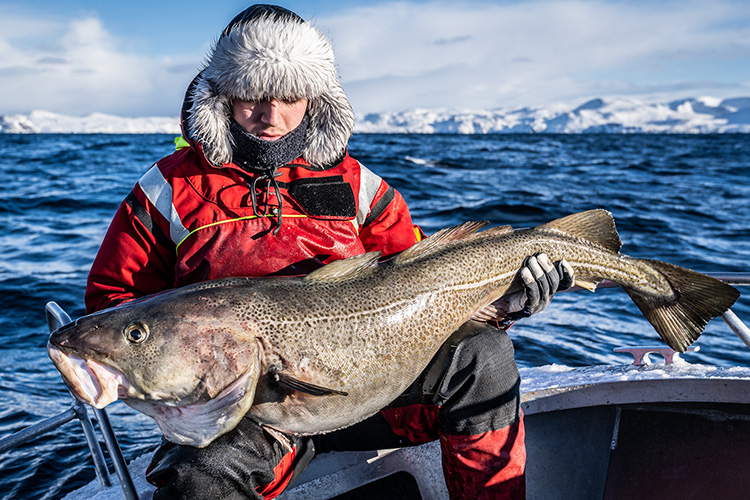 Sunglasses
Even in the far north, sun protection is important. A good pair of polarised sunglasses will protect your eyes from UV rays and reduce glare from the water.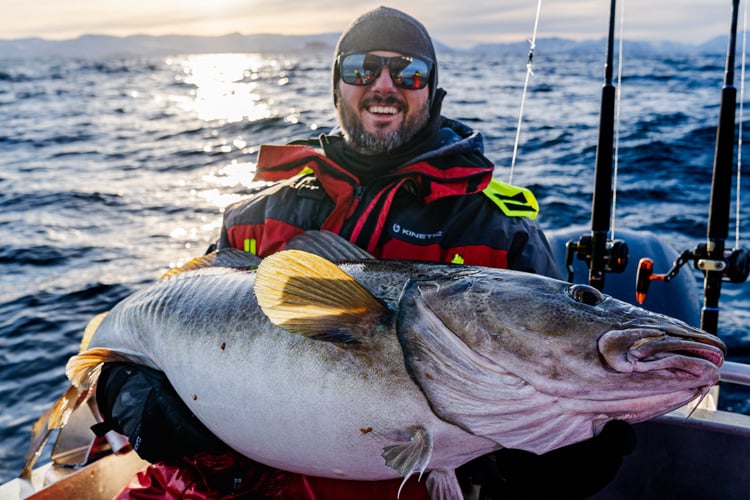 Wrap Up
When packing clothing for a boat fishing holiday in Norway, prepare for a range of weather conditions. Choose high-quality, weather-appropriate sea fishing clothing, and remember: it's better to have it and not need it than to need it and not have it.
With the right clothing, you'll stay comfortable and focused on what you came for an unforgettable fishing experience in the stunning waters of Norway. So pack smart, and tight lines!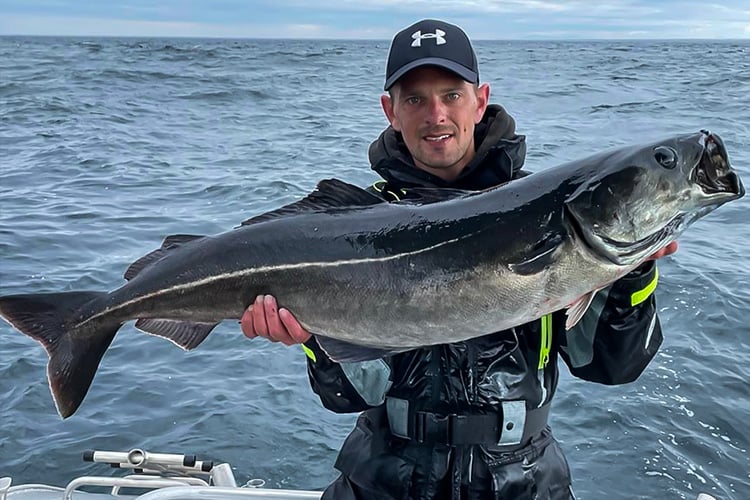 Shore Fishing Clothing
Our guide Ross has created a video, which can be found below, dedicated to everything you need to know about clothing for shore fishing in Norway, from hats down to the best boots.
Recommended norway fishing clothing
Thermal base layers (top and bottom fleece linings)
2 x pairs of either jogging pants or tracksuit bottoms
2 x long sleeve t-shirts
1 x fleece (preferably zipped type)
2 x Hoodies
2 x pairs of thermal socks
Recommended Outer layers for fishing in Norway
Lightweight waterproof jacket and trousers (for on land more than on the sea)
Flotation suit (can be hired)
Good pair of waterproof thermal boots
Thermal woolly hat
2 x pairs of fishing gloves (Neoprene are best for fishing in)
2 x pairs of big gloves for when either driving the boat or moving from mark to mark
A ski mask or similar balaclava (if winter fishing)
MORE INFORMATION ON NORWAY SEA FISHING
CONTACT US
We have a wide range of exciting sea fishing tours in Norway and you can see them all on our dedicated Norway sea fishing page. If you'd like to know any further information on any of the fishing and accommodation on the tours we offer you can contact our sea fishing manager, Paul Stevens, on 01603 407596 or email at paul@sportquestholidays.com. Alternatively, you can submit an enquiry through our website here.
If you would like to take a closer look at our sea fishing trips to Norway, You can watch our full list of Norway Sea fishing videos here.