If you want to take your guns to another EU country then you will need to get a European Firearms Pass even if you're already a GB holder of a shotgun or firearms certificate. The EFP supports your existing firearms or shotgun certificate and so it will expire on the same date. You should apply for an EFP by making a request to your local firearms licensing department, there is no fee and you should expect the process to take approximately two weeks.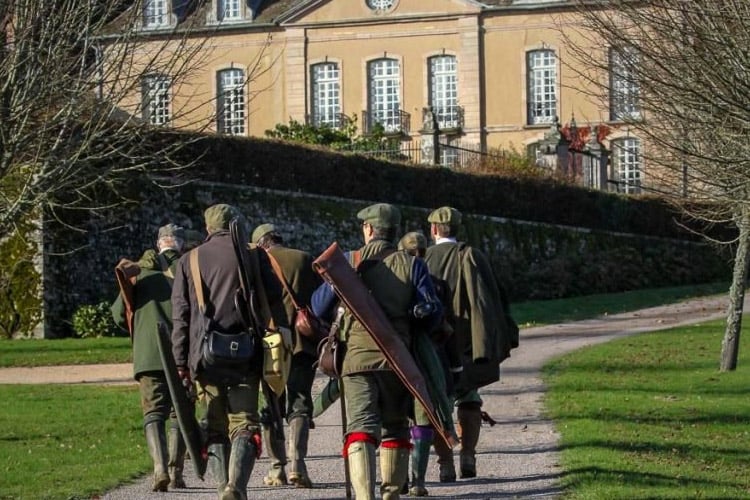 Here is some information you'll need when travelling to France with your gun but bear in mind that when travelling as laws concerning possession of firearms vary by local state and international governments
You will need your European Firearms Pass and your Shotgun Certificate
You will need to notify the airline in which you're travelling with that you are travelling with firearms. You may want to enquire prior to travelling as limitations and fees may apply. Always declare each firearm each time you present it for transport as checked baggage and it will need to be in a hard carry case and be sure to declare to customs that you are travelling with shotguns or firearms.
To shoot in France you will need a validated Permis de Chasser. For this purpose, your Shotgun certificate counts as a Permis and can be validated for 3 to 9 days. You can apply for this online via the website of the hunting federation for the department of which you will be shooting.
The box for the details of the Permis is freeform and will accept the details of your Shotgun Certificate.
You will find the costs may vary depending on the size of the game you will be shooting, small game or large game (deer, boar etc) and also whether you wish to shoot in just one department or more. The process should only take a few days.
Keep with you the information as you may be asked to show your validation at the start of the day.
You will need to show proof of insurance so keep that with you too.
Contact us
We hope this has helped you with the basics when it comes to travelling to France with your gun. If you have any more questions, let us know below. If you would like to contec tus in the office regarding a shooting holiday, you can contact our shooting expert, Peter Collingsworth, on 01603 407596 or by emailing peter@sportquestholidays.com.
Shoot Straight,
George