We get asked regularly about travel bags and cabin bags, and with the current market being filled with hundreds of options for fishing luggage, it can seem quite daunting and difficult to decide what you should be looking for. Being in this industry for many years we have developed quite a substantial understanding of what 'makes or breaks' a fly fishing travel bag.
However, we would love to hear what you think makes for the perfect travel luggage. Below we have listed 3 questions to get you thinking about what you currently class as 'the perfect bag'.
---
What is the best fly fishing travel bag you have used?
Whats good and bad about them?
What would you like to see in a fly fishing travel bag?

There are so many attributes a good bag needs for the travelling angler, and its not all about size! Below are five things we always take into consideration these days when picking out a new fly fishing travel bag: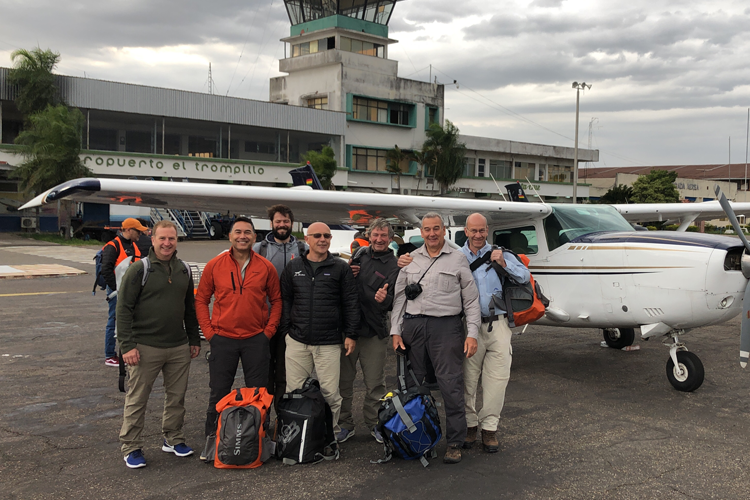 1. The weight of bag when it's empty?
This is an easy one to answer, it needs to be as light as possible because we all like to take as much fishing tackle as we can. The baggage weight restrictions on international flights is never a problem, but when you have to take an internal flight to get to some of the more remote destinations the allowances for weight drop dramatically, and the last thing you want is the bag itself to take up half of that.
The bag also needs to be really strong to handle all the abuse given by baggage handlers at airports, plus it needs to give some sort of protection to the delicate fishing items you may have packed. This added strength starts to mean that the overall weight is also higher.
For example the XS Travel bag from Snowbee comes in at just 4.5kg when empty, which is very light considering the 6mm thick impact-resistant frame and stand up roller function.
2. Soft or hard case?
Yet again there are advantages for both sides of the spectrum, hard cases will do a much better job of protecting your delicate equipment, however, as I tend to find with my job, exploring the more remote destinations, often only allow anglers to have soft bags so they can be squeezed and moulded into tight cargo holds on small planes and transport.
This is where a bag such as the Simms GTS Gear Duffel Bag really comes into a world of its own, on those smaller transport shuttles with very small luggage holds.
3. Material?
When it comes down to picking a material for your bag, you really need to consider the following; It needs to be light, extremely strong and with some degree of waterproofing. Materials such as CORDURA® offer a good blend of these requirements, with companies such as Simms and Patagonia both adopting this material into their travel bags.
For example, the Orvis Carry-it-All designed by Perk Perkins to be sure his equipment stayed safe and in his possession on flights to fly-fishing destinations – is made with a CORDURA® ECO 600 denier polyester and offers amazing protection for travelling anglers. It also needs to be able to withstand all the rubbing & wear and tear from luggage belts that seem to love ripping out the bottom of bags.
4. Fishing rods – Do you check them in inside your bags or pay separately?
Another huge factor that is often the main concern for us anglers, is our rods. Nothing is worse than waiting at the baggage claim to see if our luggage turns up in one piece. I really don't want to check in another piece of luggage at the airports, as I prefer to use travel multi-piece rods packed in a hard rod tube packed securely inside my bag, so the bag needs to be long enough to take these standard rod tubes.
Alternatively, bags such as the Simms GTS Rod & Reel Vault are perfect for transporting up to 6 9'6″ 4-piece rods and eight reels/spools in a highly durable and crush-resistant compression moulded ballistic nylon. Although this would require anglers to bring another bag for tackle, its a great option for carrying multiple setups with complete peace of mind that all your gear is safe.
5. Roller or carry on?
My last 3 travel bags have all had wheels or rollers as it helps especially when having to transfer between planes and terminals. Lugging 20 kilos on my back around airports along with camera bags and hand luggage is not my idea of fun. However, it is quite often the rollers that get smashed or worse caught up ripping the bottom of the bag in the process.
The Simms GTS Roller is a rugged, weather-resistant workhorse that also pairs up perfectly with the GTS Rod & Reel Vault mentioned earlier to create an almost all-in-one travel setup.
What do you think is the perfect fly fishing travel bag?
I have tested a full range of travel bags over the years from low-cost budget bags to very expensive luxury models, but I am still yet to find a travel bag that will last me more than one season. (I do travel lots each year running a fishing holiday business) which probably makes me a tackle manufactures worst nightmare.
I would love to hear your views and recommendations so please feel free to recommend any make or model based on actual experience and post your comments in the comment box at the bottom of this page. The more peoples experiences we receive the better. You never know between us all we may end up designing the best travel bag ever to be put into production!
Tight lines
Peter Collingsworth
Contact us
Now that you have the perfect fly fishing travel bag, its now time to put it to the test and get travelling! If you are in need of inspiration, why not have a closer look at both our freshwater and saltwater fly fishing destinations pages on our website.
If you have any questions about any of our fishing trips or would like advice on the tackle or equipment we recommend for your holiday even if it's just about what travel bag to invest in, then please feel free to contact our fishing team by email on info@sportquestholidays.com or call us on 01603 407596 and our team will be more than happy to help you with any queries you have.