The last week of August is now over and what top fish have come up! We rewind the tape from the beginning and you will hear.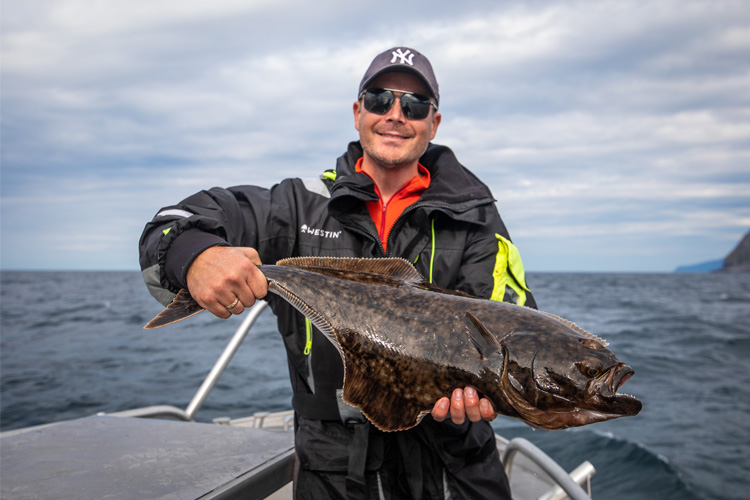 The first day offered lovely weather with southern winds and, as always, we took the opportunity and flagged for a long trip out on the north side.
In a joint squad, we went about an hour from the camp and spread out over a larger area to find the fish. Quite immediately, Göran and the gang found a lot of nice Cod around 10 kg at a depth of 55 meters and not long after a smaller Halibut that had to swim on again. We other boat teams caught a lot of fish but of a much smaller size.After a couple of hours of fishing, the boats started to fish their way home and so did the guide boat that was steered by Johan Mikkelsen that day. Tomas in the guide boat then pulls the first Halibut of the day, which unfortunately was just below the measurement, which also had to swim on again. We decide to put in a couple more drifts on Halibut before we leave for the day. New location and once again Tomas stands with a Halibut hook and up comes his second Halibut for the day. Also this one of a smaller size but still fun with Halibut in the boat. In the same place, it hits well in Peter's rod and the characteristic Cod swing in the rod indicates better fish. Up comes a stable Cod of a whopping 14 kg, which had to be the top fish of the day.
Friday also offered fine weather with good quantity fishing where both guides Calle Hjelm and Kristian Hausken were out guiding. They report a lot of Cod this day with top fish around 10kg. Calle also reported that 2 pieces of Halibut landed in the guide boat this day, however, both also under the measurement of 80 cm so they had to swim on again. The biggest Cod of the day went to Linnea from Boat 9 with a nice Cod of a whopping 13 kg, which is also her new personal record! Magnus from Boat 10, who is making his first trip to Northern Norway, also improved on his PB with a nice Cod of 12.5 kg and Tony "Raggarn" from the same boat also caught a really nice Whiting this day.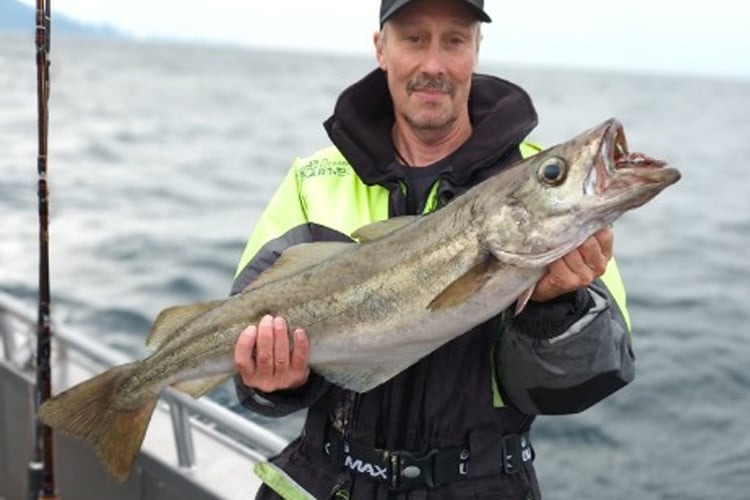 On Saturday, the weather outlook looked worse, so Johan, who guided this day, chose to go out already at 05:30 to get the tide and the best conditions before the wind would come. On the jetty he is met by Boat 9 and Boat 6 who were ready to go out before the storm came.
Boats 9 and 6 chose to go directly out on the deep edge on the north side to pull some Cod. Instead, Johan chose to spend the first half hour just outside Nappstraumen to fish for Plaice as the tide was perfect for this. After about 20 minutes, Tomas and Marcus had each landed a Plaice of more than a kilo, the largest of which was a whopping 1.4 kg for Tomas. Dinner was saved, after the quick stop they continued out to catch some bait fish to be able to do a few hours of targeted Halibut fishing. Once in place, Johan fishes up a bunch of nice bait fish, both Mackerel and small Coalfish. Sometimes Tomas and Marcus tease one Cod after another. But as the focus was on Halibut this day, they left the place even though the Cod was on the hook. It would turn out to be a good decision because on the third drift, Marcus manages to hook the first Halibut of the day at a whopping 108 cm! They change the operation to the same place and then the second Halibut of the day hits, also this one on Marcus's rod. A nice Halibut of 83 cm! They rearranged the operation again and this time it was Toma's turn, but unfortunately it was lost. Several contacts and missed fish then it was brother Marcus' turn again with the third Halibut of the day in the boat. A fish of 90 cm. Tomas once again drops a nice fish, and Marcus drops the egg sandwich on the colander at the same time. Marcus who was more focused on the egg sandwich than Tomas 3 lost fish for the day exclaimed "NO, the egg sandwich.." At the same time that Tomas stands with a blank look and once again lost a nice Halibut…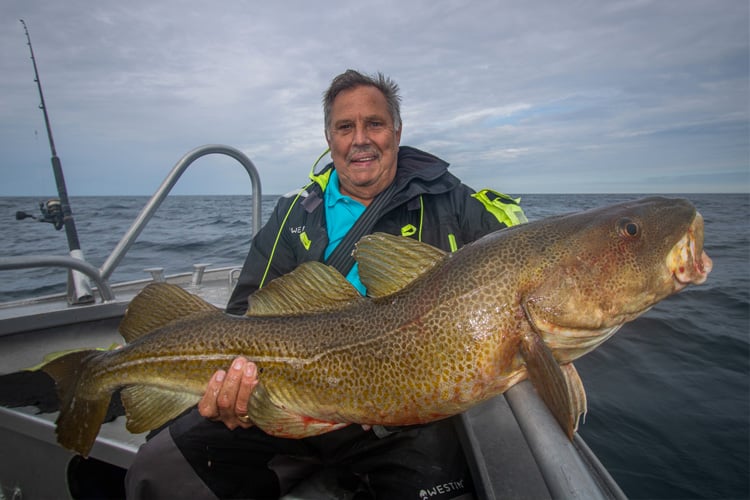 That comment could not have hit harder than at that very moment. Tomas took it and we all had a good laugh. Around 10 o'clock it started to blow up strongly and we decide to end the fishing a little closer to the camp. We are testing a new spot on Plaice, even though the wind was already pushing hard. 3 fast Plaice were landed in a small area. Then they decide to round off the day when both rain and wind increased more and more. Boats 9 and 6 landed a bunch of Cod this day too, but no larger specimens before they also had to seek port due to the weather.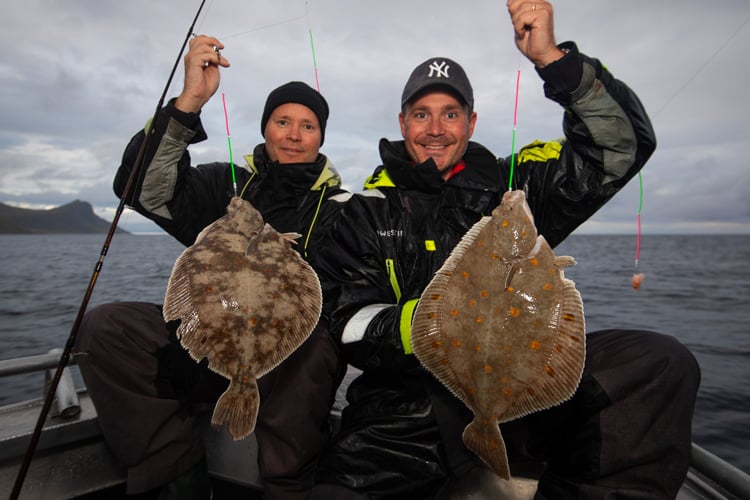 On Sunday, we were mostly blown away. A few brave souls ventured out just outside the cabins to try Plaice fishing. It turns out to be tougher than you might think. Some smaller Plaice were landed this day, otherwise it was mostly a day where people sought shelter in the cabin.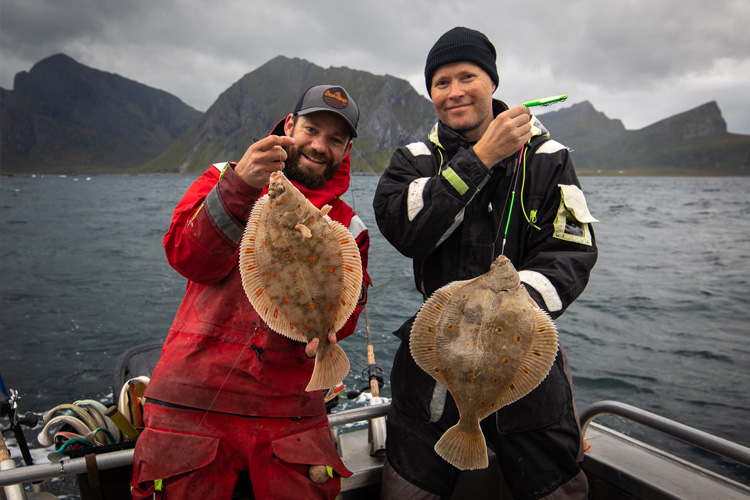 On Monday, it wasn't very windy, but a lot of rough water remained out on the north side after Sunday's storm. Kristian and Calle reported a good amount of fishing up to 6-7 kg on the Cod. Kristian, who steered the guide boat this day, tells us that they spent the first hours on Cod where they got a good amount of fishing and then spent the last 3 hours on Halibut. Several contacts, one dropped at the edge of the boat and one landed at 87 cm. The highlight of the day, however, came from Boat 9 when Martin Andréasson manages to catch a new personal record for Halibut and the biggest of the week at 162 cm! A powerful fish that they will not soon forget.As always this swim was passed again after a few quick photos as we urge all our guests to release Halibut over 130cm to preserve this fantastic fishery we have up here in Northern Norway.
Tuesday probably offered the absolute best day of the week when it came to good activity with a lot of Cod that were on the hook where also the week's two biggest Cod of 18 kg were landed by Oscar in boat 9 and Tony "Raggarn" in Boat 10. Calle also reported on cruel Halibut fishing again with 3 landed in the guide boat where one of them was approved as well as a bunch of really nice Plaice with the largest of a whopping 1.6 kg on the new Plaice position. A really great ending with many satisfied guests and big fish from our camp here in Nappstraumen!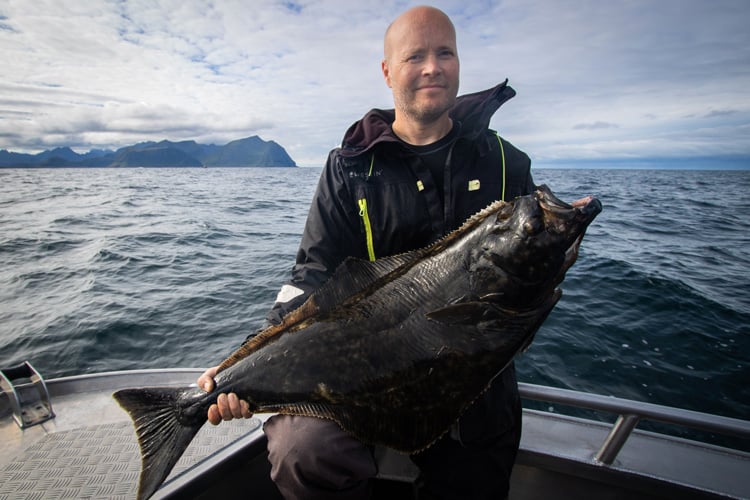 We thank this week's guests for a lovely few days and get ready for next week's guests arriving today. More from us in Nappstraumen here in Lofoten will be coming soon!
Best regards,
Johan Mikkelsen, Calle Hjelm & Kristian Hausken
CONTACT US
It looks like its been a fantastic week at Nappstraumen. If you would like to know more about this fantastic sea fishing tour to Nappstraumen on the Lofoten Islands and how you can join us, you can contact our sea fishing specialist, Paul Stevens, on 01603 407596 or email at paul@sportquestholidays.com.