The autumn fishing here in Northern Norway delivers once again!
The weather this time of year usually creeps down to zero degrees and the first snow usually falls on the beautiful mountains here in Lofoten. Most fishing camps have already closed for the season, but now is actually when the fishing can be really, really good. It is this time of year when the water temperature drops as the Herring come close to the coast and of course the Cod and Halibut also follow. Not only that, you can come into contact with Halibut in really shallow water and even watch them come up to take your bait, something that gets the adrenaline pumping.
We have received a few guide days now in October where, among other things, our guide Alexander Lindgren went on a 4-hour trip with the guest Mads and his son to try his luck on the Cod. A short drive out on the north side, Alexander found huge shoals of Herring and there was a chopping inferno of Cod. To quote Alexander himself after the trip, "It was the best Cod fishing this season!", even though it wasn't the biggest Cod, there were just incredible numbers and they hit as soon as they came down. Even though they only fished for a little while out there, it was completely crazy.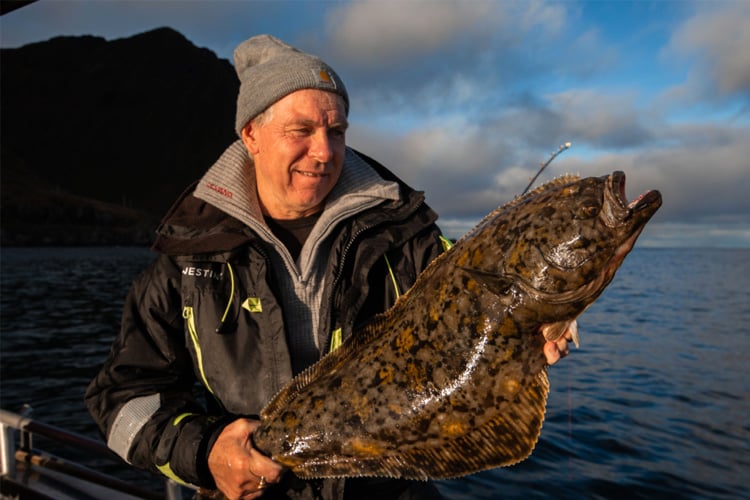 Then some loyal guests came up who wanted to try the autumn fishing we talked about so much, even though the weather can be changeable this year. Glenn and Eddie , who both live in Oslo, got on the plane up to here in Nappstraumen for a 3-day guided fishing with their sights set on Halibut. Both have fished with us for many years and at several of our campers, they were ready to go all in regardless of the weather!
Our guide Johan Mikkelsen then received a call from Abdel who was happy to join the boat two of those days which would turn out to be his best decision ever!
On Friday, Johan meets the 3 guests who were fully rigged for a day of Halibut fishing. It was 7:30 a.m. when they left port, even though the light was weak, the magical golden glow began to show itself more and more. The weather was calm this day but there was still very rough seas on the north side. They then chose to start the day by catching some bait fish. Sometimes when Johan and Eddie pull up some small wins, Glenn sends down his Slim Jim jig from Westin, an old classic that he has previously caught his PB of 149 cm. He barely got to the bottom before he stood with his rod bent and up came the first Halibut of the trip. A small fish that quickly had to swim on again, but nevertheless a Halibut. Good start to the day!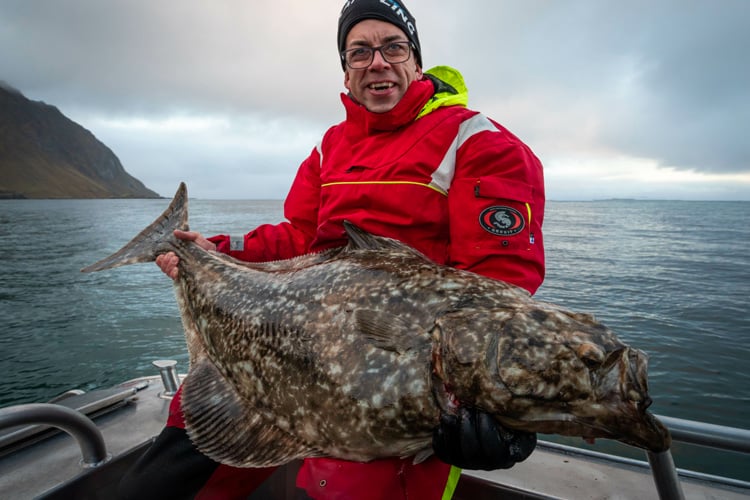 When they had managed to catch a bunch of baitfish, the hunt for Halibut began. They chose to go in really shallow and before they knew it Abdel was standing with the rod bent and the second Halibut of the day had been landed. Even this one below the measurement, which then had to swim on again. Then Eddie responded with a nice Halibut on the meter during the same drift which offered a real fierce fight in only 8 meters depth! We decided to change the operation and we barely make it down before Glenn calls out that he sees a Halibut under the boat that the next second devours his bait fish, unfortunately this one was not hooked but just seeing the whole sequence of events was a cool sight. What a start to the day with a total of 3 landed and one missed. It would turn out to be more contacts that were missed and small nudges on jigs and bait fish before Glenn was once again standing with the rod bend and this time we managed to land a nice fish of 81 cm. 4 Halibut in just under 2 hours of fishing. A couple more drifts were made in the area with several more contacts, then they decided to test a new area. Here, however, the wind was blowing and it became difficult to fish effectively. An attempt at Plaice was also made, but even this was difficult as the wind and current had started to pick up.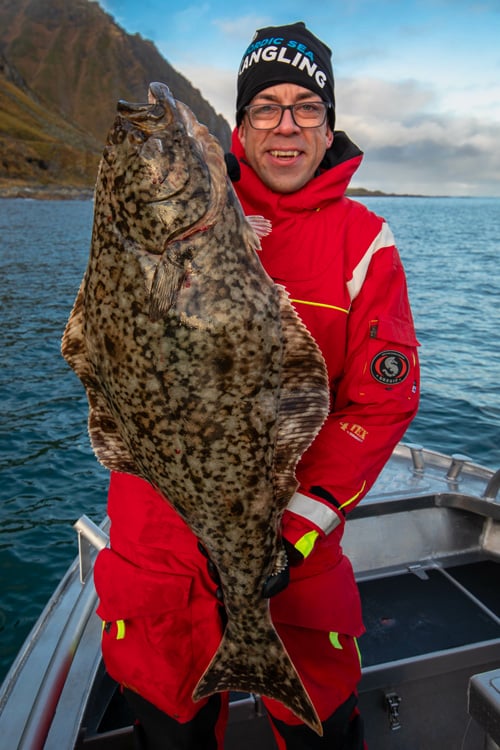 They chose to round off the day by going back to the area they had the Halibut earlier in the day. They got a few more contacts but no one landed, then they decide to do the last operation of the day. Then what we've all been waiting for happens! SMACK, Eddie's rod takes a deep bend followed by a brutal sideways rush. Here it was full speed right away and Johan shouts for everyone to crank up as fast as they can, here there was no time to wait, as they were fishing in such shallow water. Here they had to drive after the fish. When the situation was a little more controlled, Eddie was then able to take command and force the fish up to the side of the boat. Johan sets the Halibut hook and the fish is hooked perfectly in the corner of the mouth with the circle hook. The fish was measured at 125 cm and offered a really nice fight. Sometimes as we measure the fish, Abdel shouts and stands with rod pressed against the rail and a reel that howls as the line is pulled out at incredible speed. Everyone is in shock, we who thought we had cranked up all the rods had clearly forgotten a rod in the bow. Once again, the gang was at full speed and Johan had to quickly drive after this fish while Glenn and Eddie had to take care of the 125 cm that they had just landed. It would quickly become apparent that this one was also of a better caliber and once they were above the fish they realized that this one was even bigger than Eddie's. It wouldn't leave the bottom at first no matter how much Abdel took in.
After a while we see a large shadow coming up towards the boat. Johan sets the Halibut hook and the whole gang JOYED with happiness! It was secured and it was even bigger. A whopping 140 cm and a great end to the day, it was Abdel's big dream to catch such a fish and we all now stood with big smiles on our faces and could note 6 landed Halibut and more contacts during the first day's fishing. WOW!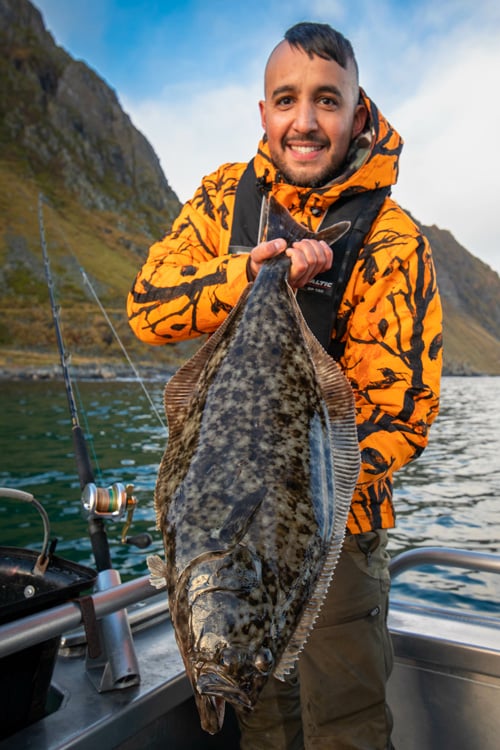 Day 2, unfortunately, the storm came and with its 12-17 m/s and rain most of the day, there were no easy conditions for the guide Alexander and the guests Eddie, Glenn and this day Mads, who had previously been out Cod fishing. They could only fish in a very limited area and the cold wind with whipping rain in their faces made it all very difficult. Despite this, Mad's rod narrowly missed something big and after a great rush, it is unfortunately lost. They battled on for another couple of hours and had a couple of nice climbs on Halibut, but unfortunately, none landed. After this tough investment, despite the weather, they chose to cancel a little earlier this day, which we fully understand.
Day 3, the last day for Glenn and Eddie. Abdel was also back this day and Johan behind the wheel. The wind was at its steady 12 m/s followed by some hail showers that made the cheeks red and cold. Of course, Johan wanted to go back to the place where they had the incredible fishing on Friday, but he quickly had to change that plan when rough seas and strong winds met him. They simply had to lie a stone's throw from the camp, sheltered from the worst wind. Despite this, they operated at a good speed and tested both shallow and deep. A couple of contacts with half-bait fish as a result. A clearly difficult fishing day. Then it narrowed for Eddie at a depth of 7 meters and a nice Halibut around 80 came up to the edge of the boat which tore free soon after. An important fish after fighting for several hours.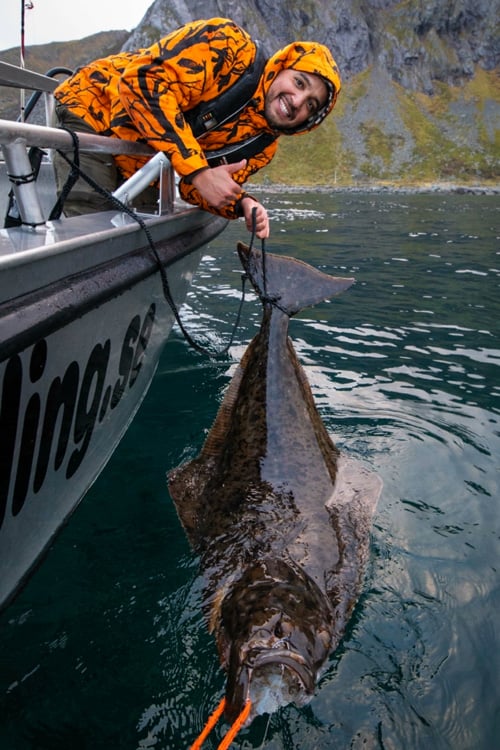 It always happens on the last drift… So it was also this day, when they drifted out to a depth of 20 meters in the Nappstraumen, dropped down to the bottom and cranked up 5 cranks. Then came the pacifier. Glenn got ready, let the fish chew on the bait before the line pulled away. Then Glenn reels in the hook, and the rod bends deeply.. It sits, and a couple of strong head shakes show that it's a bigger fish. It rushes out into the current and they follow at full speed. Despite the current and strong wind, Johan manages to parry the waves sometimes as Glenn stands with maximum pressure on the rod. It gives several rushes at full speed but Glenn keeps his composure even though the lactic acid is already starting to come. He tries to lift the fish from the bottom several times, but the Halibut quickly responds by going back to the bottom again. This was the BIGGEST fish of these 3 days.
In the final stages of the fight, Glenn loses his footing and is close to losing the rod when the Halibut made a final push. However, Glenn was just as quickly up again and this time he succeeded with the help of small pumps to lift the fish from the bottom. Johan stands ready with the Halibut hook and places it perfectly in the lower jaw. The fish was secured! And what TOTAL luck it was, everyone agreed that this fish beats his previous record by a landslide! A nice fish of 162 cm and a new PB for Glenn! We congratulate them on a fantastic performance and a great fight that they won't soon forget!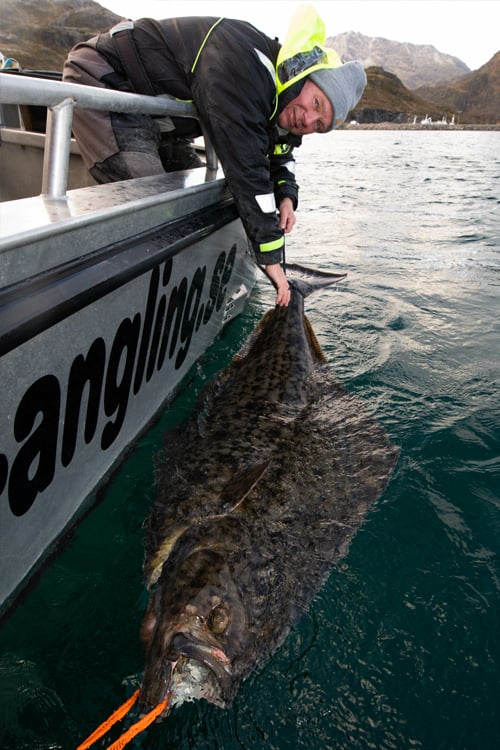 At the time of writing, we only have 2 fishing days left before we close the camp for 2022. But for those who also want to experience autumn fishing in the Nappstraumen, take the opportunity to get in touch now so you can also have the chance to accompany our guides Alexander and Johan out on a Halibut hunt a stone's throw from the camp with really good chances of a dream Halibut!
We wish everyone a warm welcome to us in Nappstraumen!
CONTACT US
It looks like its been a fantastic week at Nappstraumen. If you would like to know more about this fantastic sea fishing tour to Nappstraumen on the Lofoten Islands and how you can join us, you can contact our sea fishing specialist, Paul Stevens, on 01603 407596 or email at paul@sportquestholidays.com.