Well, what a year it has been and we can not believe we are now closing down the shore fishing season in 2020, where has it gone? 5 weeks have flown by and with lots and lots of new PB's and some funny moments along the way, Ross Johnson our Shore Fishing Guide in Norway has written us an Autumn roundup in case you missed previous reports. I will hand you over to Ross for the detailed report –
Nappstraumen Autumn/Winter Season Overview
Well, just like that, the Autumn/Winter season in Nappstraumen has come to an end. It's been a cracking five weeks here in Norway, with so many highlights that I couldn't possibly mention them all within this short blog, but I'm going to try anyway.
First of all, let's talk about Halibut fishing. Over the course of the season, the Halibut have been hard on the feed, with over 50 fish landed and a good number lost, including a few real monster Halibut. Our best fish of the season was taken by 22-year-old Jack Beere on his first trip to Norway. A real belter of 135cm that weighed in excess of 70lb….Well done again to that man! Other mentionable Halibut include a 35.8 for Roy Zelkin, a 33.8 for Steve Atkins, a 33.6 for Sean Haley and a 33.5 for Pete Hersey. Well done gents. I have a feeling this period will be even better next year though!
Next, we have the cod fishing. To be perfectly honest, the cod fishing has been poor this season. This is due in part to the unusually high water temps we've experienced this Autumn, which have been 2-3C warmer than previous seasons. As a result, the bigger cod have failed to make an appearance inshore, with our best fish going just over 10lb. Nevertheless, we've seen increasing numbers of Cod as the season has gone on and the signs are there for better fishing if the water temps return to normal next season. I'm particularly looking forward to the Spring now when the cod are back in very good numbers.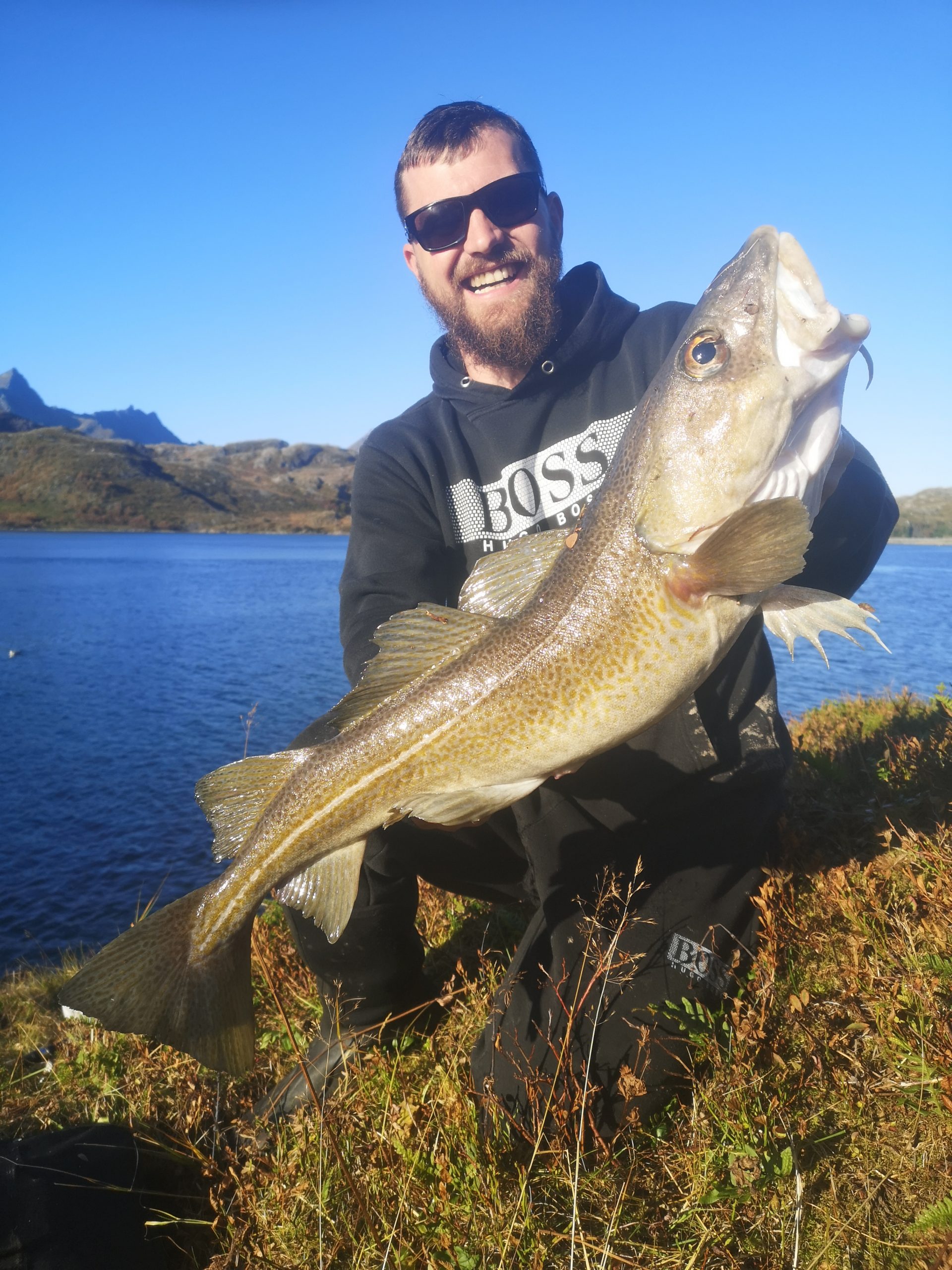 Aside from the two main targets above, we've also seen a good variety of other species caught this autumn. The Plaice fishing, in particular, has been exceptional, with many specimen Plaice over 3lb caught and half a dozen 4lb+ fish landed as well. Mel Davies fully exploited this landing over half a dozen 3lb+ fish during his stay here in camp, the best Plaice of which went 4.5. Well done buddy. The camp record was also beaten by a few ounces, when Roland Bailey had a fish of 4.13, beating my own fish of 4.9. I think this will get beaten again soon though, with the grounds here perfect for much larger specimen Plaice.
Other species caught this season have included Coalfish to 11.13, Pollack to 9.11, Ling, Lumb, Wolffish, Redfish, Haddock, Dabs to 1.10, Whiting, Scorpion Fish, Mackerel to 1.14, Herring and a bonus angler fish for Chris Davies during our first week in camp. So on the whole, a very productive season for us and one that I won't forget for a while.
I'd like to take this opportunity now to thank all those of you that have joined me this season. With all that has been going on with this COVID situation etc, it's been a real good season and I've enjoyed each week with you all. Hopefully, I'll get to fish with many of you again next season, be that at home in the UK or back here in Norway. I hope you all have a great time over Christmas and New Year now and I very much look forward to getting back here again in February to guide more of you to your dream fish.
All the best and tight lines for now,
Ross
Thank you Ross for a great Norway Shore Fishing Autumn season and more importantly, thanks to all our fantastic customers who make all of this happen. Let us wish you a great Christmas and Happy New Year and will get to speak to many of you next year.
Contact us
If you would like to put your name down for any of our available dates for either 2021 or even 2022 then get in touch. You can call us on 01603 407596 or simply send an email to info@sportquestholdiays.com and we can discuss some dates.

All the very best,
Paul