Overview
Located on the Kanektok River, only 5.5 miles from its mouth, is by all standards a remarkably diverse fishery. Perfectly suited to both single-hand and spey anglers, offering one of Alaska's best opportunities to catch Salmon where high catch-rates and easy wading is the norm.
Just a short ride downriver is some great water including some long gravel bars, just perfect for double handed rods swinging flies for monster Kings and Chum Salmon. There are also slow backwaters that are loaded with Silver Salmon and the tidewaters sections are full of all types of Salmon that were in saltwater just hours earlier.
As you head upriver past the Alaska West camp, the Kanektok River makes a transition to a smaller river with side channels and tributaries. Coming off at all angles, these upriver sections make some really interesting water to fly fish for not just Salmon but also Rainbows.
The season is short, just 12 weeks of fishing, but things change very quickly during this period. From mid-June to mid-July, King Salmon are the most popular target, with Rainbow fishing picking up in July as well. The second half of July provides a shot at the Salmon grand slam (all five species, all in one day). In August through the beginning of September, Silver mania sweeps the Kanektok and the Trout just keep getting fatter as fall arrives.
Alaska West is a large, luxurious tented camp. Guests sleep in comfortable tents with carpeted floors, heating and lighting. Hot showers, a large dining tent, a recreation tent, and a drying tent complete the scene.
To see all our fly fishing holidays in Alaska Click Here
Accommodation
The Alaska West camp is totally made up of tented accommodation, this however does not mean its basic. The whole camp has a professional feel to it and has everything that all Salmon anglers need from a welcoming camp. Being based right on the banks of the river gives the whole camp a real fishing appeal. For after dinner you can just pick up your rods and continue to fish until you drop.
The whole camp set up consists of first of all the Sleeping Quarters. These heated tents are furnished with two single beds with full bedding, nightstand, hang-down bug net, lantern, carpeted floor and clothes hangers. The housekeeping staff will come through daily to make beds, empty trash and tidy up to ensure your new home stays neat and clean.
There is also a shower and restrooms block. All Showers have hot and cold running water with a sink, which are also cleaned daily. The restrooms are indeed outhouses, they too are cleaned daily and they are strategically located near your tent cabin.
After a full days fishing you can leave all your fishing clothes and waders in the drying tent. These tents serves as a place for you to hang your wet waders, coats, boots and anything else you don't want wet or dirty in your sleeping quarters. This tent's heater is lit every night to ensure that your things are nice and dry by morning.
When hungry, move to the dining tent. The dining tent is a spacious 24'x 60' heated structure with wood floors and is always kept neat and clean. The kitchen has state of the art equipment, such as gas ranges, convection oven, microwave, refrigerators and freezers.
For those, who would like to relax after a full days fishing, there is a purpose built lounge tent. The lounge is a great place to relax after a full day of fishing. This large heated tent is furnished with comfortable chairs, tables and refrigerator with cool sodas, juices and mixers. There are poker chips with cards, board games, dart board, magazines, books, map board, telephone, satellite television and an online camp computer available to all guests.
You can also relax outside with the camps gazebo and viewing deck. This split-level wood structure is located close to the dining and lounge tents and has a great river view. The bottom area is open aired and enclosed with a fine mesh bug screen. This is a great place to sit and enjoy the midnight sun without being bothered by our little biting buddies. Directly above is the viewing deck. Bring your camera – the sunsets can be breathtaking!
Board: Full board
Rooms: Twin bedded tents
Telephone: Satellite (Chargeable)
Internet: Camp computer
Laundry: For nominal charge
Power: 110 Volt (Generated)
Meals: In dinning tent
Alcohol: Not allowed "dry county"
Equipment Hire: All included
Cash Accepted: US Dollars
We use a variety of hotels in Anchorage for your overnight stay, from hotels close to the airport to hotels in downtown Anchorage that allow you to see a bit more of Anchorage and even extend your stay.
All the hotels that we use are a minimum of 3 stars and will at least include all the basic facilities listed below. If you wish, we can discuss which hotel to use to suit your own personal requirements. Also, for overnight hotels, there is always the option to upgrade to single rooms.
Board: Bed & breakfast
Rooms: Single, double & twin available
Telephone: In room
Internet: Free in lobby
Laundry: For a nominal charge
Power: In rooms
Air Conditioning: Throughout hotel
Meals: Breakfast in restaurant
Alcohol: Available to purchase
Cards Accepted: Debit & credit cards
Cash Accepted: US Dollars
Freezer Room: Main reception
Species Information
King / Chinook Salmon
Season: 14 June to 19 July
Peak: 21 June to 12 July
Weight: 10LB to 60LB
Average Weight: 20LB

Chum Salmon
Season: 14 June to 26 July
Peak: 21 June to 19 July
Weight: 5Lb to 16LB
Average Weight: 10LB

Sockeye Salmon
Season: 21 June to July 26
Peak: 4 July to 18 July
Weight: 4LB to 12LB
Average Weight: 8LB

Pink Salmon
Season: 12 July to 8 August
Peak: 19 July to 5 August
Weight: 2LB to 6LB
Average Weight: 4LB

Coho / Silver Salmon
Season: 8 August to 12 September
Peak: 15 August to 12 September
Weight: 6LB to 20LB
Average Weight: 12LB

Dolly Varden
Season: 18 July to 12 September
Peak: 25 July to 12 September
Weight: 1LB to 12LB
Average Weight: 1.5LB

Rainbow Trout
Season: 14 June to 12 September
Peak: 21 July to 12 September
Weight: 1LB to 12LB
Average Weight: 2.5LB

Suggested Itinerary
Although the fishing has set weeks, we have daily flights departing from the UK, therefore should you wish to either extend your stay with additional days at the beginning or end in Anchorage, the itinerary below can be tailored to suit.
DAY 1: (Saturday)
Depart UK (alternative routes available)
Arrive Seattle
Depart Seattle
Arrive Anchorage
On arrival take a taxi to your Anchorage Hotel.
Overnight accommodation: Anchorage Hotel (Twin Rooms) R/O
DAY 2: (Sunday)
Early in the morning take a taxi to Anchorage airport.
Depart Anchorage
Arrive Quinhagak
On arrival in Quinhagak, you will be met by Alaska West staff and transported by jet boat approximately 25 minutes upstream to the camp.
Overnight accommodation: Alaska West Fly Fishing camp. (Twin Bedded Tents) F/B
DAYS 3 & 4: (Monday & Tuesday) Fishing Days.
Each day you will depart for a full days fishing by boat based on 2 anglers pr boat / guide.
Your guide utilises 16 to 18 foot flat-bottomed boats powered by 40 HP jet engines, equipped with bow and stern anchors, two swivel seats and life jackets.
There is a cooler on board to store lunches and drinks.
Overnight accommodation: Alaska West Fly Fishing camp. (Twin Bedded Tents) F/B
DAYS 5 & 6: (Wednesday & Thursday) Fishing Days.
While out fishing each day, a fresh lunch will be prepared on the shore by your guides.
Overnight accommodation: Alaska West Fly Fishing camp. (Twin Bedded Tents) F/B
DAYS 7 & 8: (Friday & Saturday) Fishing Days.
Each day dependent on where you fish, the fishing is either from the bank, gravel bars or drift fishing within the boat as your guide walks you down.
Overnight accommodation: Alaska West Fly Fishing camp. (Twin Bedded Tents) F/B
DAY 9: (Sunday)
Early morning you will be transferred back to Quinhagak.
Depart Quinhagak
Arrive Anchorage
On arrival take a taxi back to your Anchorage Hotel.
Overnight accommodation: Anchorage Hotel. (Twin Rooms) R/O
DAY 10: (Monday)
Take a taxi back to Anchorage International Airport.
Depart Anchorage
Arrive Seattle
Depart Seattle
DAY 11: (Tuesday)
Arrive UK
Dates & Prices
Remember that Sportquest Holidays' services are completely FREE! When you book a trip with Sportquest Holidays, you never pay more than when you book directly with the lodge and flights independently. Plus what's more if you book with Sportquest Holidays your holiday is protect by our ATOL and the Travel Package Regulations Act. To see more details CLICK HERE.
Dates & prices are best viewed in landscape.
You can scroll the table left and right to view prices and availability.
Price Match Promise
We are so confident that our packaged prices are the best available and offer great value for money.
If, however, you find an identical holiday available with any other fully bonded Tour Operator at a lower price, we will match that price.
Price Notes
Prices are based on two adults sharing transfers, fishing and accommodation (unless otherwise stated) and are correct at the time of going to press. Subject to time of year or date and currency fluctuations, these prices may fluctuate slightly due to flight price increases or fuel surcharge.
ATOL
Holidays or flights booked with Sportquest Holidays Limited are protected by the Civil Aviation Authority by our ATOL bond (Number 6371). ATOL protects you from losing your money or being stranded abroad. It does this by carrying out financial checks on the firms it licenses and requiring a guarantee, called a bond.
Price Supplements
N/A
Still need some inspiration
Why not enjoy browsing our destinations in the comfort of your own home.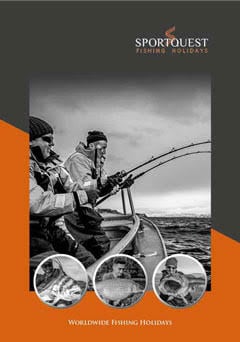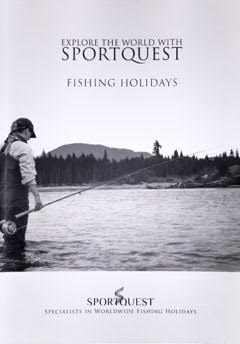 Request a free brochure
What's Included & Excluded
Included
All international flights
Internal flights Anchorage to Quinhagak
Transfers to and from Quinhagak and Alaska West
All accommodation as per itinerary
All meals & soft drinks at Lodge
6 days fishing via boat (2 anglers pr guide)
Fishing tackle
Waders & Boots
Excluded
Personal holiday insurance
We recommend that you take Emergency Medical Evacuation Insurance
Meals at the Anchorage Hotels or Bar expenses
Transfer in Anchorage
Alcohol
Tips for guides and all camp staff
Fishing license ($55) and salmon tag ($30)
Options
Flight upgrades
Additional nights in Anchorage
Single rooms in Anchorage
Tour Notes
Visa
Alaska operates a Visa waver programme (VWP); you are required before travel to complete an Electronic System Travel Authorisation (ESTA) online, which is compulsory for all USA Visa Waiver Programme (VWP) travellers before boarding an air or sea carrier to the USA.
Medical Requirements
No vaccinations currently required
Please Note
All details of visa and medical requirements are correct at time of press however please check these requirements for changes.
Departure tax
There is no additional airport departure tax when leaving Alaska
Flight Route & Flight Time
UK – Seattle (approx 9 hrs) Seattle – Anchorage (approx 3 hrs) Anchorage – Quinhagak (approx 3.5 hrs)
Baggage Allowance
Your actual allowance is based on both which airline you are flying with and also what class of seat you are travelling in. Normally in economy it is 1 checked bag, Premium Economy / Business 2 checked bags, First 3 checked bags. In addition to your checked bags you are also allowed 1 cabin bag and either 1-laptop bag or ladies handbag. The actual size and weight limit for bags is dependent on the airline. We therefore recommend that once your flights are booked you check on the airlines website for the up to date allowances.
If your itinerary includes private light aircraft or helicopter flights, we will advise you on your baggage and weight allowance.
Transfer Time
Quinhagak to Alaska West Fly Fishing Camp (25 Mins) by boat
Tour Reviews
Sportquest Holidays is proud to be different, and one way we stand out from the crowd is our tried and trusted information we provide our customers. This information is not just provided on our own personal experiences but also REAL CUSTOMER reviews.
We are the only fishing & shooting tour operator to operate our own review system whereby customers can review both the packaged holiday and also how we performed on each destination.
How This Destination Performed
How We Performed On This Destination
How Our Customer Feedback Works
See how our customer feedback works and our latest customer reveiws.
Read More
Write a Review
Have you ever visited this destination? Why not write a review and let everyone know how you rated their services?
Write a Review
Stan says:
Overall Rating:
To the guys at Sportquest especially Mel who helped us so much with the booking. We had a marvellous time and we all liked our hats thank you. We have already got together to discuss what is next for 2017 so when you get a moment can you please call me
Mel (Sportquest Holidays) says:

Hello Stan. Thanks for taking the time to fill out your feedback form these are very useful to fellow travellers and also makes the lodges aware of any issues. I will get Peter in the office to give you a quick ring

Thanks for traveling with us

Mel
Patrick says:
Overall Rating:
Peter, I dont know what I have done in a former life but what ever it was must of been bad. The weather was simply horrible from the moment we arrived to the day we left. To top it off the following week fished its head off with perfect weather conditions. Next year can you please guarantee the weather....... but thanks for an amazing holiday
Peter (Sportquest Holidays) says:

Hello Patrick what a shame and after all the build up to your trip. Like I often say we can ensure most things are perfect but not the weather. At least you managed a few fish and by the looks of the pictures you had plenty of fun times

I will call you guys soon to see what we can do for you for next year. Speak Soon
Timothy says:
Overall Rating:
What a adventure we all had from amazing scenery to world class fishing. The Salmon where some of the finest we have experienced and the guides really went above and beyond to help us. Awesome place
Paul (Sportquest Holidays) says:

Hi Tim, it truly is a place every one should visit as it leaves you feeling very special just being there. Alaska has certainly got something very special plus some amazing fishing. Look forward to seeing all your amazing pictures taken on your new camera

Speak to you soon Tim
Jack says:
Overall Rating:
Went to Alaska to catch a big King and was rewarded with a 40LB fish. Super pleased as you can see from the picture attached. If you need any more just let me know. Would highly recommend BC west
Peter (Sportquest Holidays) says:

Jack what an awesome fish and one that many anglers spend many years chasing and for you to catch it on your first visit....speechless Looking forward to see the rest of the pictures. I will pass on your kind comments to the lodge as they will be very pleased

All the best, Peter
Michael says:
Overall Rating:
To catch a Chinook, a chum and a Sockeye in one week totally blew me away. What an amazing spot on this planet. I have travelled to may far away places but this will take some beating. See you again next year same week please and I will really try and find some time to send you some pictures
Peter (Sportquest Holidays) says:

Hi Michael I could tell in your voice after speaking with you that this trip really ticked a few boxes for you. We would very much appreciate if you could find the time to email us some pictures if not I can send you a memory stick out. Just let me know whats easier. If I have not heard from by next week I shall give you a call

Peter
John says:
Overall Rating:
Hi Sportquest thank you for organising this trip at such short notice. Everything went to plan and even the fish were feeding. We all had a great trip and would appreciate you passing on our thanks to the lodge staff. I will get the pictures over to you when have 5 minutes
All the best and speak with you again soon, John
Paul (Sportquest Holidays) says:

Hi John, it was a pleasure and good job they had a couple of last minute cancellations. We would of got you going somewhere. Also we will pass on your thanks to the lodge owner and please do fire over some pictures when you get time. Hopefully we will catch up soon
WIlliam says:
Overall Rating:
Trip was very good, flights were a bit long and was very tired when we got back to the UK. Overall pleased with your services and the lodge
Paul (Sportquest Holidays) says:

Hi William, yes I agree the flights are long but well worth the journey. Thank you for taking the time to fill out your feed back form and will email a copy to the lodge. Whats next for you guys? Hopefully we can catch up soon as I know you are a very busy man

Speak soon
Helen says:
Overall Rating:
Hello Peter, this was our first time fly fishing as you know we normally Big game fish but after listening to you talk about this destination we had to visit. Malcolm enjoyed all the fishing and commented on how good the guides were. We have both fly fished in the UK but that was a million miles away from this type of fishing. Perhaps next year we will take some lessons before we head out there.
Mexico for us next year so can you call us when you are free
Peter (Sportquest Holidays) says:

Hello Helen so glad it lived up to your expectations as I knew it would. How did Malcolm get on with his new Rod and reel? Hopefully you took plenty of pictures for us? Helen, I will call soon as Mexico is becoming booked up so we need to get some dates in for you sooner rather than later

All our best
Richard says:
Overall Rating:
After the lengthy delay at Heathrow we sadly missed our connecting flight. Thankfully they put us on the next available flight and soon found ourselves arriving at the lodge half a day late. With all the messing about at the airports all we wanted to do was to relax for our first day. the guides at the lodge soon informed us of some great fishing which soon sparked up our spirits. Apart from the disaster with the flights we both had a very good time perhaps next time we should let you organise our internal flight, lesson learnt.
Thanks also BC West camp and staff
Mel (Sportquest Holidays) says:

Hi Richard, we were watching the flights as we receive notifications of the flight delays and thankfully they managed to get you guys on the next flights and it did not eat in to your holiday very much. We also heard of the great fishing and was given reports on almost a daily basis. Cant wait to see the pictures from your trip and let us know if you can not work the dropbox invite out.

All the best, Mel
Frank says:
Overall Rating:
Mel, what can we say apart from thank you so much. The lodge and staff need a pat on the back as they run this lodge first class. Superb fishing and we all managed what we set out for. Thanks and you should be getting your pictures any day just waiting for wayne to download them
Speak soon about next year
Mel (Sportquest Holidays) says:

Hello Frank, thats great to hear and makes our job all the more enjoyable when we receive great feedback like this. I shall pass on your kind words to the lodge

I shall drop you a quick email once we have received all your lovely photos

Thanks, Mel
Mark says:
Overall Rating:
Thanks for organising our adventure, top marks
Peter (Sportquest Holidays) says:

Hi Mark, no worries it was our pleasure. Good to talk with the other day and thanks for taking the time out of your busy schedule to fill out this form. Hopefully we can look at something for you next year

Peter