This week we had a good mix of tides as we slid from gentle spring drops to early neap pushes. Midweek saw the slackest tide of the season with the water barely moving 10 cm over a 12-hour period. Early in the week, the water remained cold and clear on the spring drops, but as we approached neaps, our guests had to take advantage of good fishing in the mornings as the water would heat up during the day and fish would head for deeper water.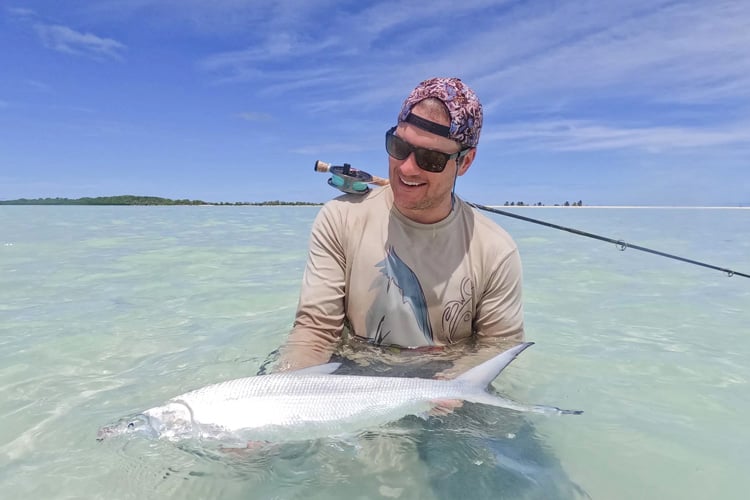 The weather was probably the best we've had all season with clear skies and a mild south-easterly, making spotting fish fairly easy. Top Lagoon in particular, produced a lot of action on most days with crisp water, clear skies and few rat packs lurking around the coral heads.
A couple of weapons joined us on the island this week in the form of Andreas and Peter. This pairing proved formidable and accounted for most of the GT's, Milks and Triggers landed. Their first day set expectations high for the week as they ended with a Super Slam on the skiff, only missing the Permit between them. Throughout the week they accounted for at least another three Slams, putting the fish of St. Francois to the sword. Some of their success can be attributed to a new experimental crab pattern that proved irresistible to the Triggers of St. Francois, harassing more than a few during their stay. But there is no substitute for the skill, they are top-tier fly fishermen.
Peter came determined to catch a Milk while walking the flats, which he managed to achieve on day one. He then went on to stick three more during the week, nice one Pete.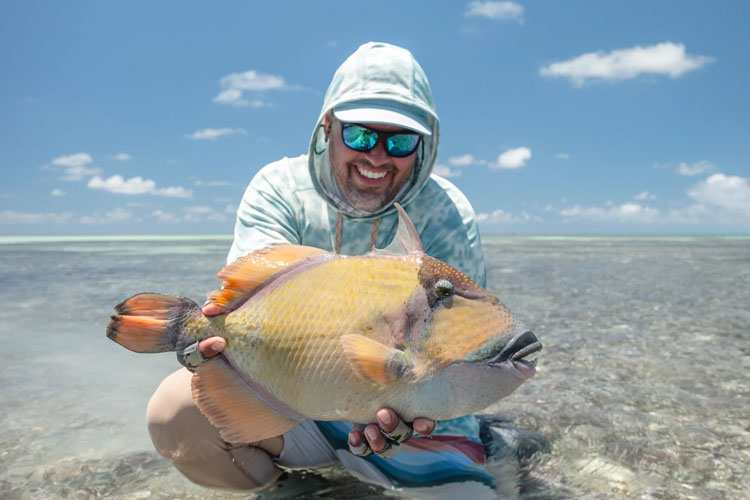 The Bonefish were tailing heavily most mornings while the water was cool. Windows to fish them were long and fish were there for the taking, although not many anglers targeted them specifically. None-the-less, we did have one or two Bonefish enthusiasts and over 200 bonefish were landed for the week, more than 100 of them coming in one morning between 4 guests. This just reiterates the quality of the Bonefish fishery on offer. If it's Bonefish you're after, Alphonse is the place to be.
Stay tuned for next week's report.
Tight lines,
Alphonse Fishing Co. on Alphonse Island
TOTAL CATCH STATS THIS WEEK:
Bonefish 235
Giant Trevally 15
Triggerfish 4
Milkfish 4

CONTACT US
If you would like to know more about the fantastic fishing opportunities on offer on Alphonse Island you can contact our saltwater fly fishing expert Peter Collingsworth on 01603 407596 or via email at peter@sportquestholidays.com.