The last few weeks on Alphonse, as we are sure you have read about and kept up with on social media, have contributed to an incredible end to the year. This week was no different.
The beginning of the week's tides started with a high tide mid-morning and low tides late afternoon, meaning plenty of water around giving the anglers the opportunity to be on the flats for the majority of the day, a favourable tide to search for GTs on the Rays and Sharks.
The GT fishing was certainly special this week, once again, a total of 23 Giant Trevally were landed including a few special ones that will not be easily forgotten.
11-year-old angler, Pano, landed his first GT of 95 cm, not only an incredible fish but he managed to do it on a 9 wt fishing 40 lbs line, an epic opening to his GT account!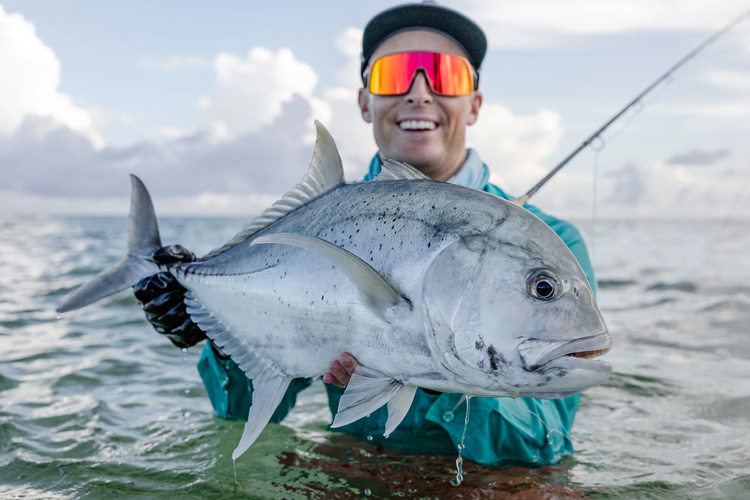 Bones are Bones on St Francois, meaning they are around in abundance and they're always happy to eat a fly. The long dropping tides meant having an opportunity to sight fish to Bones for the majority of the day, a few of the guests experienced their first Bonefish and a couple of trophy Bones over 60 cm were also caught. A total of 153 Bones were landed.
The Triggerfish this week lived up to their reputation, breaking our hearts! The weather was still, causing them to be sensitive to any noise or disturbance in the water which made fishing for them even more of a challenge than usual. A handful of Triggers were hooked, but the majority of them ended up in the coral, breaking anglers off. In summary, the Triggers won this week, but there was some victory after one of the guests managed to land a nice Yellowmargin!
Stay tuned for next week's report.
Tight lines,
Alphonse Fishing Co. on Alphonse Island
TOTAL CATCH STATS THIS WEEK:
Bonefish 143
Giant Trevally 23
Yellowmargin Triggerfish 1
Milkfish 2
CONTACT US
If you would like to know more about the fantastic fishing opportunities on offer on Alphonse island you can contact our saltwater fly fishing expert Peter Collingsworth on 01603 407596 or via email at peter@sportquestholidays.com. He would love to speak with you.