We went into the week on a high, having witnessed the geets in a feeding frenzy on the flats the week before, we thought it would be hard to beat. However, it only improved, and we had another incredible week on St Francois!
The week kicked off with the same tides as the end of the week before, meaning the same shoal of GT's came pushing up in the warm water and smashed the bait fish, complete carnage! On the first day of the week, a total of seven Giant Trevally were landed, two of which were over a meter with the biggest being a monster of 119 cm.
It didn't end there, while most anglers are lucky to catch just one or two Geets in their lifetime, we took full advantage of the happy and hungry happy and hungry fish, landing 14 more fish, we ended the week with a total of 21 Giant Trevally caught and released.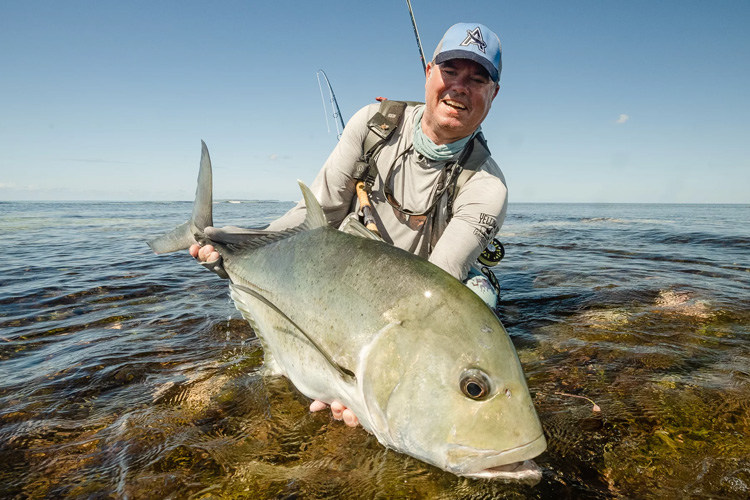 A few of the anglers chased the Indo-Pacific Permit during the week. Ian and his guide Matt had an exceptional day on the flats, with Ian landing a 90 cm GT off his second cast in the morning offshore, and he then went on to land a Permit complemented by a Bone to complete his flats slam! Another Permit of 58 cm was landed on Alphonse during the week.
During all the chaos of Geets, the Triggers were also out and tailing! As far as Trigger fishing goes, it was quite successful. A good couple of Triggers were lost, either running into coral or breaking anglers off, but that's exactly what makes them so rewarding! A total of six Moustache Triggers were landed during the week.
Tight lines,
Alphonse Fishing Co. on Alphonse Island
TOTAL CATCH STATS THIS WEEK:
Bonefish 145
Giant trevally 21
Moustache Triggerfish 6
Permit 1
Milkfish 1
CONTACT US
If you would like to know more about the fantastic fishing opportunities on offer on Alphonse island you can contact our saltwater fly fishing expert Peter Collingsworth on 01603 407596 or via email at peter@sportquestholidays.com. He would love to speak with you.