The things we would do to be on these banks with you! We wont keep you waiting any longer –
26th December 2020 to 2nd January 2021
What a week it has been on Alphonse Island. The anglers were excited and anticipating a good week and the fish could sense it! The weather around St. Francois was harsh over the week. Anglers experienced heavy rain and strong winds with some sunshine in between. The tides moved from a spring tide to a neap tide over the week allowing some amazing fishing to take place. The bad weather pushed cold freshwater into the lagoon system creating ideal conditions for Permit fishing and our anglers took full advantage of the opportunity.
The week was off to a great start with Mike landing a beautiful 45 cm GT. Tapani had a cracker of a day on the second day. He, guided by flats veteran Yousuf, managed an epic Flats Slam consisting of a 101 cm GT, a 54 cm Permit, and a 54 cm Bonefish to top it all off. That set the tone for his week as he proceeded to land a 105 cm Milkfish, a 77 cm, and a 64 cm GT.
On day three Mike struck gold and landed a fantastic 60 cm Indo-Pacific permit. Legendary angler Jasper from Finland followed his lead and landed a beautiful 58 cm permit after making shots at an estimated 20 permit throughout the day. Day three was a lucky day for Ralph. Ralph managed to land a massive Yellowmargin Triggerfish which is estimated to be the largest specimen landed over this season.
On day four Ralph's luck carried on – catching a stunning 97 cm GT on the edge of a finger. The fish fought so hard it took around 100 m of backing. Day four was a good day for angler Alexey and his guide Cullan. They brought to the net a large 59 cm Permit.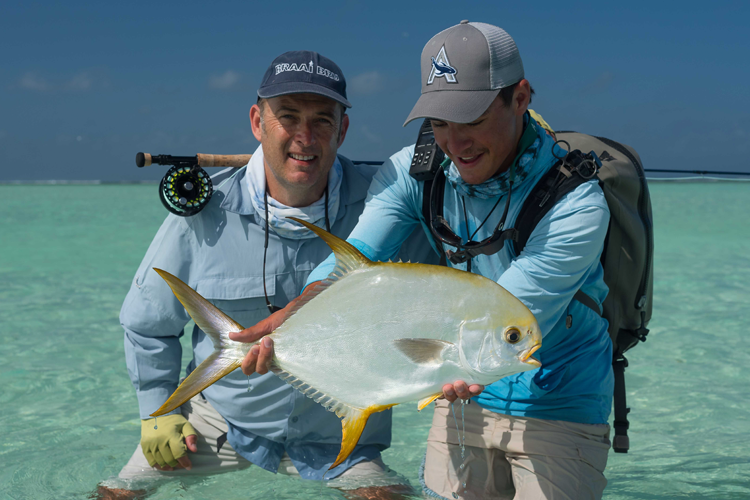 Ralph's luck continued through to day five. Ralph landed another monster GT measuring 91 cm. Ralph hooked the fish off the Carpul Shoal which is a phenomenon of a pack of GTs that follow a school of sharks around. On day six even more gold was found. Murray Collins, who had been trying to land a big permit for the past few weeks, managed to land a beautiful 63 cm permit while his boat partner Jasper landed a 53 cm permit to add to his weeks' tally.
The accolade of angler of the week was toughly contested but ultimately fell to Ralph who did well to ride his luck and close his week with a noteworthy tally of catches.
Another successful week was spent at Alphonse Island fishing the St Francois Atoll. Memories were made and bonds were formed that will last a lifetime. Stay tuned for next week's report as we are sure you won't want to miss it.
Tight lines,
from the Alphonse fishing Co. Team on Alphonse
Contact us
What a fantastic week that was! If you have any questions about Alphonse or would like to visit this saltwater fly fishing mecca for yourself, get in touch with us at 01603 407596.
Tight lines,
Peter