Another week comes to an end on Alphonse, the guests this week had an awesome session on the hunt for Bonefish by the looks of things! I'll let the guide do all the talking below! –
3rd March – 13th April 2021
The weather was great as the tides transitioned from spring tides to neap tides over the week. We were joined by only a handful of anglers but still managed to record some great catches on the St Francios Atoll and Alphonse. The Bonefishing was as brilliant as always. Anglers managed to land a total of 54 Bonefish over the week.
Day one was off to a great start for an Alphonse regular Ed. Ed managed to land his personal best Bonefish measuring 61 cm followed by a beautiful Moustache Triggerfish. On day three Ed and Ria decided to do some bluewater fishing. Ria managed to land her first Wahoo on fly and the following day Ed landed to massive Sailfish on fly. Day four was a very special day for Mike, Mike managed to land a fantastic 98 cm Milkfish which was hooked and landed in the St Francois lagoon which is quite an achievement.
Week 26 was also a great week for anglers, we had three anglers joining us to fish the Alphonse Group. The Bonefishing was as good as always, with all anglers bringing in a fair amount over the weeks period.
We were also joined by Viktor. Victor enjoys his bluewater fly fishing and managed to land three sailfish and three Wahoo on fly over the week. Lee had a good week. Lee started off with a bang landing a beautiful 65 cm GT.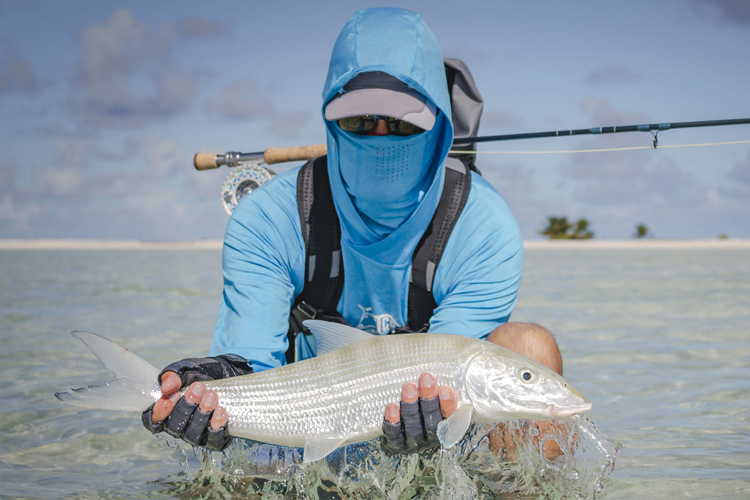 Another fantastic two weeks spent at Alphonse Island fishing the St Francois Atoll. Memories were made and bonds were formed that will last a lifetime. Stay tuned for next week's report as we are sure you won't want to miss it.
Tight lines,
from the Alphonse Fishing Co team
Contact us
For more information on our Alphonse destination make sure to take a look at our tour page. If you have any questions regarding any of our Saltwater fly fishing tours, get in touch with us at 01603 407596 and one of our dedicated professionals will help you with your query.
Tight Lines,
Peter