Its great to see that the big Geets are starting to roam the flats of Alphonse! This week saw a fantastic amount being landed, ill now hand you over to the head guide for his weekly write up –
6th – 15th February
Great fishing was experienced on the St Francois Atoll last week as the quarter moon approached. The week started with the transition from a neap to a spring tide and some very eager anglers were keen to wet their lines and bend their rods. The weather has been absolutely brilliant with very little to no wind making conditions quite hot and tough however this didn't stop the anglers from landing some absolutely amazing catches.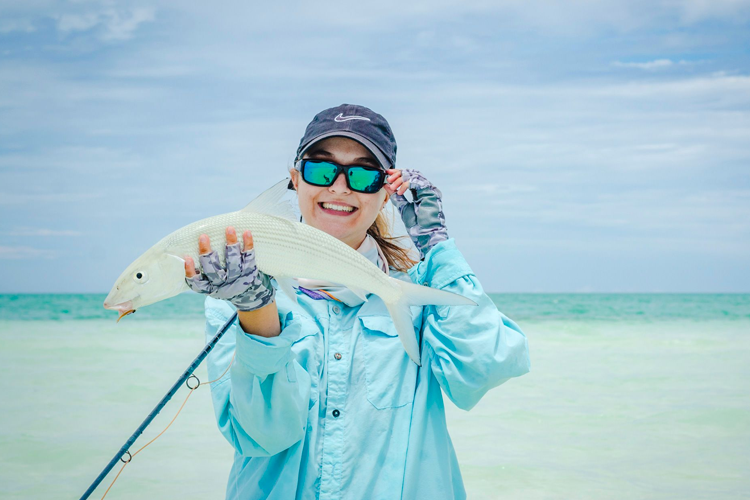 The anglers haven't been too keen to target bonefish but instead opted to focus on the other highly prized species found around St Francois and Alphonse. The Haworth family have been fishing extremely well over the last few weeks, the entire family has sharpened their skills and managed to land some amazing GTs over the week. This week Mike has managed to land a 65  cm, 70cm, 78 cm and an 89 cm GT. Nick has also done superbly well giving Mike a good run for his money landing a 65 cm and a beautiful 84 cm GT.
We are lucky enough to be joined by Team Fathom Offshore for the next month. Keith and his crew have had some brilliant flats fishing in between their blue water expeditions in search of the mighty Marlin. Keith started his week off with a bang managing to land his first 45 cm Yellowmargin Triggerfish. Keith decided to try his luck on a surf walk a few days later and managed to land a 70 cm and 75 cm GT in one session. On the same surf walk LP managed to land his very first GT on fly measuring a brilliant 75 cm. Captain Matt managed to land his first GT on fly measuring 73 cm and first mate Rasmus managed to land a brilliant 75 cm and 85 cm GT.
Another fantastic week was spent at Alphonse Island fishing the St Francois Atoll. Memories were made and bonds were formed that will last a life time. Stay tuned for next week's report as we are sure you won't want to miss it.
Tight lines,
from the Alphonse Fishing Co. on Alphonse
Contact us
What a fantastic week that was! If you have any questions about Alphonse or would like to visit this saltwater fly fishing mecca for yourself, get in touch with us at 01603 407596.
Tight lines,
Peter