A mixed group of divers and fishermen made for interesting chats at the tables sharing stories this week. The tides being in spring made for big water movements and loads of surf walks. The weather throughout the week was inconsistent with the south easterly trying its hardest, but not hindering the fun.
Marcus and Julian found themselves doing a long trek along the eastern side on day one. The wind was minimal and made casting a breeze. Spotting fish on your first day isn't the easiest but your guides, with their trained eyes, are always ready to help. Marcus caught his first-ever GT leaving him with a huge smile for the day. Both Julian and Marcus ended the day racking up a few more Bonefish and adding Bluefin Trevally to their list.
The second day was a memorable day for Julian, hooking and landing his first GT. He decided it wasn't big enough and upgraded very quickly, landing an even bigger geet despite some tackle failure. Marcus and Julian kept themselves occupied with a good number of Bluefin Trevally throughout the morning.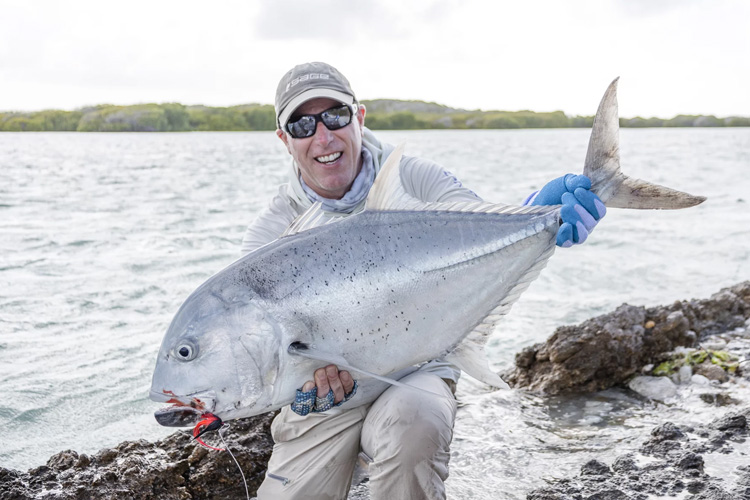 Midweek the wind picked up a little which put Bonefish on the menu. Marcus and Julian racked up a few more Bonefish adding to their already decent tally and they also added on another couple of Bluefin bringing the total tally at the week's end to 32.
Everyone decided to trade in the skiffs for a walk on the surf for big Bonefish on the catch list. Marcus and Julian fought up a good number of the strong fighting surf Bonefish. Stan had an encounter with a GT which grew his desire for a bigger specimen, landing some good Bonefish kept him busy throughout the day on his walk around searching for anything passing by.
Stan was the man with a plan nearing the end of the week, landing himself his first Indo-Pacific Permit and followed in quick succession by his second. The total Permit tally for the week was five, good innings for the elusive fish. Julian landed another GT and went searching for the flats slam but unfortunately those Triggerfish in the wind made for a very tricky task, he opted to get stuck into the Bonefish again bringing the total for the week to a healthy 127.
On the last day Julian and Marcus each caught beautiful Indo-Pacific Permit and targeted big Bones in the surf. Stan went on a cliff mission with his guide and needed a second 12-wt line as big geets don't play around. Unfortunately, it's the one that got away but his experience on the cliffs watching a cross-eyed giant trevally engulf the fly got him eager to come back and hunt those beasts. Next time he's bringing even more spare tackle with him!
A week of great fun out here on the beautiful Astove Atoll,
Stay tuned for next week's report.
Tight lines,
Alphonse Fishing Co. on Astove Atoll
TOTAL CATCH STATS THIS WEEK:
Bonefish 127
Giant Trevally 6
Bluefin Trevally 32
Permit 5
Tight lines,
from the Alphonse fishing Co. Team on Astove
CONTACT US
If you would like to learn more about this fishing that is on offer at Astove Atoll, you can contact our saltwater fly fishing expert Peter Collingsworth on 01603 407596 or via email at peter@sportquestholidays.com where he can discuss this trip in more detail.