We had a full moon spring tide week with huge water movement. Unfortunately, the weather did not play its part with heavy winds and rain. Despite the challenging conditions, all eight anglers stayed positive and caught some fish.
The week was hosted by Rocky, who his son and some close friends joined. Rocky was on a mission to set a new IGFA record. He managed to catch a six-pound Bonefish on a six-pound test. He now holds the pending six-pound Bonefish record. Along with this outstanding achievement, he also managed to catch a Yellow Margin Triggerfish on the six-pound test.
Glen Shapiro was the angler of the week catching the most GTs for the week with a total of five. David Fast also had an epic week landing two GTs and a Yellow-Margin Triggerfish.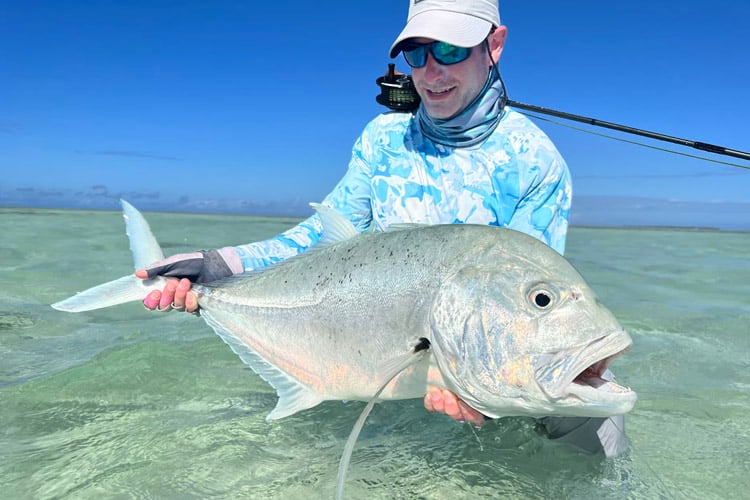 This week, we had three firsts on the GT front: Terry, Madison, and Mark. An exceptional fish and a memory not to be forgotten.
Well done to all our anglers for a phenomenal week of fishing and tight lines from the Alphonse Fishing Co. Team on Cosmoledo.
Tight lines,
From Alphonse Fishing Co.
THIS WEEK'S CATCHES & RELEASES
Anglers 8
Bonefish: 2
Giant Trevally: 13
Triggerfish: 2
CONTACT US
If you would like to read more about the fantastic fishing on offer on Cosmoledo Atoll in Seychelles, you can contact our saltwater fly fishing expert Peter Collingsworth on 01603 407596 or via email at peter@sportquestholidays.com. He would be delighted to speak with you.