Week 15, 12 anglers, the week at Cosmoledo started with the tail end of the springs moving into a full neap. The first three days we had postcard-perfect conditions and lots of moving water. The fish loved it and we had a few special moments in the surf with multiple fish on rays and big fish riding in on the surf on almost every swell!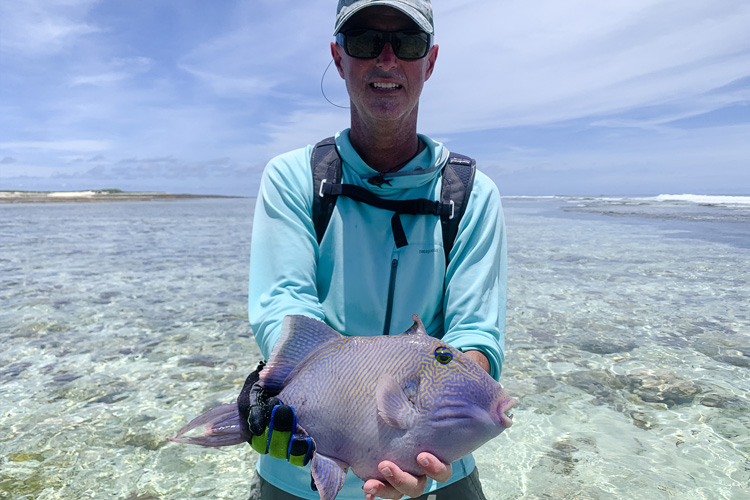 Brad started his experience with a walk in the surf and had multiple shots on GTs and various Trigger species. Eventually, after lots of persistence, Brad managed to hook and land his first Trigger. Not only was it Brad's first but one of the more uncommon species landed on the flats a blue triggerfish while Carl landed a Moustache Trigger in the surf.
On the topic of rare and special fish to catch, Jeff managed a magical Emerald Parrotfish Midweek! The GTs were definitely around with incredible sightings of 30+ fish seen on rays and in the waves of the surf.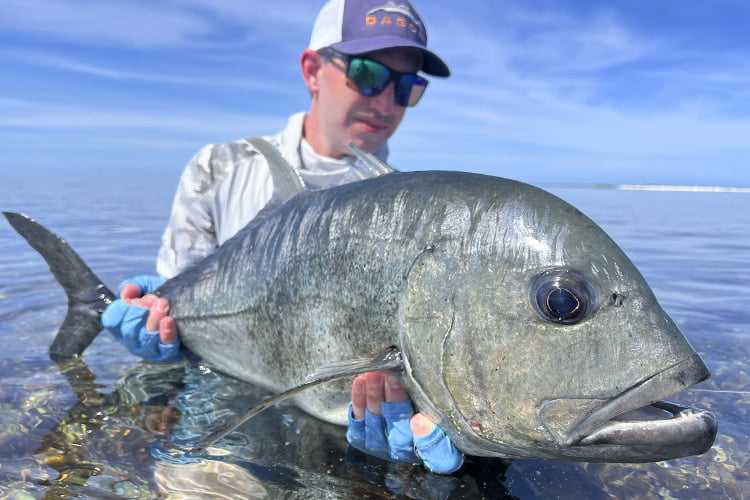 All the anglers took their best chances and landed some lovely fish, and will certainly hope to welcome you back to tame the beast!
TOTAL CATCH STATS THIS WEEK:
Giant Trevally 68
Bonefish 17
Triggerfish 2
Emerald Parrotfish 1
Tight lines from the Alphonse Fishing Co. Team on Cosmoledo
CONTACT US
If you would like to read more about the fantastic fishing on offer on Cosmoledo Atoll in Seychelles, you can contact our saltwater fly fishing expert Peter Collingsworth on 01603 407596 or via email at peter@sportquestholidays.com. He would be delighted to speak with you.