We started the week on the spring tides with lots of water movement, ideal for GT fishing! The weather didn't play its part the first two days with the wind blowing making conditions slightly tougher. Luckily, it was short-lived and we were back to that beautiful, sunny-skied Seychelles weather everyone dreams about!
Chantal, a wonderful and frequent return guest, had spent the previous week with us and was well warmed up and prepared. She tied her own special Triggerfish fly and her craft did not disappoint, landing her a Trigger slam the first day she made use of it! The slam consisted of a Yellow Margin Triggerfish, a Moustache Triggerfish and the beautiful, albeit petite, Picasso Triggerfish. Chantal really covered her bases on this tricky species!
John had an amazing week catching his first-ever GT on the second day, a fight that prepared him for the next two geets he caught later on in the week. John pushed hard at the Triggers and eventually managed to catch a 46 cm Moustache Triggerfish. Undoubtedly topping off John's week, he landed a beautiful Yellowfin Tuna, a great achievement on a fly rod.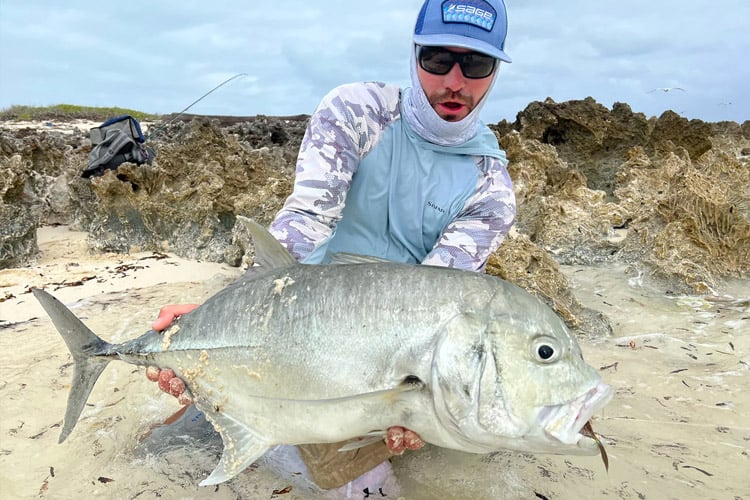 Ed loved the deeper water fishing and all the species it had to offer. He took full advantage and managed not only his first-ever Giant Trevally but ended with a decent total of three for the week along with an epic Saddleback Grouper, a special fish. Ed's boat partner, Bill, didn't miss out on the fun and had an impressive catch tally with varying species. In fact, Bill caught too many fish to mention. One special catch, that deserves some recognition, was a Potato Bass that was an absolute giant.
Michael celebrated his 54th birthday with us and made it a good one by landing himself an 80 cm GT on the day, he then went on to catch another two GTs for the week and a Yellowfin Tuna, again a very special fish to catch on fly.
Tommy had an epic first day on the flats getting a flats slam consisting of a Bonefish, GT and a Moustache Triggerfish. A day that we're positive he won't forget anytime soon.
Stay tuned for the next report from Cosmo!
Tight lines,
Alphonse Fishing Co. on Cosmoledo Atoll
THIS WEEK'S CATCHES & RELEASES

Bonefish: 15
Giant Trevally 21
Yellowmargin Triggerfish 1
Moustache Triggerfish 2
CONTACT US
If you would like to read more about the fantastic fishing on offer on Cosmoledo Atoll in Seychelles, you can contact our saltwater fly fishing expert Peter Collingsworth on 01603 407596 or via email at peter@sportquestholidays.com. He would be delighted to speak with you.