Its always sad to see the end of a fishing season, as much as we wish we were there, we are glad to have seen and read about the fantastic fish that have been produced. We will hand you over to the guides for the last Cosmo report for the 2020-2021 season. –
1st – 8th April 2021
The closing week of the Cosmoledo 2020-21 season did not disappoint! The nine anglers that joined us this week experienced super moon tides and sadly they lost two days to bad weather but this didn't stop the team spirit or the energetic anglers.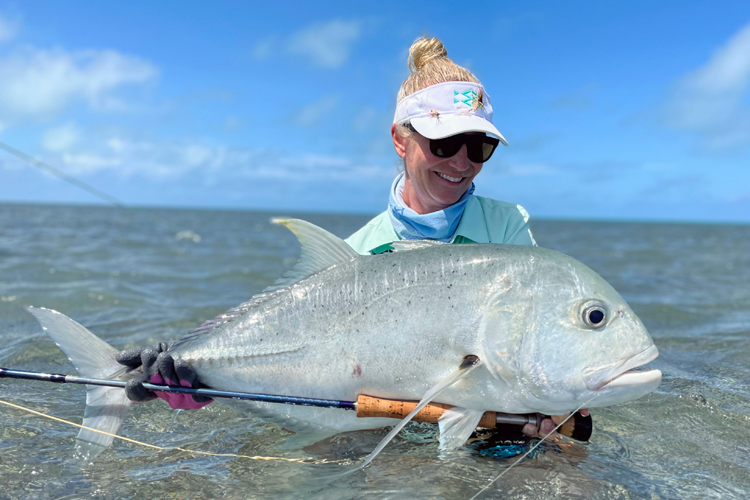 The group was made up of two well-fished ladies and three couples who would have their first fishing experience in Seychelles. Meredith Mccord and Chantal Chone having loads of fishing experience rolled through the week racking up their fair share of GTs, Bonefish, Triggerfish and numerous Snapper and Grouper species.

Rodney struck first blood with his first GT caught by 8:30 am on the first day and finished the day with yet another quality GT in the afternoon. Kristi took her week at a gentle pass landing a handful of Snappers, Bluefin and Grouper. Her day came on day three when she landed in typical Cosmo style a beautiful GT on a ray, on a dazzling white sand flat. It was not over for the day as Kristi hook a giant of a Bohar Snapper and then the very next cast another GT.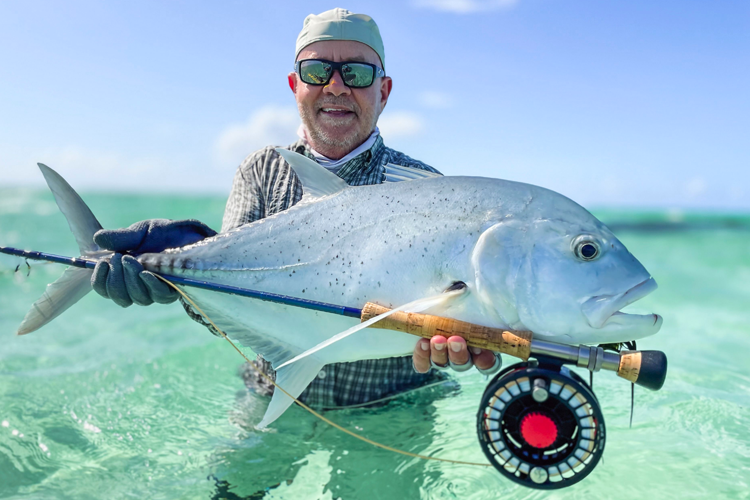 Wendy and Billy ticked the boxes each day and by the end of the week had a collection of Bonefish and GTs to their name. Tom and Elizabeth both managed their first GTs, Tom on the second day and Elizabeth on day three. In between all this activity, they also managed Groupers, Snappers, Bonefish and Bluefin Trevally. Tom's trip was made on their last afternoon on Cosmo. A team effort, Elizabeth spotted the fish up against a rock edge, Tom put the fly in the right place and after a magical eat, the fish got wrapped up in the coral but that was sorted out by the guide and the fish was landed. The biggest fish of the week at 86 cm.

The season closed after the four days of fishing with the guides content with their efforts and the guest's ecstatic with their experience.

Tight lines from the Alphonse Fishing Co. Team on Cosmoledo
Contact us
For more information on our Cosmoledo destination make sure to take a look at our tour page. If you have any questions regarding any of our Saltwater fly fishing tours, get in touch with us at 01603 407596 and one of our dedicated professionals will help you with your query.
Tight Lines,
Peter