Hi Shipmates,

You will all be pleased to know that there is no snow or cold weather in the forecast, sorry looked at the local weather in Costa Rica not the UK.

Today was day 9 of our Big Adventure and the last day for Tom from The Valleys and Cuda Tim. I really wanted them to have a good day because they have both fished so hard for the last 8 days. We have three days left, I might stop till its spring back home. Their story follows after our day.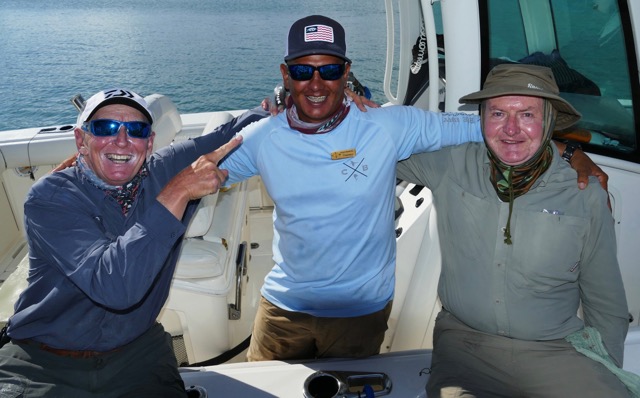 Today Crab Pott Chris are again with Humberto and we had a game plan, as everyone knows any plan is better than Corbyns plan. It was a three-part plan 1. Catch bait. 2 Fish offshore till midday. 3 fish inshore if plan 2 wasn't working. Catching the bait went well and I had a compliment from Humberto who said "I was a good Master Baiter" (no nasty hurtful comments please)2. We were soon in 5000' of water trolling our Ballyhoos at 7 knots this time using our lighter outfits. The water looked good and we did see a couple of Sailfish shadows. Suddenly our far-out rod screamed and Chris had on his first Marhi Marhi (Dolphin fish for the uneducated) unfortunately it slipped the hook as we tried to get it on board for the photo. So I have used an earlier one because I thought it looked nice. A nice fish around 30lbs.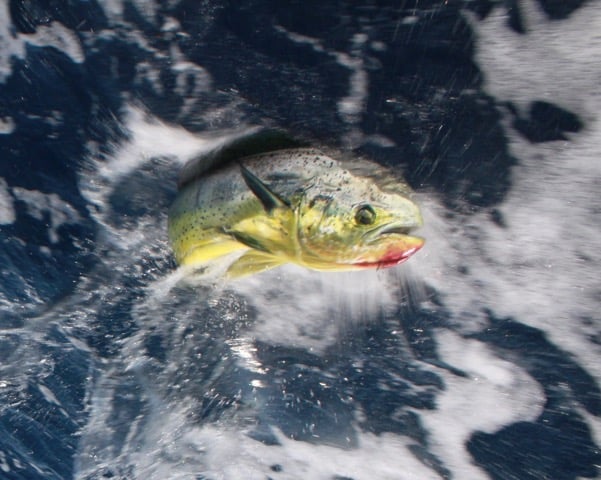 With no Sailfish it was time for plan two so we ran inshore. I was determined to use my Ultra Light rod again so I set it up with a light 20lbs fluoro leader (might seem heavy but it's for abrasion resistance). First drift back and I had a take, I set the hook and the reel smoked for a few seconds before a Marhi Marhi leapt out the water and shed the hook. Amazingly this was only 100 yards from the beach. It was a good fish and I estimated it at 30lbs plus. These are normally deep water fish. Next drop it was a Rooster followed by another. Meanwhile, Chris had a pretty Rooster that's the one in the picture with fins.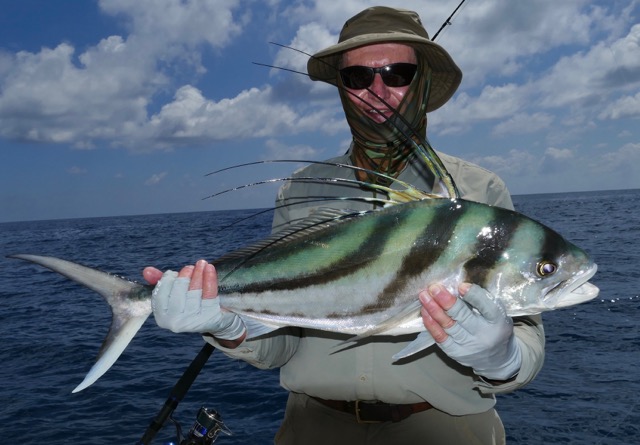 For a while, it was all action with triple hookups and more very nice Roosters. I had a couple of Jacks, again all on my Ultra Light outfits, this is certainly the way to catch them because they are so tough.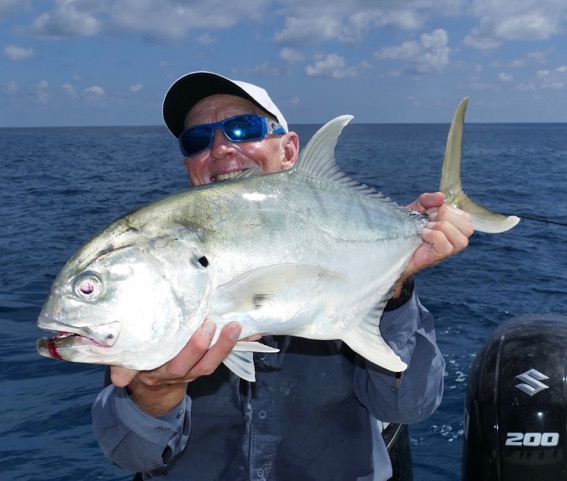 Then just for some variation I had a Hound Fish that has some nasty teeth. Humberto said he had a much better set!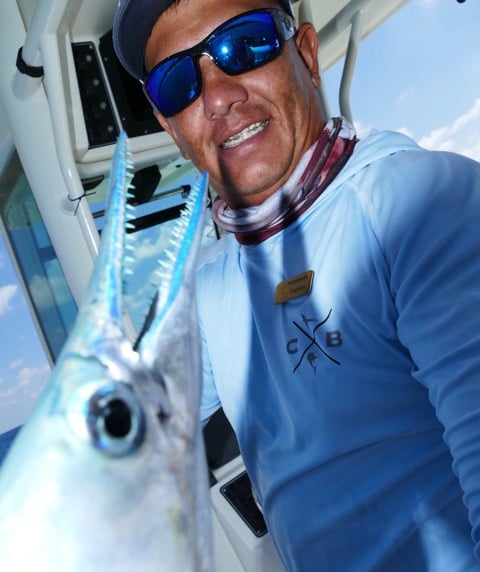 In all it was fantastic afternoon, 10 Roosters, 3 Jacks and a hound fish, my drag was screaming all afternoon on my Ultra Light outfit, what a great way to fish.Humberto is now Globally famous because he always looks like a film star in my photos and always has a wicked smile.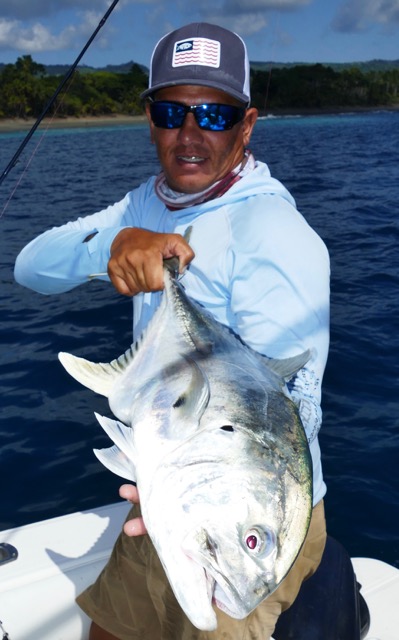 It was back to the barn and the pool and snacks and drinks, its tough work but someone has to do it.Tomorrows another day and I am sure we will have a wicked plan.
The Big Blue ending
Last day of Tom's and mines trip to Costa Rica….
We still have a lot of boxes to tick off but with the inshore fishing being very tough we opted for offshore with Anthony for our last shot.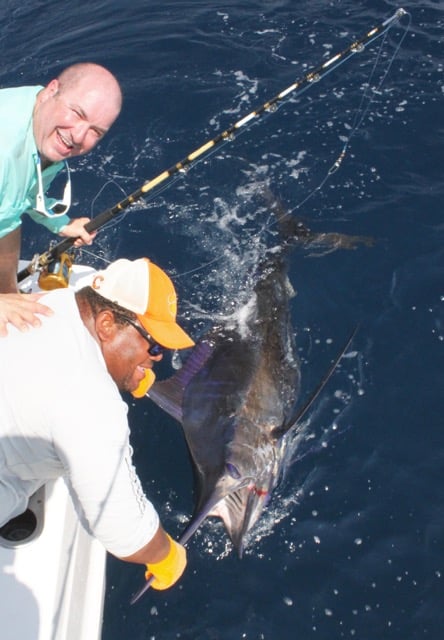 The day started by targeting tuna who were swimming with the dolphins but its time they didn't wanna play ball so off to go trolling for the big stuff. Trolling is great when you get a few hits but frustrating and time-consuming when you are not. Despite finding floating debris and drop-offs and plateaus and a few birds nothing wanted to play with our tackle and so we then caught some bonito to use as live baits and started to troll with one along with some teasers and some small deadbaits. We also mounted a dead Bonita ready to be fed back for any large fish that showed at the teasers.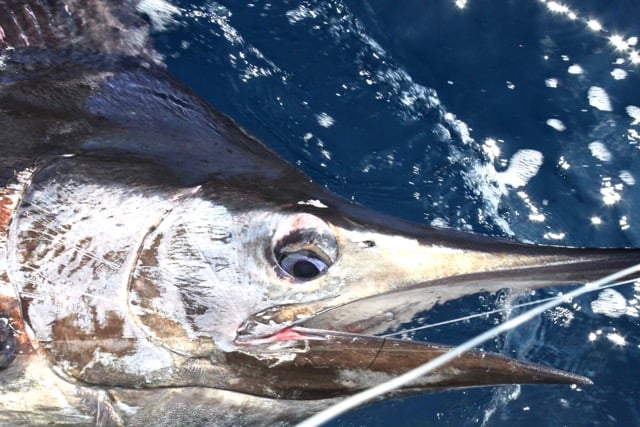 Bang, at about 50 mins to go a marlin's head showed at Anthony's favourite teaser lure which had no hooks in. The idea is to feed deadbeats back to a showing fish and try to tempt it "off the top". Tom already had his Bonita on the shotgun rod and so I grabbed the freelined Bonita and hurriedly fed it back to the violently slashing beak of the marlin. It opened its chops smashed the bait and turned away, engaging free spool counting to five and engaging the strike leaver led to the rod bucking over and the reel screaming like something out of jaws. The fish was hooked and took off jumping clear of the water and greyhounding all over the shop…. I just about managed to keep up with the fish and was fighting the fish of a lifetime on 80lb class standup gear with a leader of 130lbs but a small hook really designed for sailfish…it eventually went deep and the tug of war started…. lots of to and froing with me gaining and then the fish gaining and then 45mins later the skipper was able to grab the leader knot… technically a caught fish but no photos and so Anthony made a grab for the bill do the fish for the fish to angrily smash the skipper into the boat and he then had to release the bill and the fight started again, another 5 mins later and feeling pretty well spent I was able to bring it alongside and the skipper managed to grab hold again and this time he wasn't going to let go. I was able to thank the fish, unhook the circle hook from the scissors and get an amazing view of this stunning beast. The fish stayed with us for a few minuets whilst Tom hung off the side of the small boat photons the event and then it was released and swam off strongly.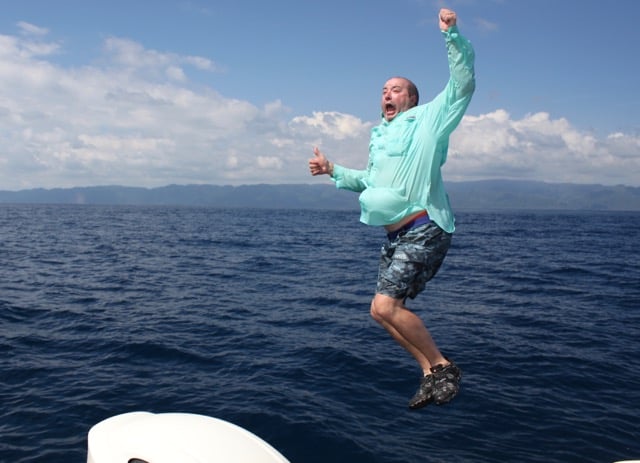 The beers came out as it was home time and the reality of an angling dream started to sink in. Seriously if you ever do this you will need an excellent captain ideally a good first mate and a largish boat… I only had the one being a brilliant skipper but also had my fishing buddy Tom who is full of Welsh power and without his assistance and encouragement, I ain't sure I would have beaten this Goliath. The skipper estimated the fish to be 350-400lb of Blue Marlin…… what an end to the holiday……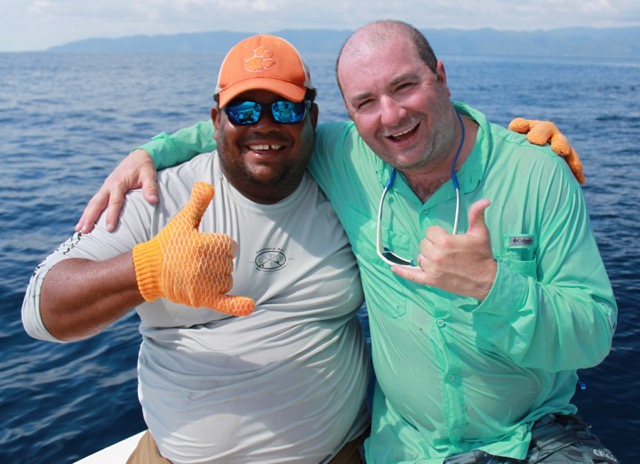 I love being a saltwater angler!