We have our second report in from the group over at Costa Rica, Ill now hand it over to Admiral Marlow –
It is day 2 of our Big Adventure at the fabulous Crocodile Bay Resort in Costa Rica.
The shipmates were tired out yesterday after the long journey from the UK. However, a good nights sleep and we were up wide-eyed and bushy-tailed for a 5:30 am breakfast.
It rained last night and the temperature dropped to a cool 24c, All of the boats today opted for the offshore fishing, mainly because it was tough inshore yesterday. Speaking to Humberto, our Captain, he thinks the high water temperatures have had an effect. We set off into a southerly breeze that kept the temperature down, it was just like we had the air conditioning on. The plan today was to target the Sailfish and we were all geared up for action.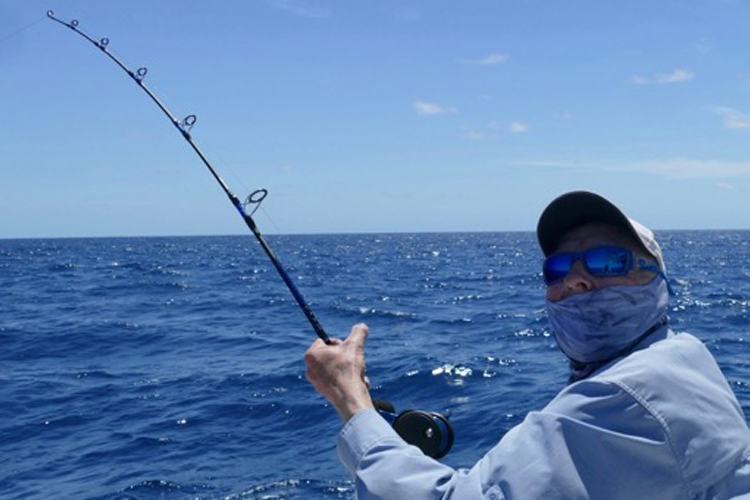 It was going to be a trolling day, that's something I am not that keen on, so we added a few tricks. In the water, we had two sets of teasers, a Marlin outfit, and 4 ballyhoo outfits. Our Ballyhoo outfits were light Daiwa spin rods two with the new LD30S and two with Saltinas loaded with plenty of braid. In reserve, we had two pitching rods ready to go with live Goggle Eyes and a popping rod in case we came across some Tunas. Jig rods were on standby in case we needed them. In all, we looked the part on our Boston Whaler.
We had all options covered, all we wanted was to find some fish that would eat. We ran about 16 miles out and set out our gear, it didn't take long before we raised our first Sail Fish. The reel screamed and I was like a tramp on chips and dropped the bait back, I felt the Sail hit the bait again and drop it, another drop back and a few seconds later our first Sail was on.
This is where you are glad of a lot of line because after a few seconds the fish is 300 yards away tail-walking towards Hawaii!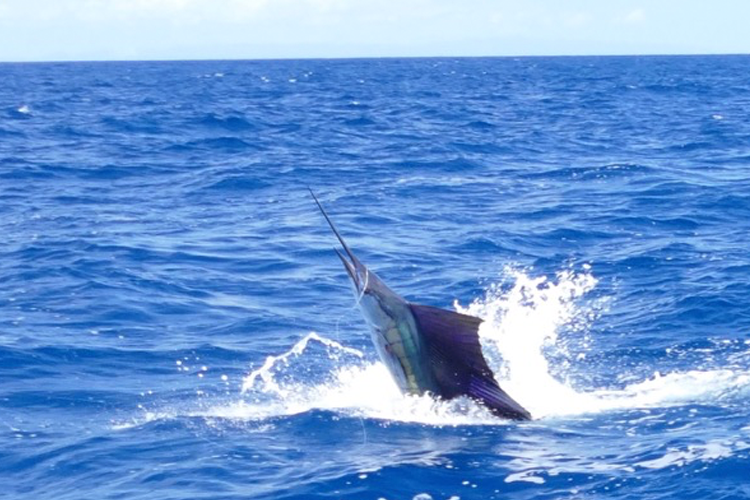 A Sailfish popping out for a picture!
At this time it can be panic on the boat because all of the other outfits and teasers have to be bought back on board before you can chase the fish. The Captain and Chris did a good job of tidying up the boat. Apart from that jumping Sailfish are not super fighters and steady pressure will bring them towards the boat, with 3000ft of water beneath them they are not going to go that deep. Once the leader is in the rod it counts as a release so I put Chris in charge and I was on camera detail.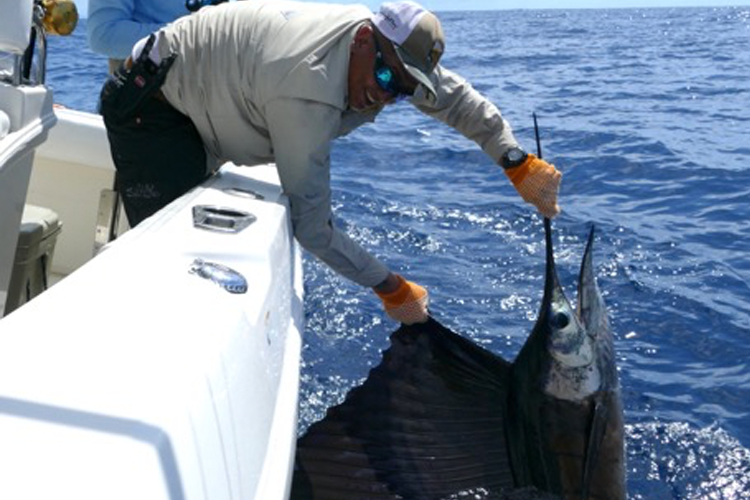 It was a magnificent beast estimated around 100lbs which was safely released. Cutting to the chase, two more followed and were hooked with the same tactics!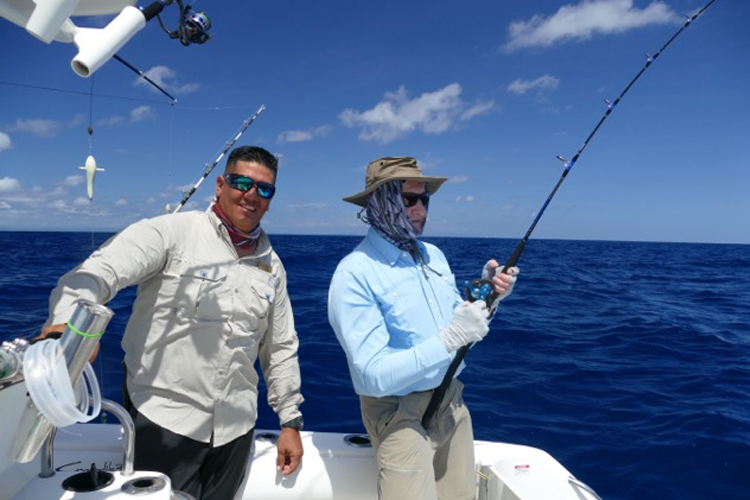 Moments before being bent into a huge Sailfish!
Humberto was giving Chris a bit more Jedi training. I find taking a good Sailfish jumping picture very difficult but I did manage a couple of better ones.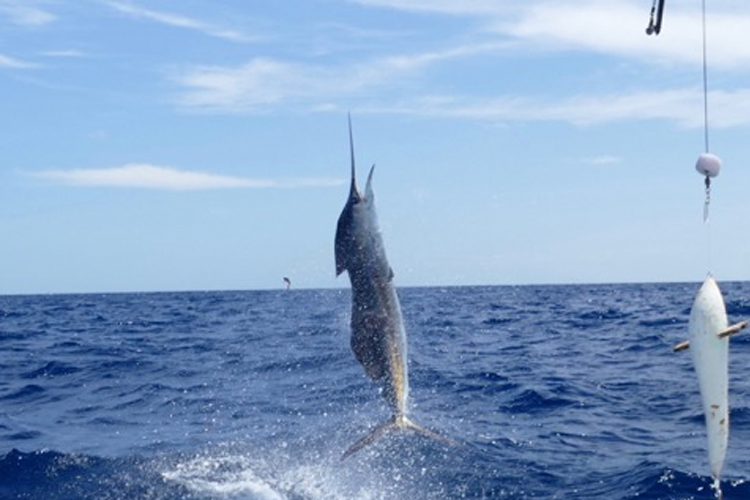 It was now 3 for 3 and with time moving on we had another hit. It was the same format, Humberto was like a well-oiled machine and I was the hungry tramp on chips, today the team worked very well with no mistakes. The first three sails were all around the 100b mark but this last one wasn't happy and put up a harder fight.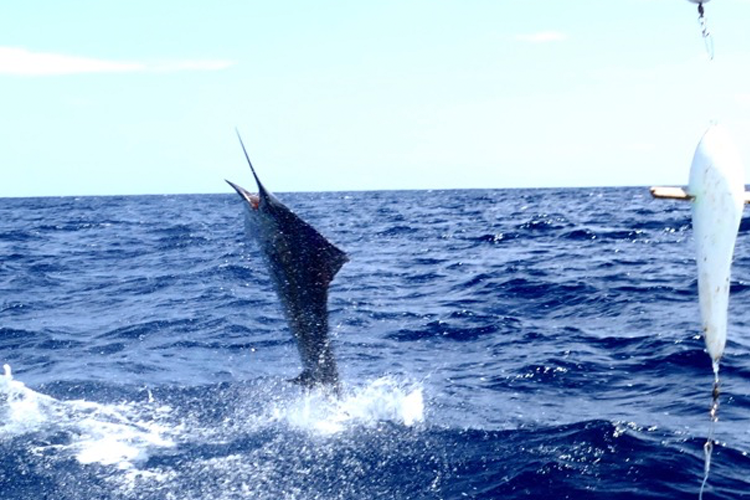 A stunning Sailfish Tail-walking
After about 20 minutes it was alongside the boat for a safe release, this was a bigger fish and estimated around 120lbs. The policy at Crocodile is to not bring Sailfish on board for fear of damaging them hence it is difficult to get good pictures.
We were now 23 miles out and it was time to head home. A great day with 4 big Sails released on our light spinning rods. It's tough for the Shipmates so I hope you have some nice thoughts of us suffering in paradise!
Signing off,
Admiral Marlow