We have our fourth report in from Roy over at Costa Rica, it looks like the Sailfish are on the feed! Ill now hand it over to Admiral Marlow –
The crew was up bright and early this morning despite possibly overindulging on all the great food here at Crocodile Bay Resort. I thought I would just mention that so you know we are not slumming and suffering too much hardship. We were on our way at 6:30 am with Humberto as our Captain on a Boston Whaler just at sunrise.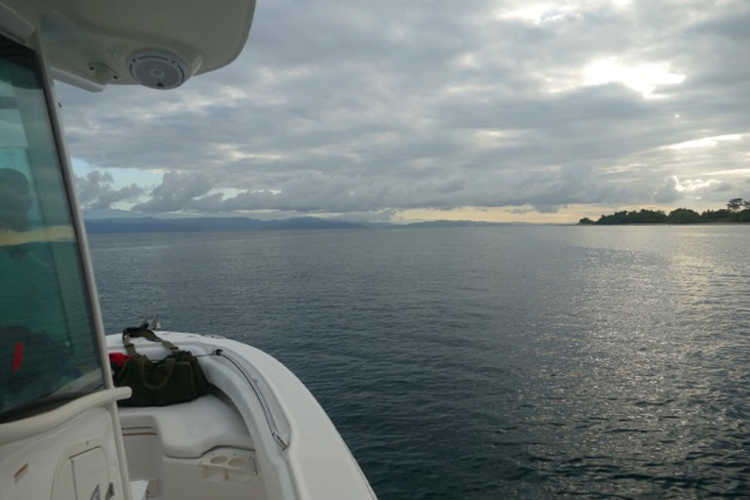 The morning view from the boat
Like all good Shipmates, we had a plan. Today we would go way offshore and try to catch some sailfish. Some 20 miles out in over 3000' of water we set out our rods. 4 of our lightweight Daiwa rods with LD 30's fully loaded with 50lb braid were all positioned behind two sets of teasers on the outriggers. Bait was to be carefully mounted Ballyhoo. In addition, 2 Marlin outfits were positioned, one short and 1 long, which gives a brilliant spread in the water. In reserve were two pitching rods ready for a live bait in case we saw something close by.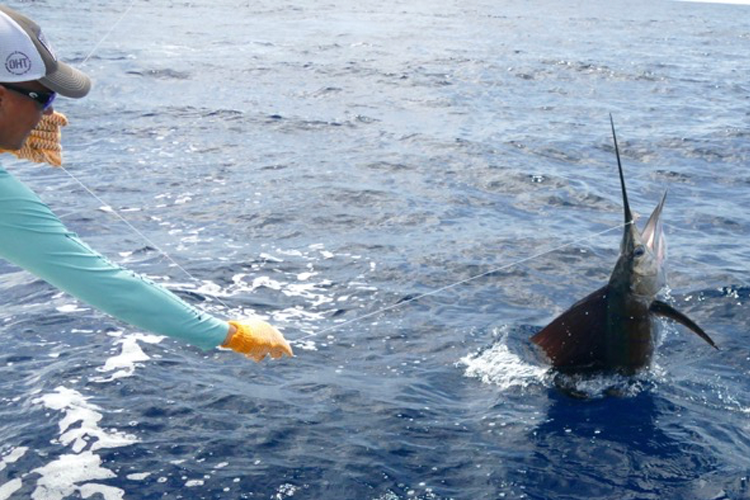 Opportunities can and do happen very fast and if you are not finely tuned in things can go badly wrong in seconds.
Today Humberto and I were like a well-oiled machine itching to go, Chris was not left out he was the tidy up man, an important job. We hadn't been fishing for more than 10 minutes before the first Sailfish hit the Ballyhoo, like the very hungry Tramp I was on the chips instantly and fed back the line with the mandatory 5 count. I put the reel in drive, but the fish instantly dropped the bait. It was then the classic drop back again to the fish. I had to do this 4 times before it ate the bait. The fish was on and made a great run. I had been making adjustments to my camera and after we had closed down on the fish I gave Chris the rod so I could take pictures. That never happened I reckon I had a very rare Sailfish that refused to jump, over the years I have caught plenty of Sails but cannot remember one not jumping. Anyway, it did show its head when Humberto leedered it. Not a monster but any Sailfish is a great Sailfish in my book!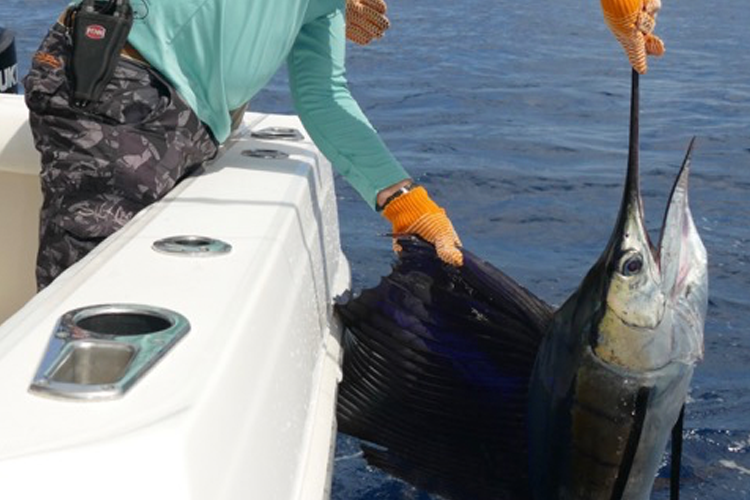 A lovely 100lb Sailfish
Shortly afterwards we raised another Sail Fish, again it was on the 4th drop back that it finally ate the bait. Another nice fish that did some jumping, unfortunately, most of this was 150 yards away. This time it did play ball and posed for a fantastic photo. We don't take Sailfish out of the water for photos because they are just too valuable to risk damaging them.
Shortly later we had a third that was a larger fish, I would say pushing 100lbs as it smiled for the photo.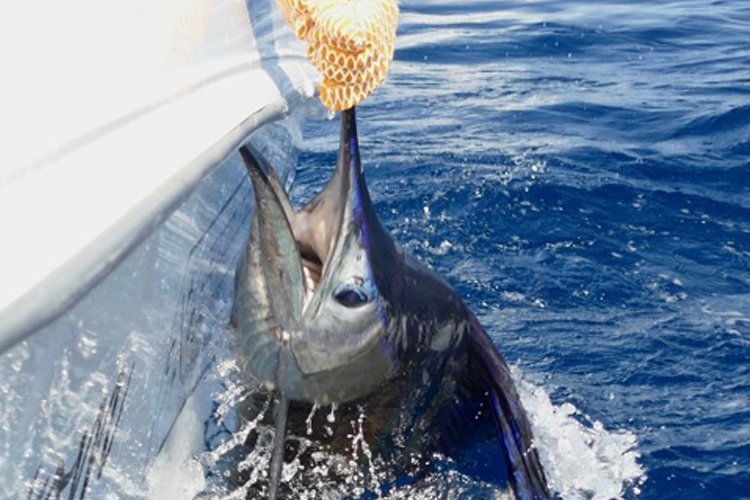 We finished up 7 for 4, that means we raised 7 fish that attacked the bait, however, we only had four that actually ate the bait. I lost one that I didn't see, it just kept going and I pulled the hook when it was pushing 300 yards away. I had a feeling it could have been a Striped Marlin.
Later in the afternoon, we had a Marlin slam into our Marlin Lure, to set the hook on such heavy gear Humberto gunned the engines, unfortunately, it was only on for a few seconds but it certainly gets the adrenalin going. I am training Chris so that he can be in a good photo, he is getting better as you can see. Here he is practising with a small one.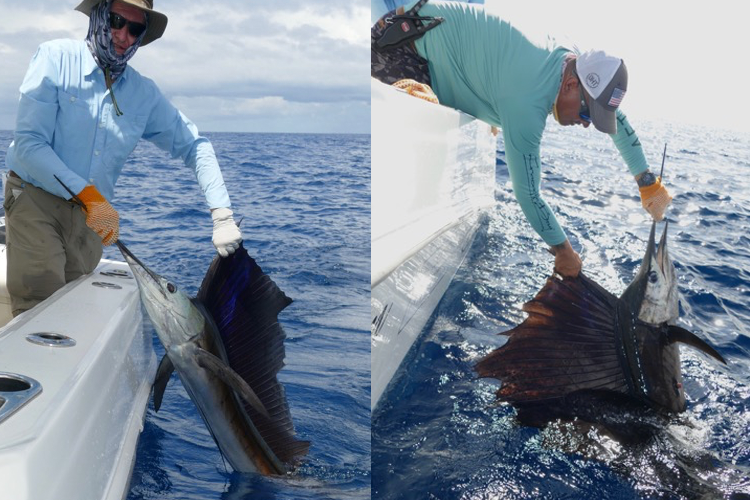 Two of the four Sailfish landed
Not to be left out our film star to be Humberto shows how it should be done. Humberto is the one wearing the cap. Tomorrow we plan to go inshore fishing, I have a secret plan, if it works I will tell you what it was, if we fail I won't. It's early to bed having just pigged out in the restaurant. Tomorrows another day and we have to pace ourselves.
Signing off
Admiral Marlow
Contact Us
Crocodile Bay Resort really is a one-of-a-kind destination, catering to both anglers and holiday-makers. Visit our Crocodile Bay Resort page for even more info, Alternatively, you can request a free brochure or simply call us today on 01603 407596 with any questions you may have.