Greetings from the most intense fishery and biologically diverse areas in the world – the Osa Peninsula in Costa Rica. Home to the amazing angling at Crocodile Bay and the unmatched beauty of the rainforest where we are located. The month of November was an amazing month for fishing for our guests. There aren't many places in the world where you can catch Dorado, Sailfish, Tuna, and Blue Marlin all in one day, but that was the case for a few fortunate guests who experienced Crocodile Bay's magic this past month.
November is the peak of the Dorado season and we had a few days where our crews landed more than 30 Mahi Mahi in one day, ranging between 15 and 60 lbs. This kept our anglers busy reeling in fish after fish, but what I love the most is the fish stories they talk about once they are back at the pool bar! As fishing director it is so satisfying to hear everybody brag about their catches. One our recent groups were so elated about reeling in around 5 fish per angler (everybody in the group caught fish), that their fish tales at happy hour were epic!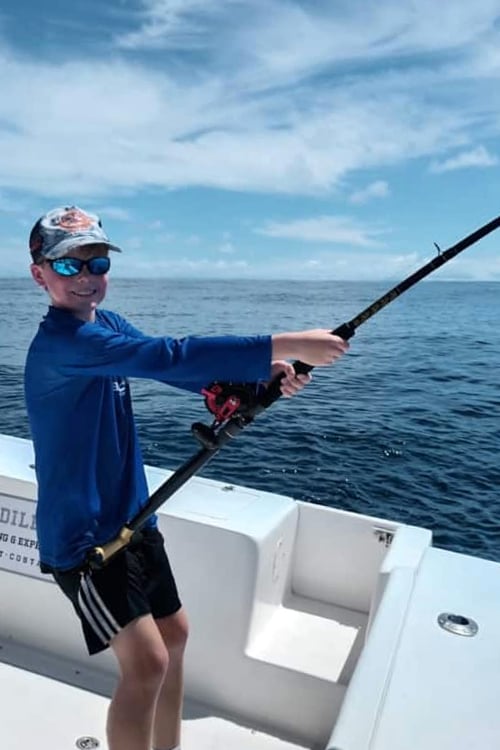 In the last few fishing reports I mentioned that the Tuna action has been on fire ever since the Costa Rican government passed the new Tuna-law, and the month of November keeps showing us the positive results of this new legislation! The tuna action has continued to be fruitful and we are frequently bumping into huge schools of Tuna running with the Spinner Dolphins. It is almost an everyday occurrence for our anglers now. With that being said, it means that the fishery in the Osa Peninsula is just getting better and better.
Even though it is still a bit early for Billfish season our anglers have been able to land a few Sailfish. However, the highlight of the month I have to say was the Marlin action. With the dorado season at its peak the Marlin loves feeding off the Dorados, and we had a few days where our anglers were fishing a school of Dorado and got surprised by Mr. Marlin picking up their baits – and the dance is on! If you haven't experienced a Blue Marlin dancing on its tail all I can say it's the most intense adrenaline rush you will ever feel. We do this every day and the thrill always feels like the first time seeing a Marlin perform aerial show again.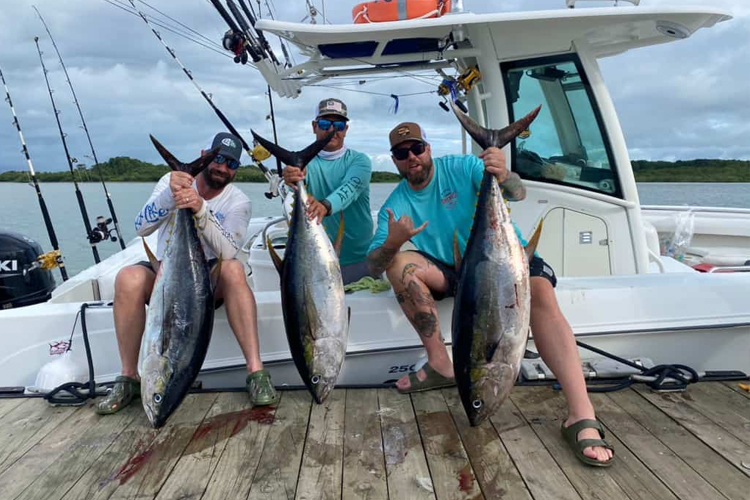 Hosting returning guests is a normal event for us, and I have to say that I have made most of my best friends here at Crocodile Bay. This past month I had the honor to host our long-time returning client and very good friend Charlie. Charlie invited me to come out with him on the boat one day to fish, and we had a blast reeling in a bunch of Dorados and a Blue Marlin. Other November returning guests I would like to mention are Greg Dick and Scott Johnson. These guys have come to visit Crocodile Bay every year routinely, and they love fishing with captain Humberto. This year those guys slayed the fish, landing big Yellow Fin Tuna, Blue Marlin, endless amounts of Dorados, huge Roosterfish and fully grown Cubera Snappers.
One of my favorite groups to host are families with kids, and this month we had the honor to host the Chudd family this month. I love the smiles on the kids' faces when they talk about the fish they caught. It is so satisfying hearing the grandfather say that this is the most he has ever seen the kids smile. Also they forget about their tablets or phones! Fishing is a good way to get them away from technology and the TV. It also made me happy to hear from the dad that this fishing vacation has brought the whole family closer together and made their bond stronger. If we can help with that, I feel like we are doing a great job. Those are the most rewarding moments for us!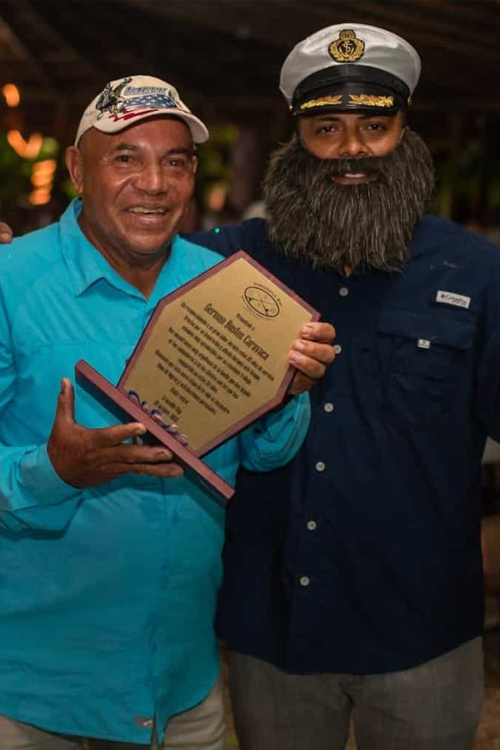 In the month of November we also hosted our favorite TV personality and Crocodile Bay family member, Mark, who was here filming yet another episode of Big Water Adventures. If you haven't seen the show I strongly suggest you check it out. It is not your typical fishing show, and this guy can teach you about different techniques and give fishing tips that I know are very effective. He's one of the best and he loves fishing at Crocodile Bay.
I would also like to mention that the past month one of our favorite and long-time captains, German Bustos, has officially retired after 20 years of working at Crocodile Bay. He guided and provided countless guests unforgettable moments and fish stories. He decided it is time to hang up his hat, but Captain German will continue to help us with passing on his knowledge of fishing by training the young generation of captains of Crocodile Bay. So past and future guests: you will be seeing more of Captain German around Crocodile Bay.
We are currently in transition from the green season to dry season, so we can expect calmer seas and more sunny days. Also with the fantastic angling action inshore and offshore in November, I can already tell December is going to be a great month for fishing, so pack your bags and come down to Crocodile Bay and lets start a long term friendship!
Diego Camacho
Fishing Director, Crocodile Bay 
CONTACT US
Crocodile Bay Resort is one of the best bluewater/big game resorts in the world and offers anglers the chance to target a huge variety of species. If this sounds like something you're interested in then you read more on our Crocodile Bay Tour page, or alternatively, you can contact our destination manager Paul Stevens on 01603 407596 or email at paul@sportquestholidays.com who would love to speak to you.