We've just received the latest fishing report from Diego Camacho, the fishing director at the fantastic Crocodile Bay in Costa Rica and like it so often is, the fishing has been excellent.
January was fantastic for both inshore and offshore fishing. We started to see a good number of sailfish coming up to our spreads and taking our bait like candy. Also, yellowfin tuna are still coming in which makes for some really fresh sashimi. But the main surprise has been the hot marlin bite: We have had a phenomenal season for marlin, and so many of our guests have been checking it off their bucket list. What makes it even better is raising marlin only 7 to 12 miles offshore.
I can say that the ocean is giving us a few unique situations. The yellowfin tuna are running in huge schools along with the spinner dolphins, and the sailfish season is getting off to a great start. Our boats have been raising an average of 5 to 15 sails per boat and the killer marlin bite continues to surprise us. As I mentioned before all this action has been relatively close to shore (between 7 and 25 miles) keeping our guests away from super long runs and providing them more fishing time to land other fish. We had anglers go offshore land a couple of billfish and had enough time to come back inshore and land a couple of roosters and some snappers for dinner.
We are now in the tail of the dorado (mahi-mahi) season, but we are still seeing them in really good numbers with over 200 dorados caught in January making a great table fare and one of the best fish for a delicious ceviche!
Roosters are well known for being a super-strong fighters, and a 50-pounder will give you every bit of strength they have making our inshore reels scream for help. Then you get them next to the boat and all of a sudden, they will take another run taking double the drag which makes roosterfish so much fun to catch. What makes it even more fun is bringing the roosters in the boat, taking a few pictures, putting them back in the water and watching them swim away happy and healthy.
Another surprise inshore species brought this month was the Cubera snapper bite. For me, it is one of my favourite species to fish for, as they are super smart and strong. Once you hook one, you have a split second to get him off the rocks or it is game over! Here in Costa Rica the Cubera Snapper are not protected by law, but here at Crocodile Bay we like to keep them alive, as they are not only the biggest growing snapper but also the slowest growing snapper. They only grow about a pound and a half per year so you can already imagine how old those 40 + lbs. are. Another fact about Cubera Snapper is the big ones are reproducing the most and it takes them about 5 to 10 years to start spawning, so we like to put them back in the water and keep them reproducing.
There were several highlights in January, but one of my favourites was hosting the McCloskeys who are repeat guests. Once again, they came to fish with us, but this time they decided to tie the knot in their lives and got married on our Crocodile Bay pier. They are such a nice couple and fishing made that special bond become stronger. We had a few father and son groups with us in January, including the Assante's family and the Gornall family, both checking a few species, including marlin, off their bucket lists.
We are starting the month of February with a big bang, with over 7 Marlin hitting our spread in the first couple of days already and we can tell the party will continue. If billfish are on your bucket list, this is the time to pack your summer clothes and fishing shirts and come down to experience world-class fishing here at Crocodile Bay. It will be my pleasure to greet you and assist your fishing needs to help you accomplish your fishing goals!
Please find below our Fishing Stats for the month of January:
Tight lines,
Diego Camacho – Fishing Director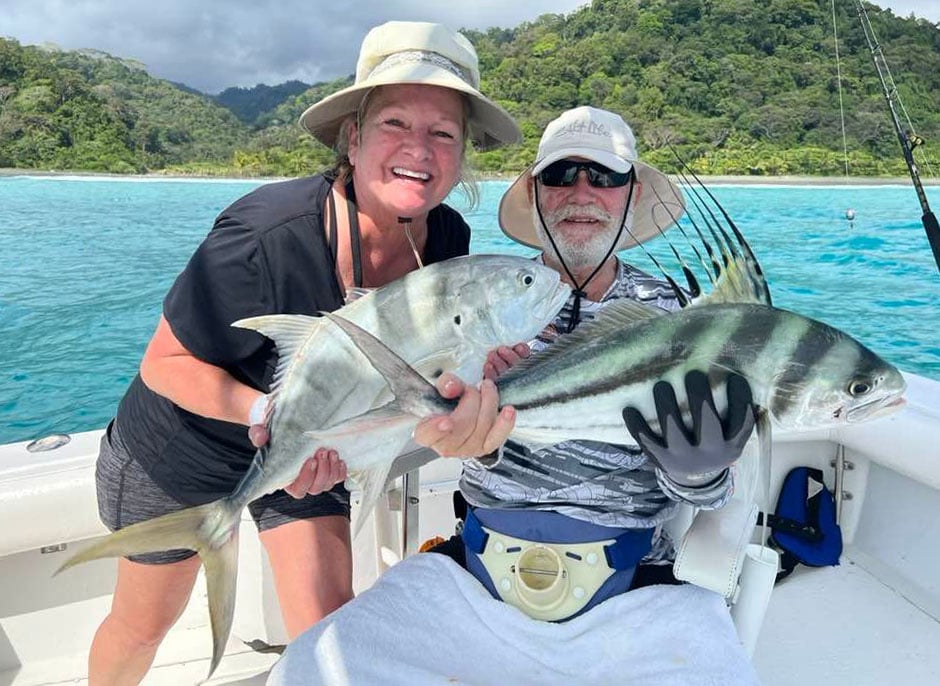 CONTACT US
Crocodile Bay Resort is one of the best bluewater/big game resorts in the world and offers anglers the chance to target a huge variety of species. If this sounds like something you're interested in then you read more on our Crocodile Bay Tour page, or alternatively, you can contact our destination manager Paul Stevens on 01603 407 596 or email at paul@sportquestholidays.com who would love to speak to you.