Another month passes at Crocodile Bay, with even more monster Marlin moving into the waters, we are hoping next month we could even see some big Black Marlin passing through the waters.
July 2021
Fishing improved a little offshore as a few Marlin started moving into the area in recent weeks. As we move further into July and August we should see it get even better. This is the time of year that some Black Marlin, as well as the Blue, move through our waters.
Two scientists from Stanford University spent a week with us placing Satellite tags on some Marlin and Sailfish. Their study had been delayed more than a year because of Covid travel restrictions by the University but we were glad to have them back again.
It was a tough week for Danielle Haulsee and Hanna Blondin, who fished in bright sunny skies while dodging some Costa Rican rainforest showers, but the women managed to place tags in 4 Blue Marlin and 7 Sailfish. These sets of tags were programed for 3-months, and at that time the tag will release, pop to the surface and begin transmitting the data it collected. The tags can be programmed to release up to a year later and they have put out earlier tags programmed at 6 months and one year.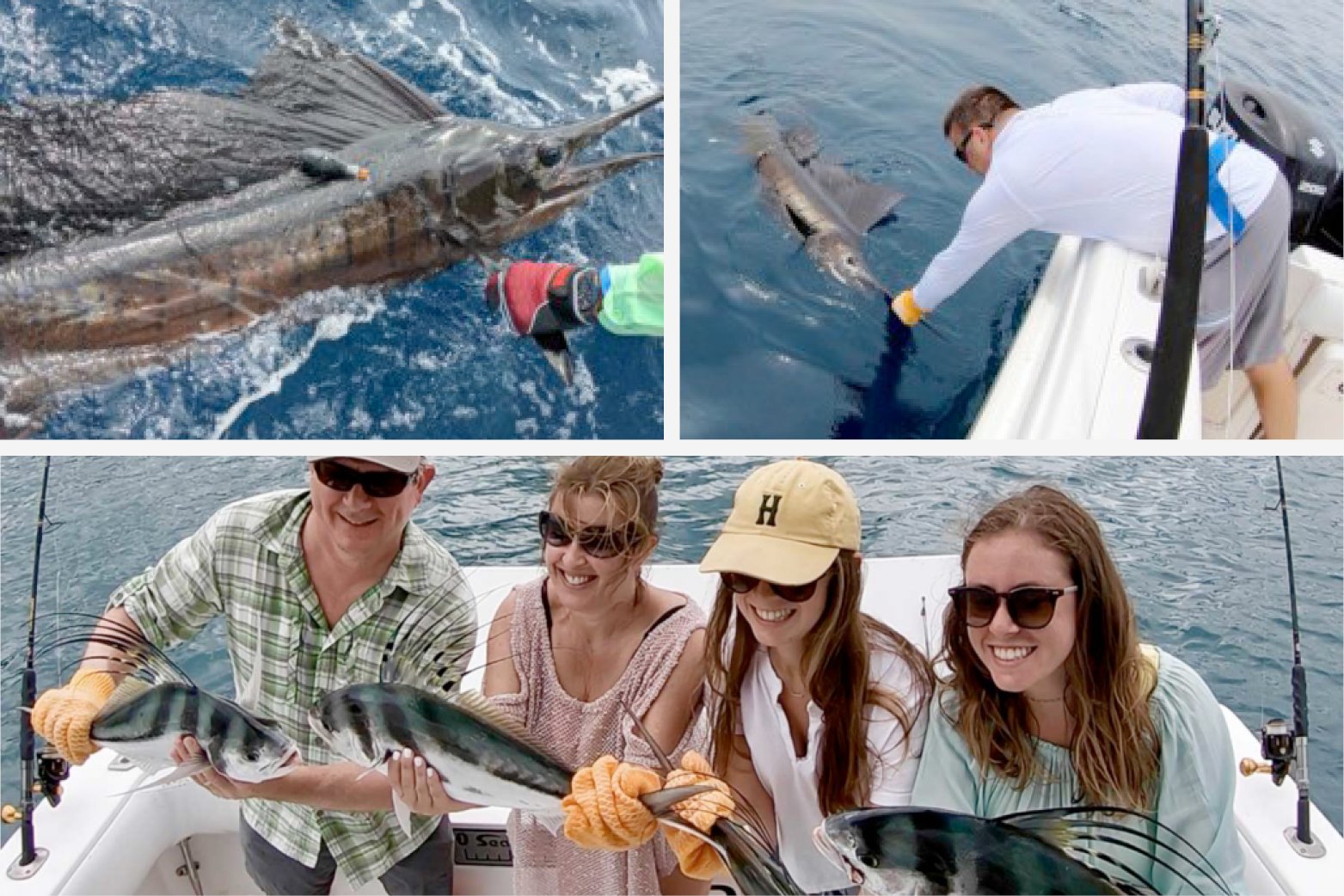 I fished with them one day and we were trolling near a pod of spinner Dolphins and watching 50 plus pound Tuna skyrocketing out of the water chasing bait. Nearby, the Crocodile Bay boats had multiple hook-ups. It was hard to stay focused on our mission, but we kept the Marlin lures in the water while we watched everyone else pulling in Tuna.
This is also the time of year to catch big Roosterfish. There seems to more of the big girls around this time of year. You may not get as many bites as when the smaller ones are schooling, but patience just might get you a 50 pounder.
Quite a few African Pompano are still are around, as well as Snapper and some Amberjacks on the reefs. They are taking baits as well as jigs. We are in our 'Green' season and you may never get a chance to see rain as it falls in the rainforest. What is unique here is most of the rain falls at night. It can pour all night and it is like someone shuts the faucet off as the sun comes out and makes for a nice day. Then, late in the afternoon it clouds up and starts over again.
Tight lines,
Todd Staley
Contact Us
Crocodile Bay Resort really is a one-of-a-kind destination, catering to both anglers and holiday-makers. If the sound of Roy's trip in the past week have interested you, take a look at our Crocodile Bay Resort page for even more info,
Tight lines,
Paul Stevens