There are only a few places in the world where you can target Roosterfish and Blue Marlin consistently, and the Osa Peninsula is on the top of that list! During our peak of the green season the bite gets better and better, and the inshore and offshore fishing during this time of the year is amazingly good. There aren't a lot of places you can catch 15 to 25 Roosterfish in one day or raise 2 to 7 Marlin in one day, and we can say with pride that Crocodile Bay has held up to those expectations during the last 22 years.
In the month of September we had a wide variety of fish caught and released, but the highlight of the month was the Roosterfish and Cubera Snapper bite. When you are fishing for that bucket-list fish, you might only get one or two opportunities on hooking them, but at Crocodile Bay our anglers were spoiled to more than ten opportunities to hook and land that dream fish during the month of September!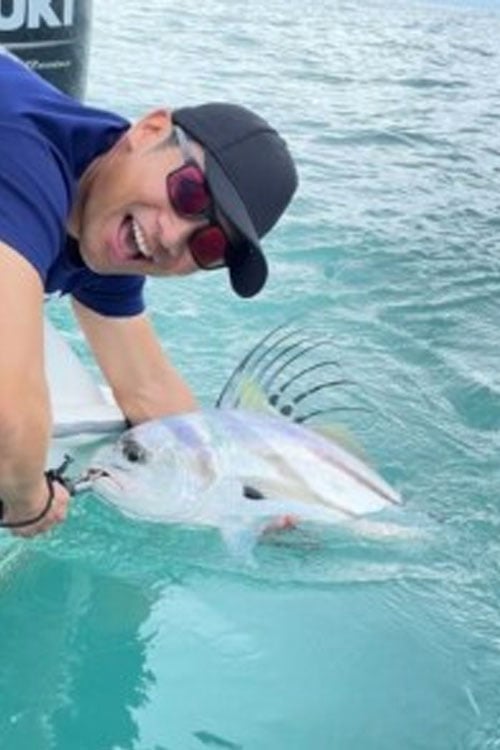 We had great fishing this past month with vertical jigging and casting different lures. There was a few 30+ lbs Cubera Snappers landed while vertical jigging in about 60 to 100 feet of water. If you haven't had the opportunity to catch a Cubera Snapper it should definitely be on your bucket list. A cool fact about the Cubera Snappers is that they are the biggest growing Snappers but also the slowest growing Snapper – they only grow about a pound and a half per year. Right now the world record is 130lbs, yes they do get that big! Also the bigger they are the more they reproduce, that's why here at Crocodile Bay we like to protect them and release those big guys to keep the species reproducing.
Ever since the Costa Rican government passed the new law that moved the commercial Tuna fishing boats 80 miles offshore, the Yellow Fin Tuna feeding frenzies offshore must be seen to be believed! There are tunas of 80 lbs and under are amazing fun casting poppers and seeing them smash them in a flurry of white water. The bigger Tuna at Crocodile Bay can go over 120 lbs.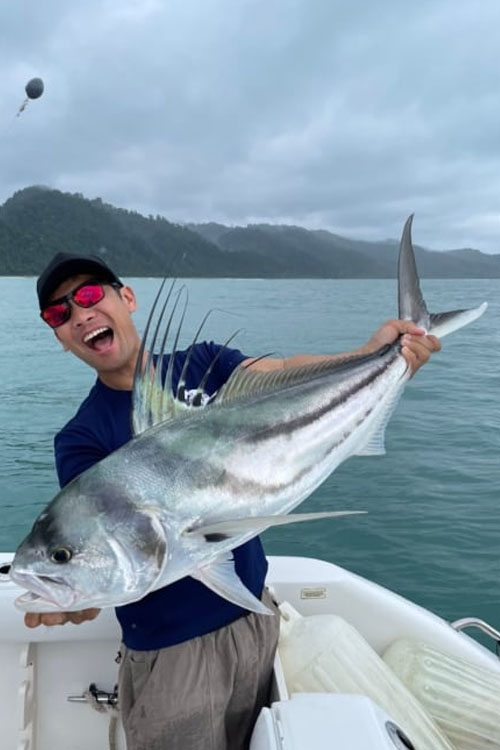 Blue Marlin or "the lady in the blue" as we like to call her, has also made a really strong appearance in the month of September. With the rainy season the rivers overflow and wash off all the good natural debris like logs and branches, which are creating shelter for bait – which is a nice buffet for Blue Marlin. Around this time of the year it is a little bit easier for our captains to find the promising fishing grounds, since the current lines take all that good debris offshore, getting our clients onto the fish in a shorter period of time.
Crocodile Bay happily hosts to different TV fishing shows from all over the world over the year and in the month of September we had the honor to host Thumb Nakatorn from Thailand filming his TV episodes with us. This guy means business when it comes to the fishing world with over 3 million viewers on YouTube he reaches every corner of the world. He really put on a show for the cameras. He caught and released 17 solid roosterfish in one day.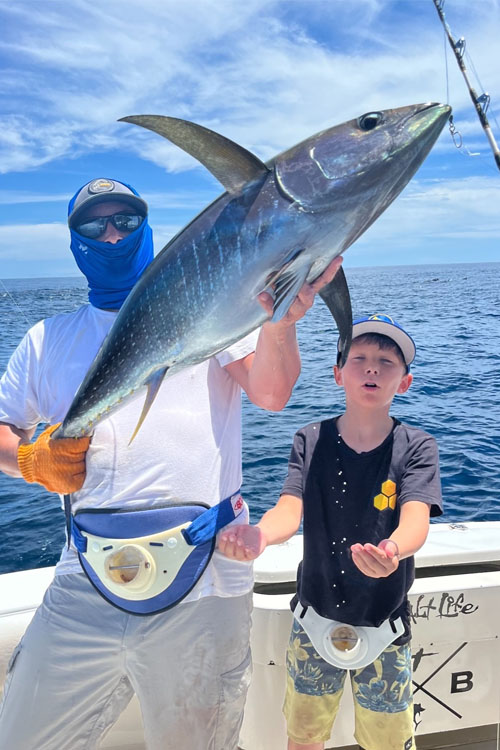 Crocodile Bay continues to upgrade our fishing and facilities and we're looking ahead into the future. I can say that holding our world class fishing reputation is just going to get better and better as we are currently working on repowering our 33" Strike tower boats with brand new caterpillar motors and paint and our Boston Whaler boats with brand new Suzuki 200hp outboard motors. Additionally, with our brand new resort at Botánika, we can provide first class accommodation and shoreside experiences to our fishing adventures.
Our amazing captains have incredible experience fishing in the waters around the Peninsula, and after all my years in this business, I can tell you that fishing is all about passion, enjoyment, consistency and having a great time! That is exactly what we deliver. You can feel confident that you will be fishing with some of the most knowledgeable captains in Costa Rica. Our fishing packages are the best around. Don't just take our word for it…pack your bags and get yourself to Costa Rica and let us prove it!
Tight lines….
Diego Camacho
CONTACT US
Crocodile Bay Resort is one of the best bluewater/big game resorts in the world and offers anglers the chance to target a huge variety of species. If this sounds like something you're interested in then you read more on our Crocodile Bay Tour page, or alternatively, you can contact our destination manager Paul Stevens on 01603 407596 or email at paul@sportquestholidays.com who would love to speak to you.