With a fantastic finish we rounded off this past season here in Havöysund and the last group of customers have left the camp today. The last few days up here have offered really good fishing and great weather, the guests at the camp have caught a good selection of big fish and we are happy to round off the year with the fishing at its peak.
On Monday a small group of customers participated in some fantastic fishing, the weather was absolutely perfect and this made the conditions perfect for halibut. As the tide began to approach its peak one of the customers got to know the real powers of a big Halibut and they managed to land his fine PB Halibut at 161 cm (130lb est) but this PB  wouldn't be long-lasting … Just half an hour later David is standing again with a severely bent rod and with more experience this time he quickly pumped up another real dream fish of 150 cm (103lb est) which was absolutely fantastic, but it did not end there.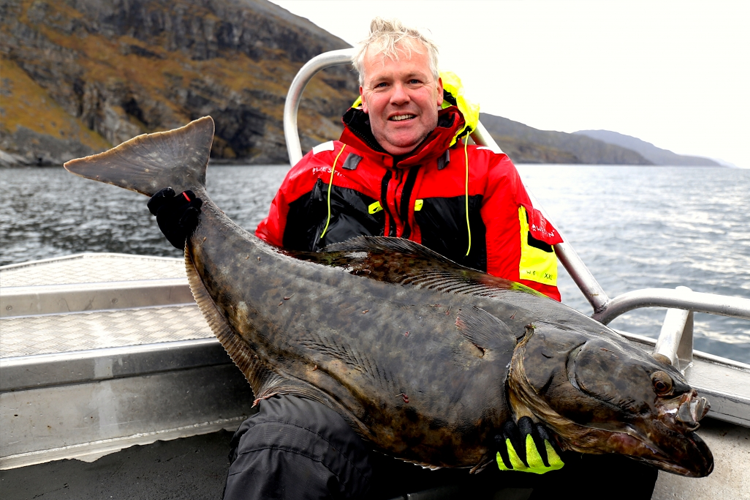 Another hour later it was the same customer again who hooked up, with a really heavy bend in the rod, this time with even more feeling in the body he immediately realized that there was talk of yet another really big fish.
This dream fish had to measure in at 170 cm (155lb est) and put in a bigger PB and David had thus been allowed to pull 3 fish over 150 cm (104lb est) in the course of a couple of hours, which is completely crazy.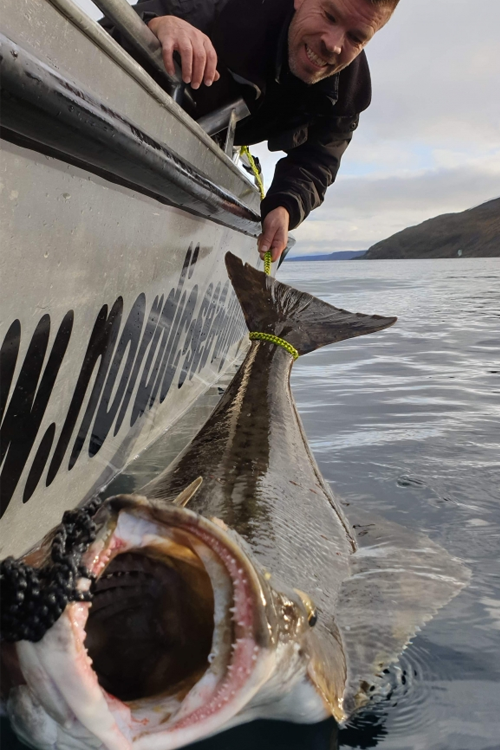 During yesterday we went out for the last session of the year, the weather promised 11-12 m / s from northeast and rain throughout the day, we did not plan long days but focused on fishing in the places in the immediate area where we know fishing is good and there it is big fish, and big fish there was!
Again boat 2 were up and running and after a few hours of searching and searching for a place where it was good to fish given the weather and the waves they got settled in and started fishing. One of the customers had really good bite and set the hook, he immediately felt that there was a serious weight on the other side of the rope and a fish that did not want to follow him up.
The fish held for a long time and pressed against the bottom without giving the customer a chance to lift it, but after 10 minutes he started to move it and without any major restraint,  finally they managed to pull through the Halibut hook and secure a completely magical fish of 205 cm (285lb est) alongside the boat and we say big congratulations for a real dream fish!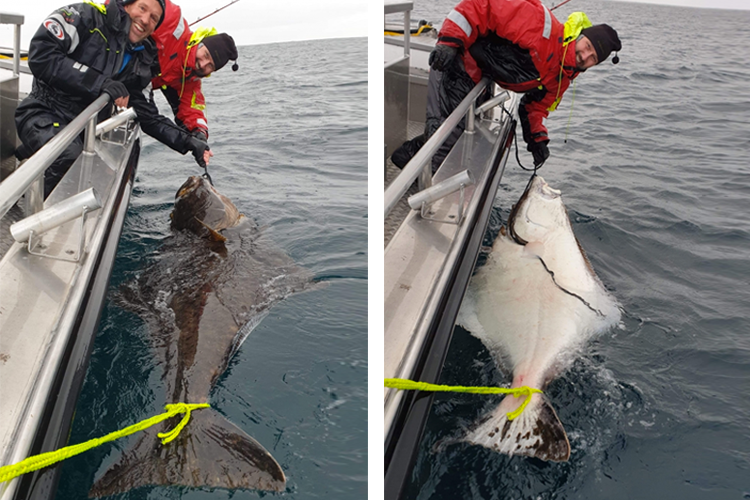 What an end to the season and what a fantastic fish, it will be with a bit of sadness that we are now closing down the camp but we are also looking forward to the 2020 season and it is really looking hopeful!
We thank all the wonderful guests who visited us here during the season and each and every one of us made this year absolutely fantastic and hope you venture again next year for new adventures and more dream fishing!
Tight Lines,
Paul