Its great to see another group of anglers out in the Andamans! We are all so jealous here in the office! Ill pass you over to Akshay from Andaman angler –
Jigging, Trolling and Popping!
We spent last week fishing with a couple of repeat anglers, Sudhir and Vinod. They were joined by Uday and we set off on a GT popping adventure! We were the last guys to be out and had a good idea where the fish were holding. Though we were to mix up the fishing with some jigging and a bit of trolling, the topwater bite was hot so it primarily turned into a popping trip.
Given the almost flat conditions, poppers out-fished stickbaits thought the largest fish of the trip was on a stick bait. The rods used were the Venom popping rods made by Wilson paired with the Shimano Sarasosa reels spooled with 100lb braided line. All fish were released and we're planning to head back to the same areas where the bite was hot previously. On our runs to distant reefs we cruised the drop off and saw early signs of the YFT migration. Though we didn't come across them this time, we expect to have some super YFT popping in the next few weeks.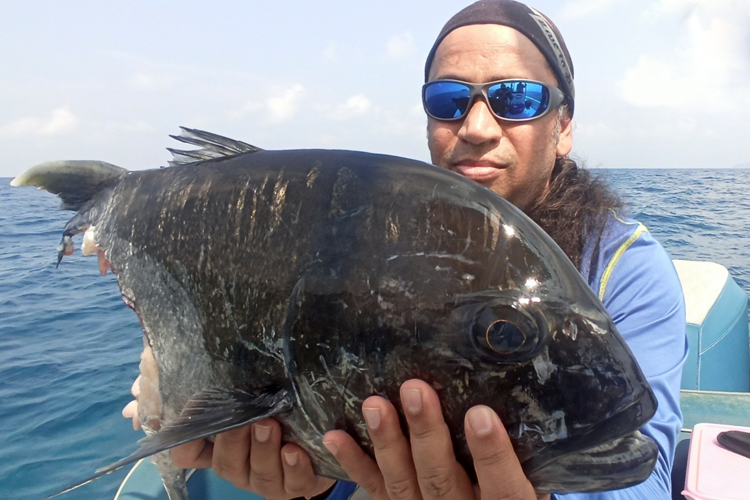 Watch this space for more fishing action from the Andaman Islands!
Contact us
Its great to see happy anglers back on the waters! We are currently in the process of putting together some fantastic single angler dates for 2022, so keep your eyes peeled on our socials for more details.
If you fancy some of the worlds best GT fishing then get in touch on 01603 407596 and believe me that you will not be disappointed.
To view this awesome destination in the Andaman Islands click here.
Tight lines
Paul Stevens