This week at Kau Tapen we began the week with a bit of rain as we welcomed guests from the USA, UK, and Canada. While not a downpour, this change in weather mixed with calm conditions was a welcome sight as we headed to the river. In our lower beats, Jim and Larry began the week on a high note and landed 3 solid fish of 10lbs from the Menendez. Catches ramped up in the evening, and a number of fantastic 16lbs fish were landed for Jim, John, and Sam. John's fish was extra special as we were able to get it unstuck from a snag on the bottom. Although this sometimes ends with a fish story, today the team angler and guide prevailed we were soon releasing the fish John stated, "he travelled thousands of miles for."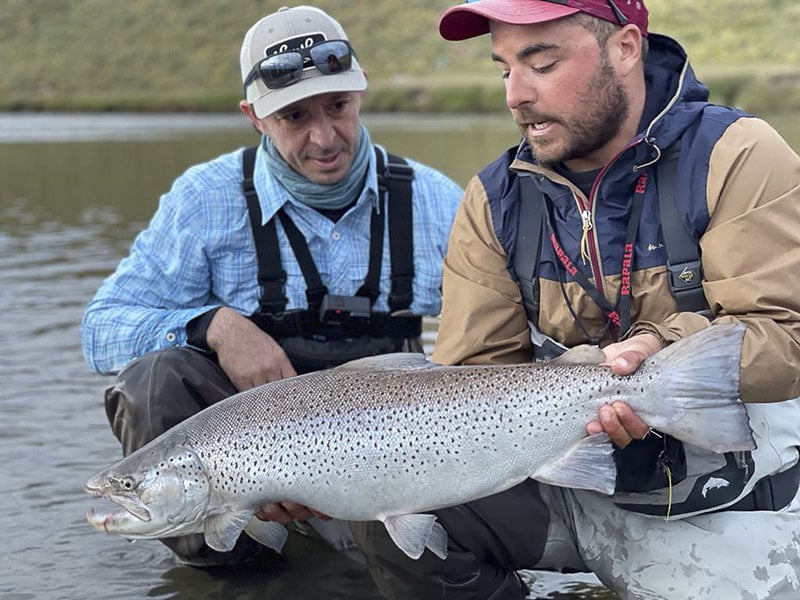 It seems that last week's exceptional average size of the fish was turning into a trend rather than a fluke and the next morning, Bill proved just that and landed the fish of the week, a 90cmX 53cm bright male of 21lbs. After a harrowing fight with a single hand rod, the fish was in the net and it was smiles all around. Jon took a fish of 16lbs the same session and Jim had one of 18lbs. The action continued to roll in through the evening, as Mark took a great fish of 17.5lbs and Bill lost a great fish that came unbuttoned after a lengthy battle. We never saw the fish, but the power on the end of the rod was enough to leave all parties in shock moments after.
 Two days after our initial rain, there was a slight 6cm rise in the water, and the calmness came to an end. Although the wind was not exceptional by Tierra del Fuego standards, it still made for a bit more work in navigating the pools and placing anglers where they could use these conditions to their advantage. Jim and Larry continued to have success in Menendez, landing three fish and hooking a few more. Bill returned from the morning with another 20lber, this time a silver hen fish with exceptional girth. Two 20lbs+ fish in two days is quite the feat! That evening, Nadine put on a show with three fish of 15, 16, and 17lbs. Ali landed his fish of the week of 19lbs as well. We are so excited to see these fish in a healthy condition and to have so many trophies around. While any cast can produce an amazing fish here at Kau Tapen, to see so many giants is truly special.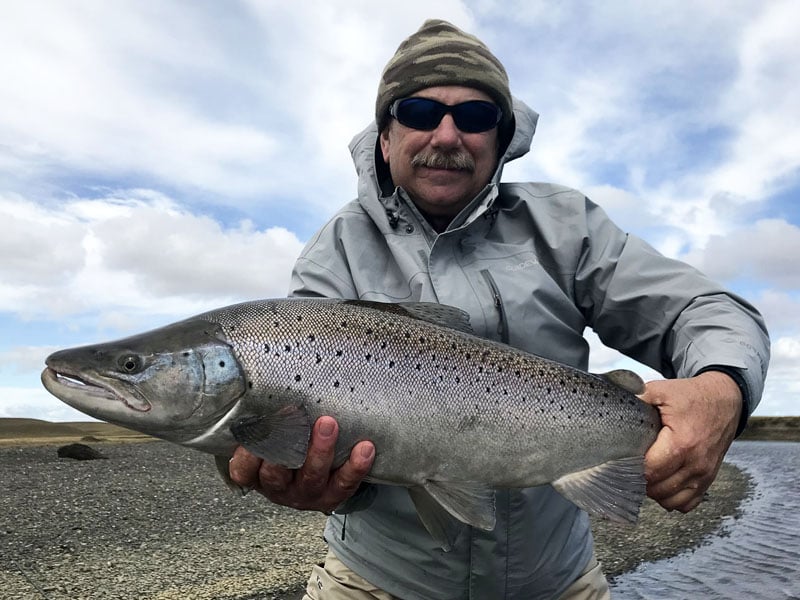 The next morning the wind continued and there was a special fish to note. Chris, visiting us for the 21st time, landed a great 17lbs fish in the pool of his namesake- "Chris's pocket." Many years ago he landed a few nice fish in the same place, so it was great to see the river giving up another from his pool. That evening, Jon found his fish of the week, a 88cm x 49cm 19lber, that was well earned and landed on the single had rod as well after a great fight. 
The wind did not let up the next morning as predicted, but that did not stop Jim and Larry from landing 6 fish for the day's first session. This included a 17.5 and 18.5lber, a great fish for each angler. Two fish of 17lbs were landed for Jon and John during the evening session and the wind finally began to recede, at least for a bit.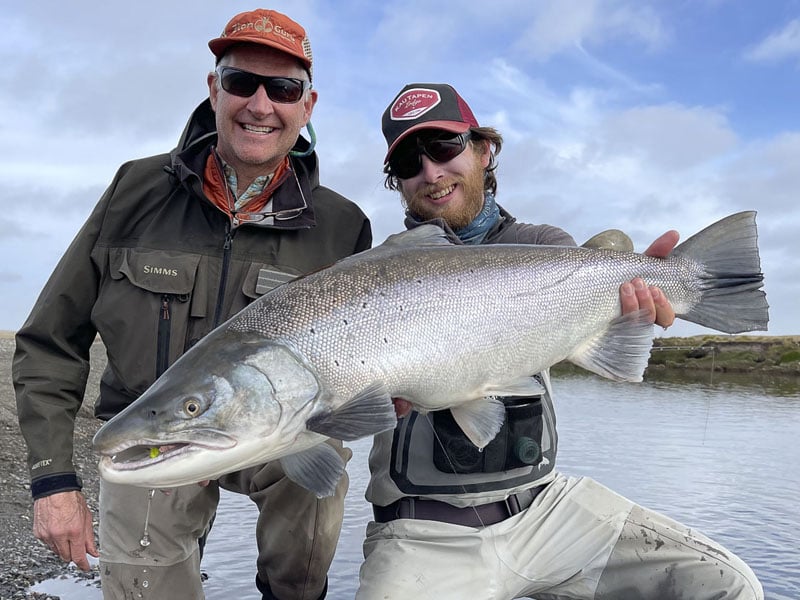 While the water did rise slightly this week, by the final day it was back to its previous level. The week ended with clouds and calm conditions, although the wind is expected to arrive again in full force for the first few days of the next week. No matter the condition, the guide team is working hard for all and excited based on the fantastic catches that are coming in on a daily basis. Over 20 fish were landed this week over the 15lb mark, which is an exceptional result for guests and guides alike. It is turning into a season to remember here at Kau Tapen, and we cannot wait to share it with all of you from around the world.
It is turning into a season to remember here at Kau Tapen, and we cannot wait to share it with all of you from around the world.. Thanks to all for joining us on this special fishery and keeping up with our reports from the river.
Tight Lines,
Max Kantor – Kau Tapen Guide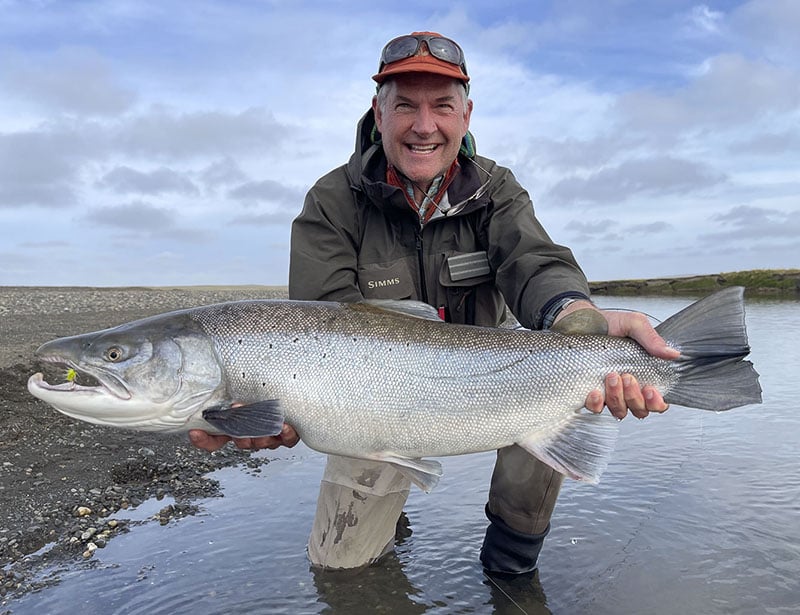 CONTACT US
If you like the idea of doing battle with some monster Trout on the banks of the Rio Grande River, then check out our dedicated tour page for Kau Tapen. If you'd also like any further information, you can contact our fly fishing specialist Peter Collingsworth on 01603 407 596 or email at peter@sportquestholidays.com.