It's amazing how time flies as we have already passed the mid-point of our 2020 season. Another great week was in the books, and we were looking forward to welcoming some old friends, like Kjell and Dave, who has been a part of our family for quite a few years now, and spending quality time on and off the river with them is always precious. Hubert and his son Jean-Hubert were also returners who we had the pleasure to welcome here for many, many years already and were happy to see again this year. But, it was great to welcome new members for their first time, like Charles and Brian from Canada, Pierre from France (who had fished our old sister Lodge "Toon Ken" years before), and Bud from Colorado. Neither Bud nor Brian had ever cast spey rods before, would later show us just how easy it can be to learn! A great group that promised great fun ahead on and off the water.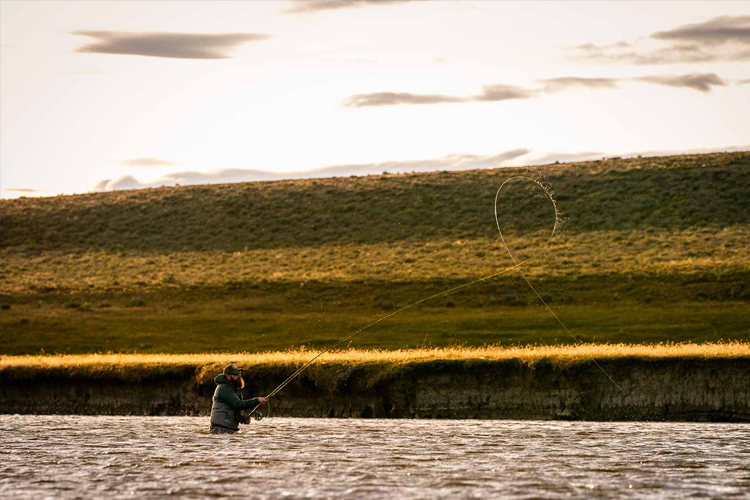 While stable conditions blessed our fishing during the previous week, this week showed more severe fluctuations in weather and water once again. As our new guests arrived, the combination of strong winds and previous rain in the mountains started to stain the visibility in of the water. This created a tough day to get acquainted with a new technique like spey casting, as our conditions demanded heavier flies and sink tips. But, the crew managed surprisingly well, and the first good fish were being landed. Dave, for instance, had an amazing start into his week with a chunky 16 lb and another cracking 17 lb fish right off the bat in his first pool. Brian and Charles took the pressure off with a few nice fish out of the gate, as well! This hot-start was only topped by Bud's fantastic 21-pound fish during his first evening session – his first day ever spey casting with such a stunning result.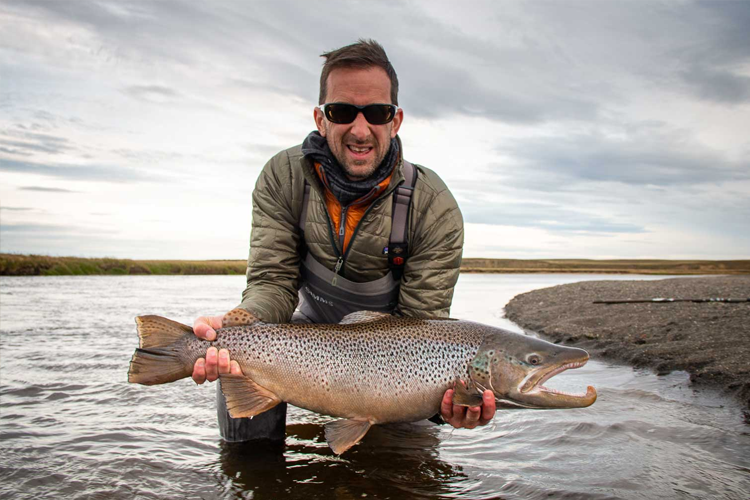 A stunning spotty specimen!
From day one, both water level and clarity were inconsistent, changing every day, making it quite hard for us to find the right approach. On top of that, very cold nights forced the water temperatures down to 8 °C during the first hours of the day. However, on some days, the temperatures rose all the way to 16 °C during the heat of the day.
Most hook-ups were seen on rather heavy tips, and small leeches,  intruders, and heavier rubber leg patterns fished very slowly. Not only was it difficult to find the right approach, but these rapid changes affected the fish's activity and seemed to put the fishing down for some periods of time. Nonetheless, if you were in the right pool at the right time, things looked much different and you could encounter some amazing fishing. Just like Jean-Hubert and Hubert, who landed six fish up to 16 lbs in just one pool on the second evening, or Pierre, who hooked 9 fish just on Tuesday, landing some very nice double-digit fish up to 16 lbs.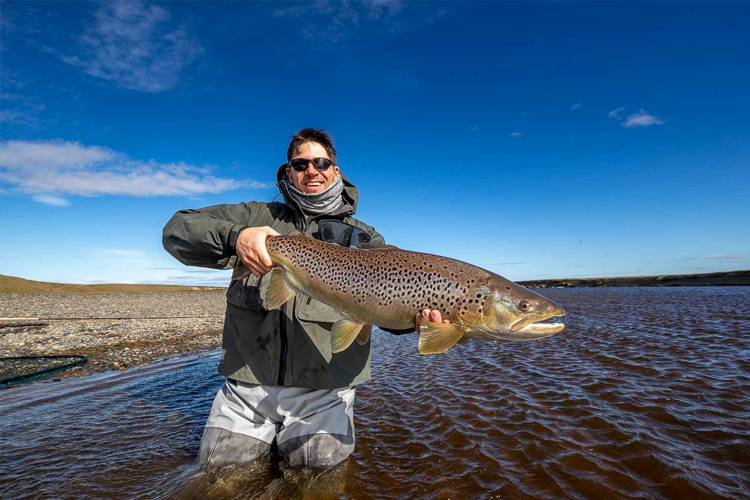 Jumping and porpoising fish indicated lots of fish movement in our system. These running fish mixed up most pools and once a pool settled, the hook-ups followed. The first few days were mostly affected by small pushes of water during Tuesday night, however, the water came up another 20 cm (8 inches), and the visibility dropped down to only 30 cm with lots of debris being carried down river. Both the Río Menéndez and the Río Grande were high and coloured. The low visibility made it much tougher to get the fly close to the fish, even with a big tube fly in front of your leech and a long T-17 tip. Shallow pools with good holding structure produced good results, considering the conditions. Those pools were our saving grace and balanced out the tough fishing in some others. If one was able to get the fly close enough to the fish, one would hook them. Like Dave, who was able to land three great fish in the morning session in one of our shallower runs, and so were Charles and Brian in the evening, both landing a proper mid-teen fish during their evening, as the water had just started to clear again.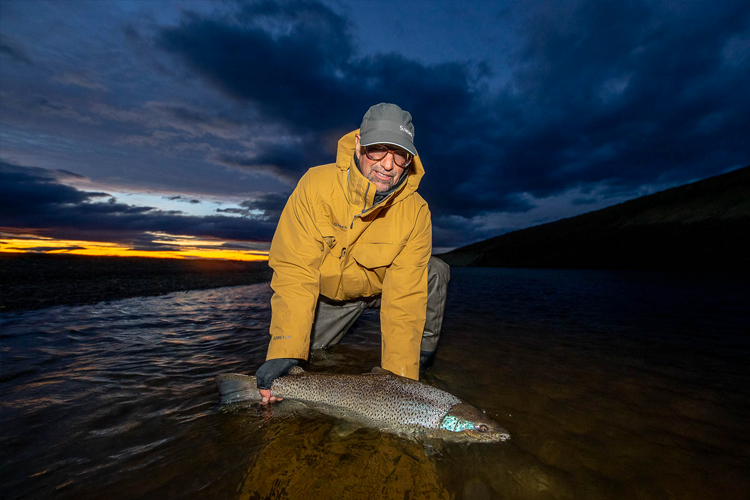 Sea Trout with a sunrise!
With less debris being washed down and a slowly dropping and clearing river on Thursday, the visibility was enough to confidently fish most pools again, still using very big flies and heavy tips. Most beats produced good fishing and everybody was able to hook fish that day. That trend continued, although the river was dropping only at a very slow pace, it was starting to look very "fishy" again on the last day.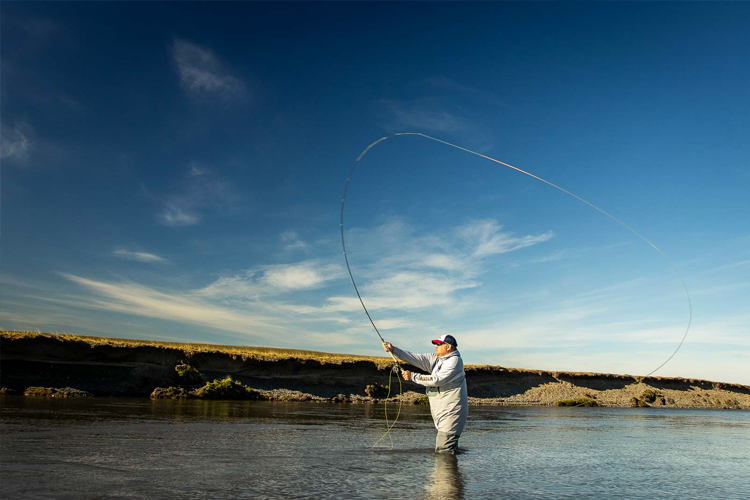 I was especially impressed by the amount of 8-12 lbs fish that were landed this week. The high water seemed to have pushed in loads of these mid-sized fish, who used the higher water to run upstream rapidly. They are amazing sport, and "happy takers" in these conditions. These fresh runners stay higher in the water column, are more active and easier to access with the fly. Even though it was a bit tougher to reach the bigger fish, some amazing mid-high teen fish were landed along the week.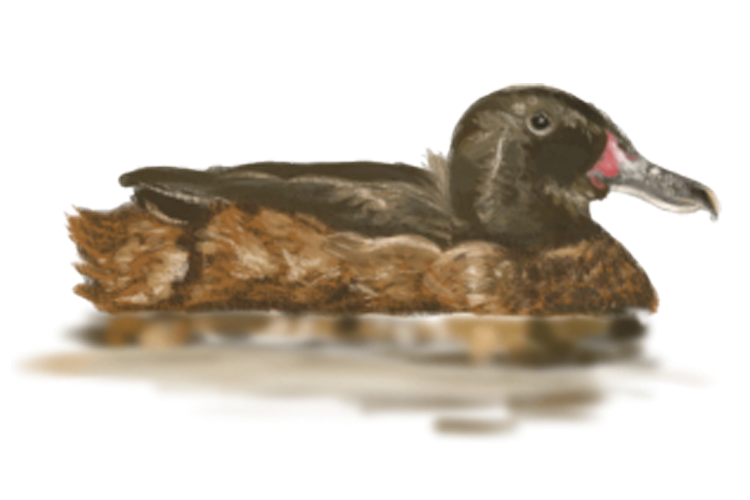 A kyped up spotty male!
The conditions certainly were not easy – especially for our spey casting beginners, who mastered the fishing in this high water incredibly well. But fishing aside, it seemed like this group, in particular, was as familiar as could be, getting along so well and having great fun around the bar and dining table. Whether it was politics, fishing stories, or jokes being told – hearing loud laughter from the lodge was guaranteed and spending time at the bar was always great fun. Lots of wine, beer, and Pisco Sour went across the bar this week and time certainly passed way too fast. I am much looking forward to repeating it with these great people next year again!
Thanks to everyone for an eventful and fun week!
Tight lines,
Paulo Hoffmann
What a great report from the banks of Kau Tapen from Guide Paulo, If you would like to enquire about this destination feel free to contact us on 01603 407596 or click the enquiry button on the tour page to fill out the form and we will contact you.
Tight lines,
Peter