Triggerfish, Triggerfish and more Triggerfish!
This week saw some fantastic Triggerfish hitting the banks with all anglers getting to experience just how awesome this species is! Ill pass you to the guide for his words from the week. –
Nubian Flats Week 4
Week 4 concludes the opening week of the North Sudan season with brutal winds and special memories.
Our group of guests, all the way from South Africa, made it safely onto the Don Questo, our mothership for the week's exhibition, and were settled in immediately in preparation for the week ahead. The group were upbeat and ready to take on the Nubian Flats! Once more, we were met with a brutal 30-knot wind which constantly changed from North to South, making for incredibly tough conditions on the flats for the first two days. Visibility was low as the water on the flats churned up the white sand and surrounding sediments making for murky water clarity. It was an exceptional challenge. However, a couple of fantastic Titan Triggerfish were brought to hand!
It was only up from there as the wind calmed down and the flats seemingly cleared immediately. It wasn't long before we were seeing those trademark pink swallowtails of the Yellowmargin Triggerfish. However, the fish were in good numbers; although, incredibly tricky and requiring gentle casts well ahead of the fish. What made it more difficult was keeping the fish buttoned. Triggerfish are well known for their unique personalities but equally so for their ability to bend, break or throw hooks. During the week, we experienced all of this with hooks being bent in all shapes and sizes and many fish biting through the 16lb leader, which made for even more celebration when fish were landed!
The size of the Triggers this week was phenomenal with both species, Titan and Yellowmargin Triggerfish. Many firsts were also landed, making for an even better experience for all involved. Seeing over a hundred Triggerfish in one day on the white sandy flats of Sudan is an experience out of this world and one that every avid flats fisherman needs to experience!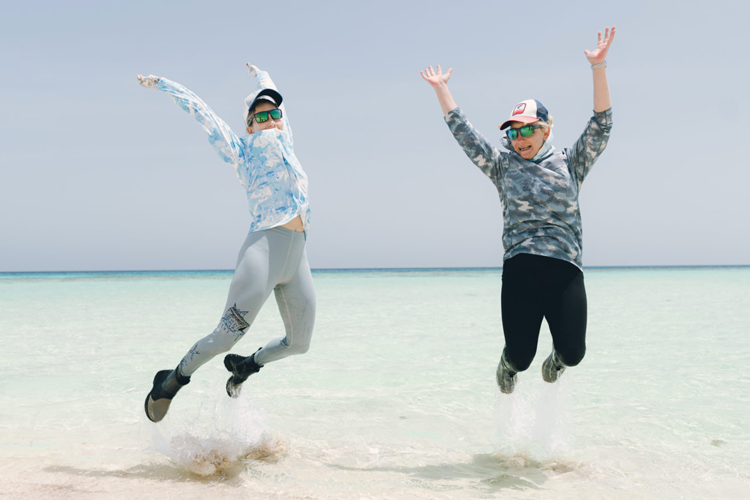 All in all, the week was incredible despite the problematic fishing conditions with extreme winds. The guys were up for it and made the most of it; it was a great pleasure to guide the guys from South Africa!
Till next week,
Ciao,
Tim, Brent, David
Contact us
Does this sound like an adventure you'd like to take part in? Think you could handle the fish that reside in the flats of Sudan? Then why not take a closer look at the tour page, you'll find all the information you need to get you ready for the trip of a lifetime!
If you have any questions, call our offices on 01603 407596 and one of our experts can assist you with any queries.
Tight lines,
Peter