In week 33 we welcome back Lakselv regulars Mawill, Gerald, Hans, Maciej and first timer Olegas to the lodge. They are accompanied by our Icelandic friends Ally and family. In the beginning of the week the river was still dropping and conditions looked good. However the fish was not willing to take our flies even though we saw quite some fish in our beats. Mawill and Ally did manage to catch a couple of Grilse but we didnt connect to the fish we were looking for.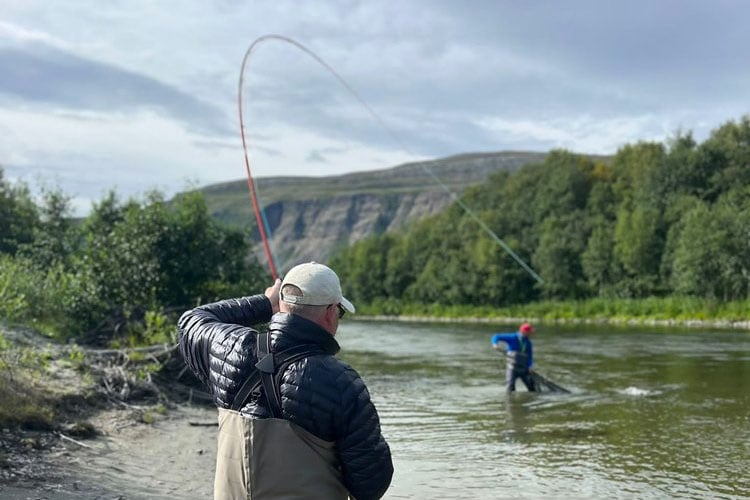 In the middle of the week came heavy rain with really strong cold winds which meant that the river dropped in temperature and started rising slowly.
The temperature drop made the fishing slightly better which resulted in five more Grilse and unfortunately more lost fish. Maciej however had quite good fishing but luck was not on his side. He manage to loose six fish in a row with some big fish in between, especially the one in homepool will properly give him nightmares in the coming winter…!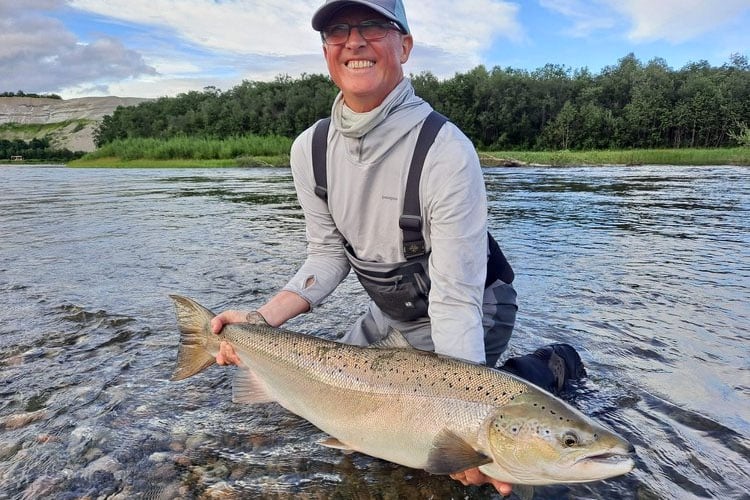 Thursday morning Gerald was fishing in zone 2 where we had seen a good number of fish during the week, when out of nowhere a fish came and took the fly in front of his feet the second he lifted the rod for a new cast. He manage to set the hook despite the chaotic situation which took both him and the guide by surprise. After a strong fight the 7,5kg male measuring 90cm was safely netted and released back to the river.
The rain mentioned earlier made the river rise for the last two days which resulted in very tough fishing. The group fished to the best of their abilities but had to see themselves beaten by the conditions. The river is starting to stabilise going into the new week so we hope that this will turn things around for the new guests.
CONTACT US
If you would like to find out more information about Olderø Lodge and how you can join in on the action and fish it for yourself, make sure to take a closer look at our tour page. If you have any questions regarding this tour, you can contact our freshwater fly fishing team on 01603 407596 or by emailing them at info@sportquestholidays.com and one of the team will help you with your query.