As we expected a lot of rain came over the weekend and continued into the week. That of course affected the river which started rising faster than it had been. The group of guest arriving were exited to finally be at Oldero Fly Fishing Lodge after being delayed a few years by the world pandemic. Even though the river was rising and conditions getting more tricky Chris still started the week strong with hooking two fish in five minutes landing one of 9kg in zone 1.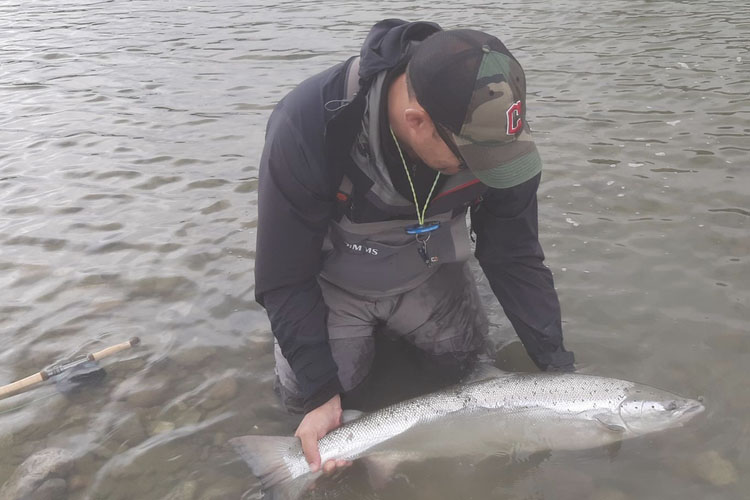 Chris' partner Diane also got a good start to the week catching two grilse. The heavy rain made the river murky by the middle of the week and we peaked out at 33m3. All this resulted in very tough fishing.
However our guest still kept morale high and continued to work hard to find a taking fish. Simon and Robert both had their chances in the middle of the week unfortunately without being able to land the fish. Simon fishing partner John was fishing on the edge of a fast run when he suddenly hooked into a fish which at first was thought to be a salmon but turned out to be good sized Lakselv sea trout measuring 69cm. Furthermore John finished the week with a hard fighting salmon on the last session. After the fish took him for a run down the bank the guide safely landed a beautiful 93cm male weighing 8,6kg.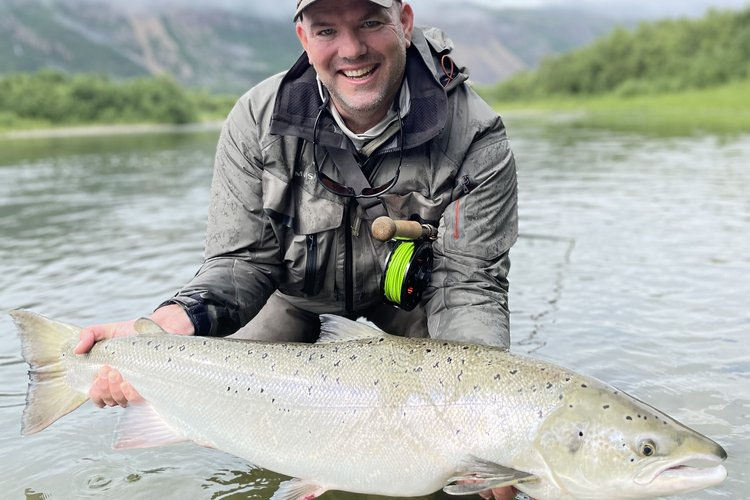 Roberts nephew Steve was fishing in the top of zone 1 and after some hours of not seeing anything he finally found a willing fish that took his fly and gave a good fight. It was a well deserved completely chrome fish of 10,6kg measuring 101cm. We went through tough conditions during the week so we are looking forward to next week with hopefully dropping water. We are very optimistic for even in high water we see lot of fresh fish showing in our beats.
CONTACT US
If you would like to find out more information about Olderø Lodge and how you can join in on the action and fish it for yourself, make sure to take a closer look at our tour page. If you have any questions regarding this tour, you can contact our freshwater fly fishing team on 01603 407596 or by emailing them at info@sportquestholidays.com and one of the team will help you with your query.