This week we were looking forward to welcoming back many friends as well as meeting a few new people. The week started off with many fish pushing into our homepool.
 Our good friend Gerald from Austria coincidentally ran into his friend Karsten from Germany on the river and invited him to fish one of his rods. This gave the pair some positive karma because it didn't take long for Karsten to hook and land a fresh 12,7 kg male.
With all the action going on in Homepool, our American friends Mike and Steve decided to take advantage of its proximity and go fishing after dinner. They fished into the night under the midnight sun and at approximately 01:30 Steve connected with a hot fish in the upper pool of the beat. This Lakselva beast took him all the way down to where he could no longer follow it, then proceeded to take the rest of Steve's backing, breaking the line once spooled.
 Life-long Steelhead fisherman Ralph from the United States came to the lodge this year to see what the Atlantic Salmon fishing in Norway is all about. After landing some grilse, he was ready for what could happen in the Lakselva when he got a shot at a monster male fish. While stripping a long sunray across our Bloks pool, a true beast came to the surface but missed the fly by centimeters! While it was painful to miss a possible fish-of-a-lifetime, he still managed to land a nice Salmon later in the week.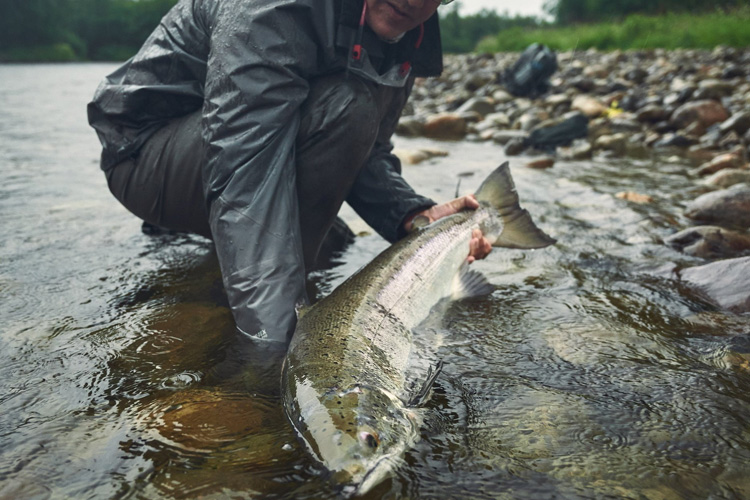 A few days later, John Rodgers from England hooked what we presume was the same predatory and territorial male fish that we knew lived in Bloks pool. This time we got a proper look at this monster and could confirm it was a 20-plus-kilo, fish-of-a-lifetime. John fought the fish for a couple minutes until the fish pulled hard and broke his leader, leaving everyone heartbroken, but amazed at the opportunity.
 Gerald worked hard in every session for the past 2 weeks in Lakselv. While he landed a nice 10 kg fish during the week, there was still more fishing to be had. At the end of week 29 his efforts paid off when he landed a magnificent 13.9 kilo fish in one of our most beautiful "classic Norwegian" beats in zone 2.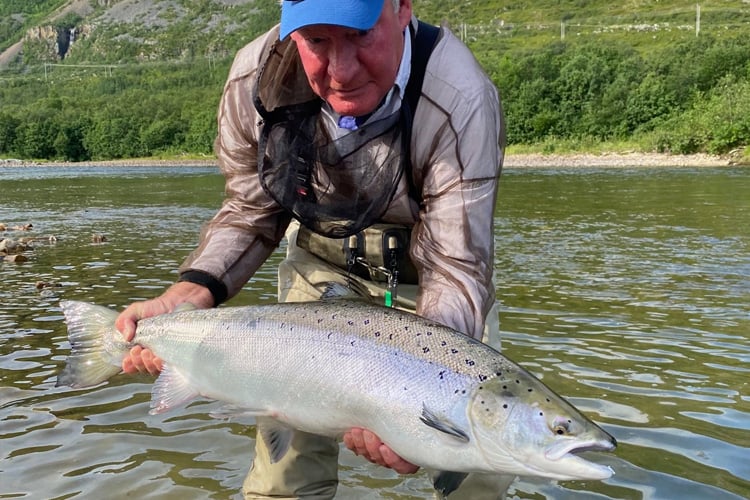 Gerald's noteworthy fish marked an end to yet another week of tough conditions. However with eager guests, and keen fisherman, they were able to produce some fantastic fishing with chances of catching that monster fish-of-a-lifetime. With some rain on the forecast we are excited for the next weeks in hope the following conditions will keep fish moving though the system.
CONTACT US
If you would like to find out more information about Olderø Lodge and how you can join in on the action and fish it for yourself, make sure to take a closer look at our tour page. If you have any questions regarding this tour, you can contact our freshwater fly fishing team on 01603 407596 or by emailing them at info@sportquestholidays.com and one of the team will help you with your query.