This week we received a group of excited first-time Lakselv fishermen accompanied by two of our former Icelandic colleagues. As expected the river was steadily dropping, and it didn't take long for Johannes to catch his personal best on our highest beat in zone 2. The fish was a fresh male of 99cm and 10,6kg, which gave a jumpy strong fight through the pool before getting safely landed and released.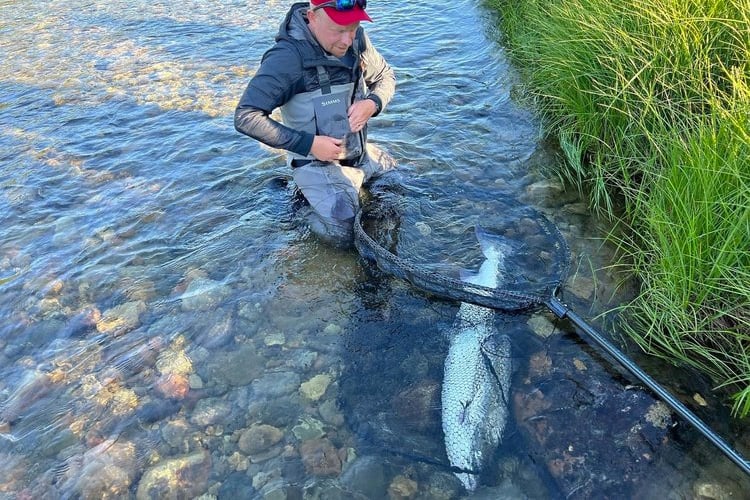 Edward also started the week strong with a 87cm female weighing in at 7,2kg. This was a good indication for the week and expectations were high. These were quickly meet as Edward and Chris were fishing zone 1. The session started with Chris hooking into one of the Lakselv monsters but unfortunately after running 200 meters behind the fish he had to see himself beaten.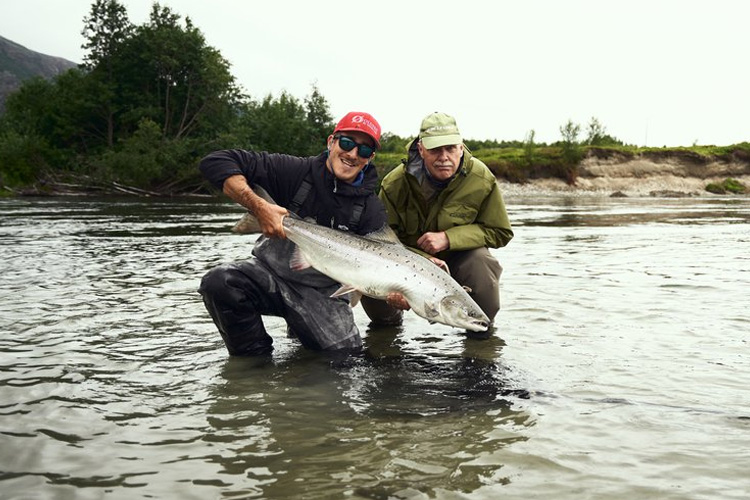 Walking back up towards his fishing partner Edward, Chris and the guide realised that he was into another big fish. This one stayed on until it was in the net and it was a 12,1kg fish with the length of 107cm. The following days of fishing was good where the guest caught a good amount of grilse and fish up to 7,2kg.
Big floods usually come with big changes to rivers. Our 2020 flood was no exception but this time it actually created two new pools in our beats. After Chris had lost some fish he was fishing one of these previously mentioned pools where he manage to hook into a beautiful well proportioned golden female with a length of 95cm and 10,2kg. Since this was the first proper Salmon landed from this pool Chris also had the privilege of naming the pool C&M.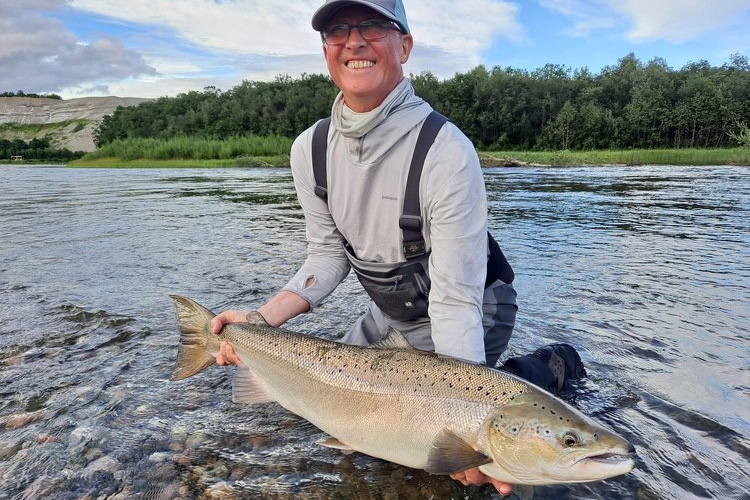 The following days were still very productive resulting in Poul finally after some Grilse landing the fish he came for. On his fourth cast his sunray connected to a very strong 9kg fish. This was another fish who had a lot of power which really gave Poul a run for his money. At the same time further up river Bjarki also hooked into a proper Salmon. This was another stunning female weighing in at 8,3kg.
Ian was unfortunate to have lost four fish earlier in the week. He was slightly down of morale, but on the last morning Ian and his fishing buddy Andy went to Ratama. Within the first 30 minutes of the session both guys were into a fish. A double hookup that resulted in Ian getting the fish he so much wanted a 98cm 9,1kg male.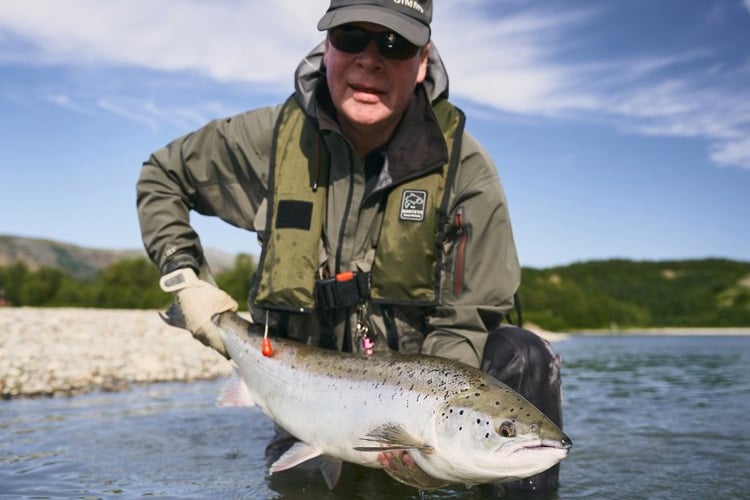 Andy unfortunately lost a slightly smaller fish. Hopefully Andy will be back with the rest of the group to get redemption or even bigger Lakselv Salmons. There is a lot of rain in the forecast next week so we will see what the river has in store for us next week.
CONTACT US
If you would like to find out more information about Olderø Lodge and how you can join in on the action and fish it for yourself, make sure to take a closer look at our tour page. If you have any questions regarding this tour, you can contact our freshwater fly fishing team on 01603 407596 or by emailing them at info@sportquestholidays.com and one of the team will help you with your query.