Its amazing to see people getting back onto the water out at Rapids camp, this is one lodge we are chomping at the bit at to get back to!
On the Nushagak with George
Recently, a friend of Deneki Outdoors, RIO Products, and Sage Fly Fishing Rep George joined us out in Bristol Bay, Alaska, fishing the Nushagak River for King Salmon with the intent being to test flies, rods, reels, lines, and of course find King Salmon. With food and supplies sent to the Rapids Camp Lodge Out-camp for the week, George and Team Deneki set off to find the mighty King Salmon.
At the beginning of the week, neither the weather nor the fish seemed to be cooperating. Under the veil of chaotic winds, navigating both planes and boats was very challenging and, of course, made fishing difficult. This summer across Alaska has been uniquely cold, slowing things down, including fish.
Regardless of the weather, George and Team Deneki being the tenacious anglers that they are powered through the difficulties and found some King Salmon. And some more. Then found a bunch. By the middle of the week, both the weather and King Salmon decided to be willing participants in the endeavour, and great results ensued.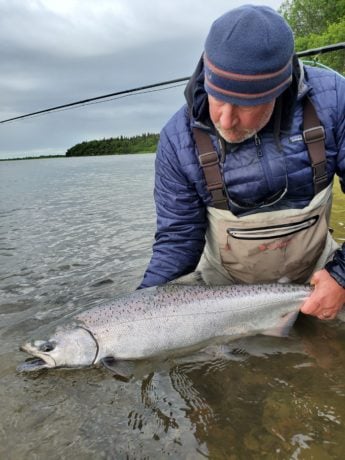 Ultimately, Alaskan weather and fish are on their own timeline, and all we, as anglers, are to do is be persistent, adaptable, and patient during our angling pursuits. If this week on the Nushagak River is a sign of things to come, it's going to be a great season here at Rapids Camp Lodge and the Nushagak River. Stay tuned for more reports and updates from Rapids Camp Lodge.
All photos by Bryan Burke, Team Deneki.
Tight lines!
Contact us
Does this sound like an adventure you'd like to take part in? Think you could handle the fish that reside in the waters of Rapids Camp? Then why not take a closer look at the tour page, you'll find all the information you need to get you ready for the trip of a lifetime!
If you have any questions, call our offices on 01603 407596 and one of our experts can assist you with any queries.
Tight lines,
Peter