Day 1 – We started our week heading towards full moon spring tides, with clear skies and little wind. The GTs were around in decent numbers today and our guests managed to get some great fish to hand with Terry and Brian opening the week with solid GTs measuring 97cm each. Alejandro enjoyed a cracking opening day and landed 3 GTs, a Yellow Margin Triggerfish and a Bonefish; completing a flats Slam! David added to the GT tally by landing 2 decent GTs. The Triggers were seen tailing away on the shallow flats of the atoll. Patrick and Rob both managed to take full advantage of the favourable conditions and landed a Moustache Triggerfish each while Chris also tailed an awesome Yellow Margin Triggerfish.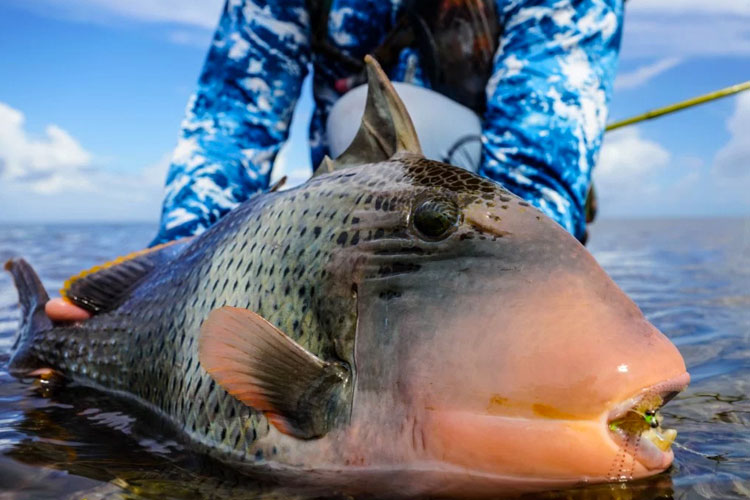 Day 2 – After the opening days action our guests were super keen to get out onto the flats. Considering that the weather was fairly challenging today our group still managed to land some impressive fish. Rob opened his GT account while Andre made the most of his opportunities and landed 3 GTs; the biggest measuring 102cm! He continued his good form by hooking and landing 2 Yellow Margin Triggerfish, great stuff! Warwick, who had been eagar to land a Triggerfish on fly did just that and got a beautiful Yellow Margin Triggerfish to hand, well done! Not to be outdone Jarod also broke the metre mark today with a super strong GT of 101cm and then added a Yellow Margin Triggerfish to his tally.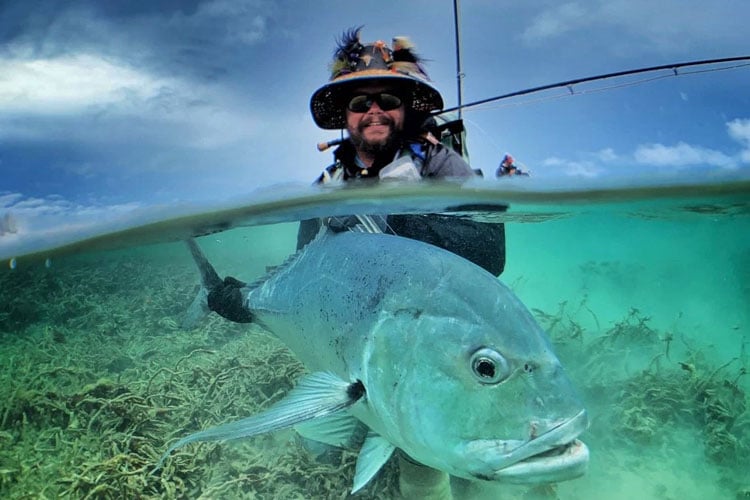 Day 3 – The challenging weather conditions continued with dark skies, rain and strong winds. Despite this, we were all still excited to get onto the water and see what the atoll had in store for us. The fish were around in good numbers with Pete getting a solid GT, hitting the mark at 96cm, it had been holding in a big lagoon drainage when the fish saw the fly it did not hesitate to eat his baitfish pattern. Warwick also landed a great fish today breaking the metre mark with a 102cm specimen, well done! Mike had been waiting in anticipation for a big fish to cross his path while wading a flat in the southern part of the atoll he noticed a decent fish slowly cruising by, with a well-presented cast he got the fish's attention. The fish slowly changed direction and moved toward the fly only to charge at the last second and eventually eat the fly at the rod tip. The fish then proceeded to make a long run towards the ocean side, after a good tussle he managed to tail the fish on the coral head he hooked it from, well done on a great fish measuring 107cm, his second GT for the day. David enjoyed a solid day by landing both a GT and a Yellow Margin Triggerfish. Rob, Terry, Andre and Brian also got stuck into solid GTs for the day. The Triggers were also around in good numbers hugging the edges of the lagoon, tailing happily. Alejandro and Chris did a great job with both landing a Yellow Margin and Moustache Triggerfish.
Day 4 – We had reached the middle of our full moon spring tides, with us still experiencing bad weather. Determined as always we were still able to get some great fish to hand. Some of those catches included Mike's 2 GTs, the biggest being 98cm. David also did a great job by getting 2 to hand while Pete, Brian and Rob also tailed GTs for the day. After losing a couple earlier in the week, Chris was rewarded with a great birthday present, his first GT on fly! Pete made the most of day 4 and landed 2 Yellow Margin Triggerfish while David added another Yellow Margin Triggerfish to his name for the week. To top it all off, Brian did a great job by hooking and landing a Milkfish in some seriously bad sea conditions.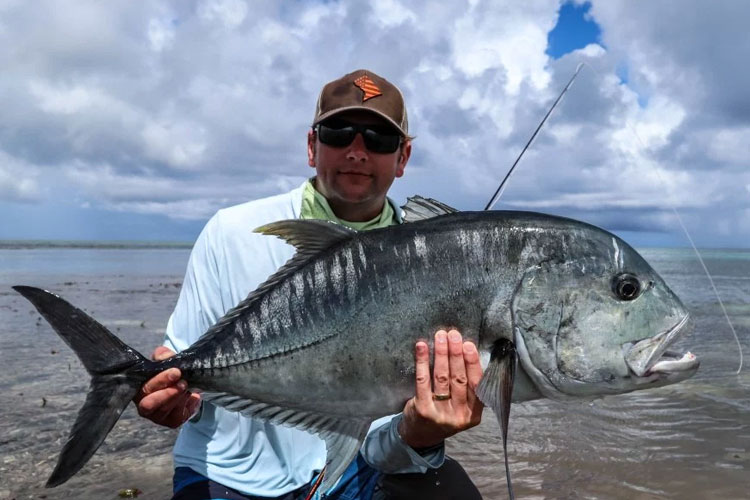 Day 5 – The weather continued to deteriorate with strong winds and buckets of rain, this all made things difficult from a sight fishing perspective. We did not let this dampen our spirits and still had a great day with Andre, Warwick and Jarod capitalizing on a school of fish dropping off the flats by tripling up with each of them managing to land their fish. Warwick got the biggest out of the bunch with a fin perfect GT measuring 107cm, Andre was not too far behind with a fish of 101cm while Jarod also came close to the metre mark with an awesome fish of 96cm, what an amazing experience, great job guys! Warwick then added another GT to his tally hitting the mark at 90cm while Peter also tailed a GT for the day. The action didn't end with the GT fishing with our guests adding several Emperors, Snappers and Grouper to the species list. Patrick and Jarod also caught their first Milkfish today after some epic battles in big seas they eventually got their fish to the net,  great job guys.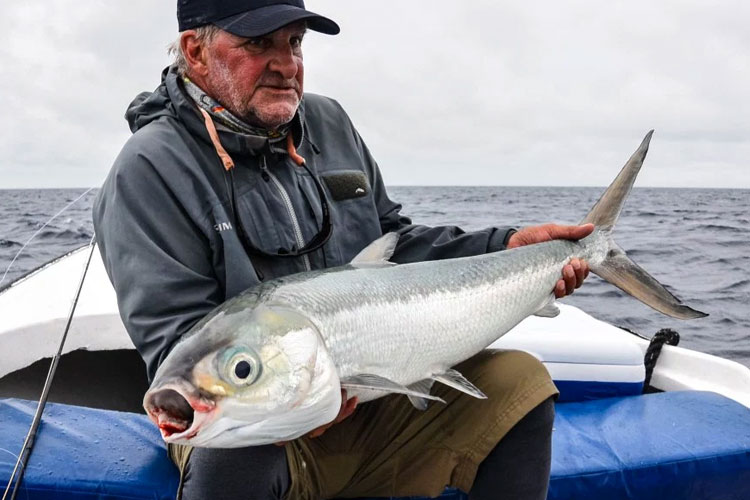 Day 6 – We woke up to the worst weather we have experienced this week with huge swells, heavy rain and strong winds which delayed our fishing until around midday. We eventually got a little break in the weather and quickly shot out to the flats to catch the pushing tide. Alejandro and Brian got to experience some classic GT fishing with fish tailing hard on the back of stingrays and pushing bow wakes in super skinny water. Alejandro landed 4 GTs while Brian, Pete, David and Mike each managed to get a GT to hand before the weather closed in on us.
All in all, considering that we experienced tough conditions at times during this week our guests still managed to enjoy great fishing with several memorable fish coming to hand. Great job to all of our guests, we had a great time fishing with you all!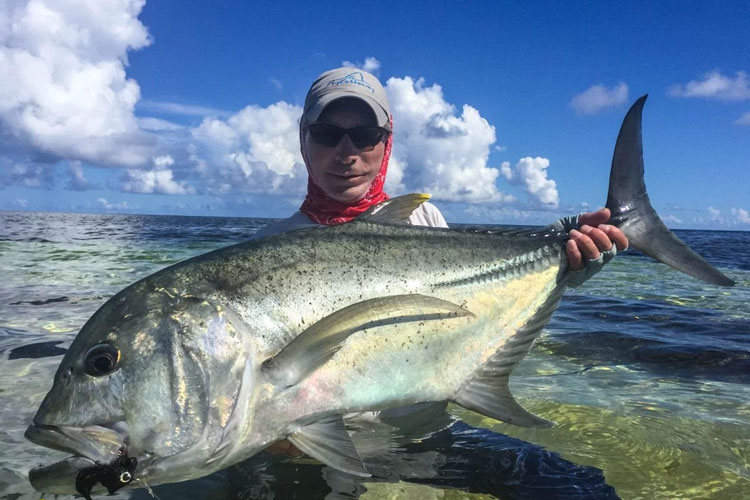 Our fish tally for the week was as follows: