Weather: 
We had mostly sunny days throughout the whole week.
Temperatures between: 25 ºC and 40ºC
River Conditions: 
Water level stabilized by the end of the week, and we saw steady flows.
Fishing Summary: 
The guys from this last week came mostly from the UK, and some of them even knew the river already with higher water. They came back to meet the full fishing potential of the Rio Marié when conditions were right, and they were not disappointed!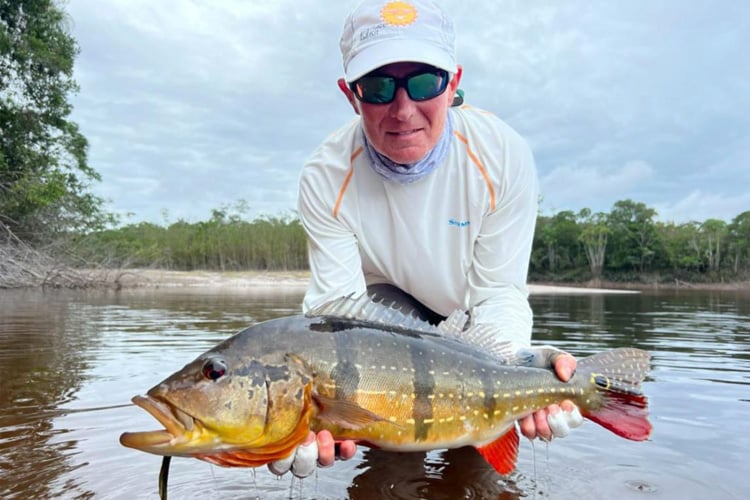 Fishing Stats:
Number of anglers: 9 from the UK and 2 from the United States.
Peacock Bass caught: 647
Temensis over 10lbs: 14
Temensis over 15lbs: 16
Temensis over 20lbs: 2
Highlight of the week:
On the last day of the week, Lawrence was fishing for butterflies by a creek mouth. After hooking one big butterfly, he noticed that it started jumping more than usual during the fight. As soon as it got close to the boat, a big mouth opened and swallowed it whole. Lawrence was stoked as a giant fish jumped out of the water, spitting the butterfly out while staying hooked up. The butterfly quickly swam to the bushes and Lawrence was on to fight and eventually land his 22 lbs. Peacock Bass on the Rio Marié! Congratulations, Lawrence!
The Marié Guides.
CONTACT US
If you would like to learn more about our Rio Marie Lodge tour, you can visit the full tour page here. Alternatively, you can contact our fly fishing expert, Peter Collingsworth, on 01603 407596 or by email at peter@sportquestholidays.com.