Another week has finished on the banks of Salmon Lodge, this week saw a big group of 8 enthusiastic anglers all ready for a fish filled week!
16th to 22nd August 2021
This past week has been one for the books! Our guests enjoyed their time tremendously both on the river and back at our lodges. The weather conditions were not the most conducive to fishing… Our days were warmer than we'd like, hanging around the high 20 degrees Celsius and although we were praying hard for rain, it just didn't happen. However, time was well spent, delicious meals were devoured, oh yes and fish were landed!
We are experiencing regular August temperatures which of course unfortunately leads to lower than appreciated water conditions. The Bonaventure River began its week flowing at 11.43 cubic meters per second and now finds itself at 8.97. The Petite Cascapedia dropped approximately 3 cubic meters per second this past week beginning at 11.86 and ending at 9.57. The Grand Cascapedia began her week flowing at 16 cubic meters per second and ended just around 12.42 cubic meters per second.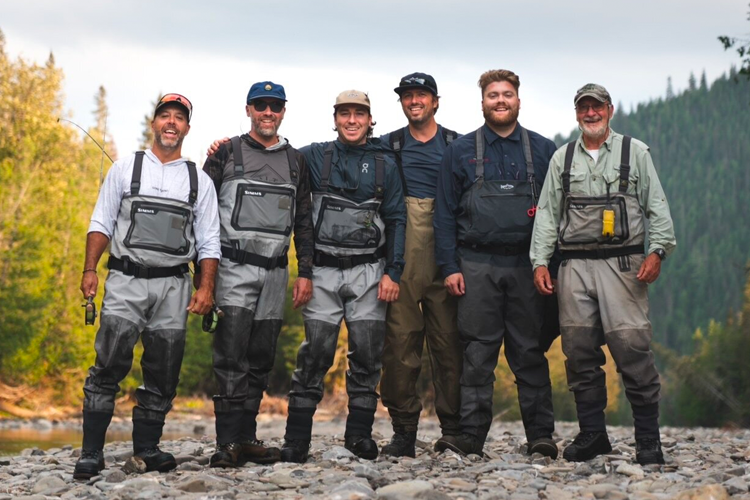 Salmon Lodge had the pleasure of joining forces with Hooké and hosted a fantastic fishing trip for eight enthusiastic fishermen! Seven of which were complete beginners and all left true sportsmen in love with fly fishing for Atlantic Salmon! Introducing a passion that we hold so close to our hearts and creating beautiful memories with great people makes it very difficult to call what we do our job. We are truly blessed to be in the positions we are.
A couple of the most productive wet flies this week have been John Olin, Green Machine, Stone Ghost and Blue Charm in sizes 8 and 10. However most of our action happened on dry flies! When it comes to bombers, the light blue and light brown patterns are still getting the salmon's attention! Especially if you add a little sparkle or a green butt to the body.
 Until next week, here's to health, happiness and tight lines
Julia
Contact us
Does this sound like an adventure you'd like to take part in? Think you could handle the fish that reside in the waters of Camp Bonaventure or Salmon Lodge? Then why not take a closer look at the tour page, you'll find all the information you need to get you ready for the trip of a lifetime!
If you have any questions, call our offices on 01603 407596 and one of our experts can assist you with any queries.
Tight lines,
Peter