Our 4th week of the season had arrived, along with some spring tides and a south easterly wind which picked up in strength. Our guests from the week prior had booked two weeks with us and with them well and truly into the swing of things, we went about showing them what the atoll offered over some bigger tides during their second week.
Spring tides and a stiff south easterly wind on the Bonefish front, our guests enjoyed a few sessions of early morning skinny water fishing. And although we would have hoped for higher numbers, some special fish still came to hand. Kevin saw a silver shadow slowly making its way down the bank, its tail breaking the surface of the ankle-deep water as it scoured the shallows. He sent the fly in and after two short strips the fish was on. It tore off in the opposite direction like all big fish but after a well-managed tussle a beautiful 10lbs fish came to hand. Congrats Kevin!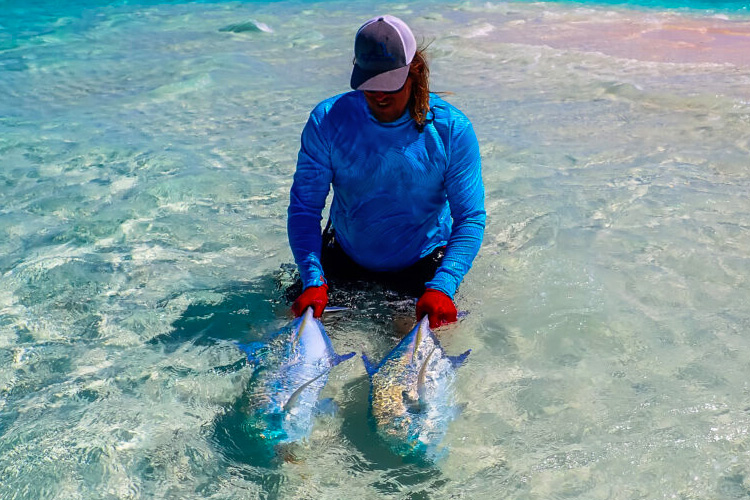 The Permit fishing continues to impress, with our guests enjoying some great moments throughout the week casting at tailing fish. One such moment occurred when CJ & Dougal spotted a Permit tailing its way along marl ridge. Dougal made a pin point cast, fed the fish expertly and after his fish made a determined fight he landed a beautiful 12lbs specimen. This brought his tally for the trip up to 6…terrific! In addition, Hernan and Patricio shared a very special moment when they doubled up on 12.5lbs and 11.5lbs fish at the same time. What a great moment!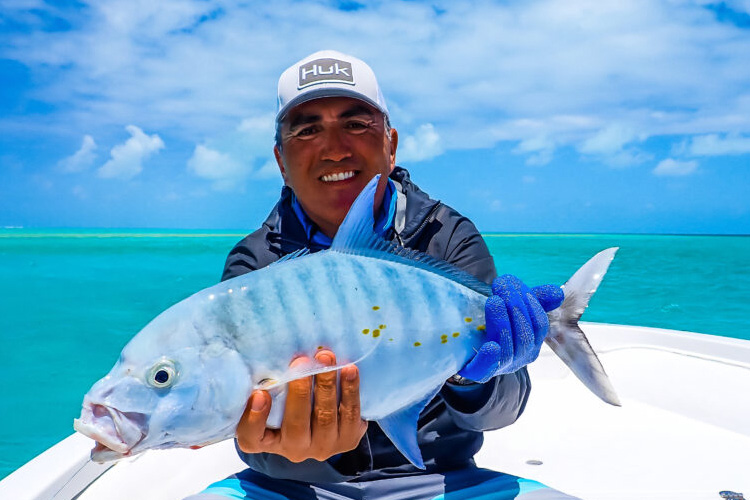 An influx of Goatfish congregating around the sand spits and islands attracted higher numbers of GT's and Bluefin trevally. Multiple fish were hooked but sadly only a handful of Bluefin Trevally made it to hand, with tackle failure unfortunately occurring more than we would like.
Fish Tally:
Bonefish x 58 (2 of 10lbs)
Permit x 5 (3 over 10lbs
GT's x 0
Bluefin Trevally x 4
CONTACT US
If you would like to know more about the fantastic fishing opportunities on offer on St Brandons you can contact our saltwater fly fishing expert Peter Collingsworth on 01603 407596 or via email at peter@sportquestholidays.com.