Hi Shipmates,

It is day two of our Big Adventure in Costa Rica. Before I mention today's fishing a good friend ask if we were slumming it at Crocodile Bay. Well, all I can tell you is that we are treated like Kings! The food is outstanding, the girls who are looking after us (more about that later) are nice and pleasant. Nothing is too much trouble and I must mention the weather, I think it about the same as back home, clear sky all day and night and it looks like a frost. However the thermometer is a steady 30 degrees in the day and 25 degrees at night and also there is no snow in the forecast. I am sure you didn't want to know that anyway.
Today Crab Pott Chris is with me and our Captain is Humberto, this was to be our actual first days fishing on a boat. With the help of our other shipmates, Tom from the Valleys and Cuda Tim, yesterday we were on 10 species. Today we added another 5 species giving us a total of 15. Our target to beat is 48 so we are still on target.
We are fishing on Boston Whaler and I must say I am impressed. Plenty of room and on a calm sea, it is a good ride. It was a slow start bottom fishing inshore but the radio told us the Yellowfin Tunas were going crazy about 12 miles off shore. We raced offshore and it looked like the fleet was already there. The view was just like in the David Attenborough's life in the blue series, many hundreds of Yellow Fin Tunas were crashing on the surface being pursued by possibly 100 dolphin.
Out came the poppers and quickly we had two Yellowfins in the boat. We tried for a bit longer but by now they were very spooky so we headed back inshore. We made a drift around a big rock not far out from the shore, target species was Jacks and Roosters. We were using light spinning outfit with about 4' of 40lb leader material and a threadfin herring hooked on a 5/0 circle hook. The water was only 40' deep. Well, the unexpected happened, the first cast a huge Sailfish had my bait on my light spinning rod, this fish was huge. Its first run on the surface must have been 100yards long and most of the time it was out of the water. This was going to be a tough fight with the odds not in my favour, 40lb flouro easily wears through on a Sailfishes mouth. However, with some outstanding boat work from Humberto and 40 minutes of a raised heart beet we had the fish alongside the boat, it was huge. Once I had the leader in the rod guides it counted as a release so I gave the rod to Crab Pott Chris and grabbed the camera.It wasn't easy to get a good picture but these are the best I got.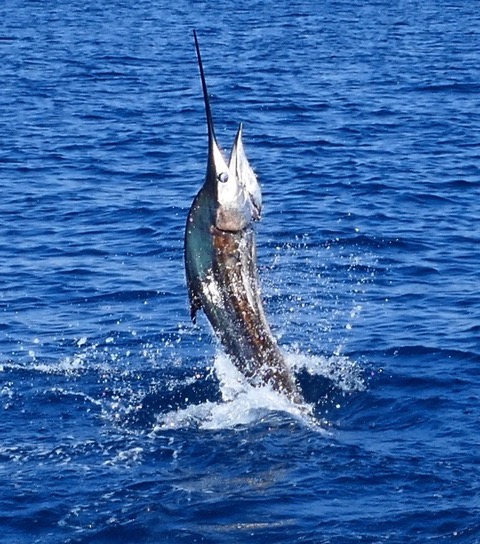 I have caught a few Atlantic Sails but this fish was huge, Humberto estimated this fish at over 140lbs, whatever it weighed it was a fish of a lifetime on such light tackle. We had it along side the boat and as expected when Humberto went to release it the 40lbs leader wore through. Although that was the highlight of the day we still carried on fishing and boated 3 Roosters and a Yellow Snapper to round off our day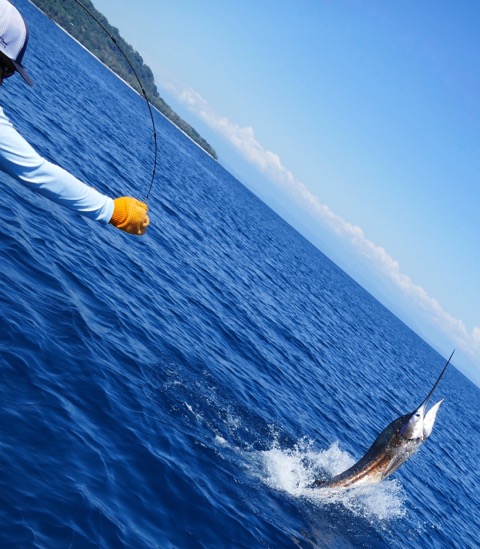 Chris also caught his first Yellowfin, the fish is the one without the hat on. Plus his first Rooster so I must say we have had a fantastic day.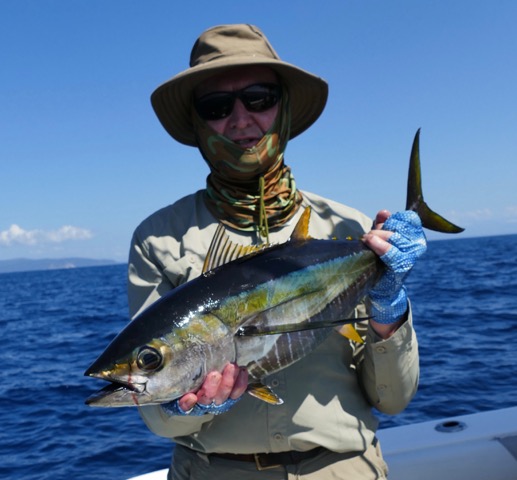 Tom and Tim had a tough day out in the blue water, just one Yellowfin. There is no question you do need a bit of luck at this game, tomorrow is another day and I think they will do well.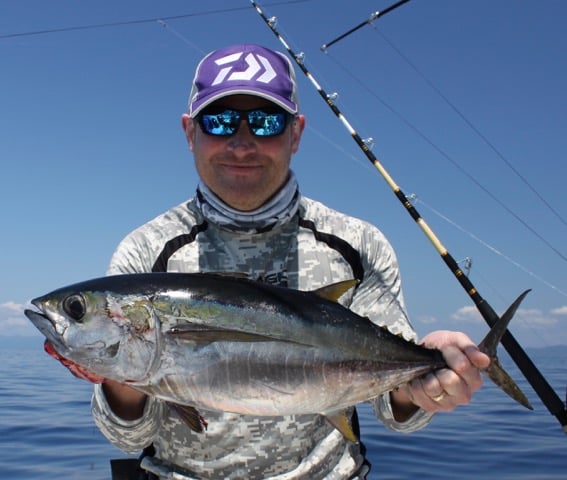 Out in the Blue Tom and Tim had a great show from the dolphins, hundreds played around the boat and chased the Tuna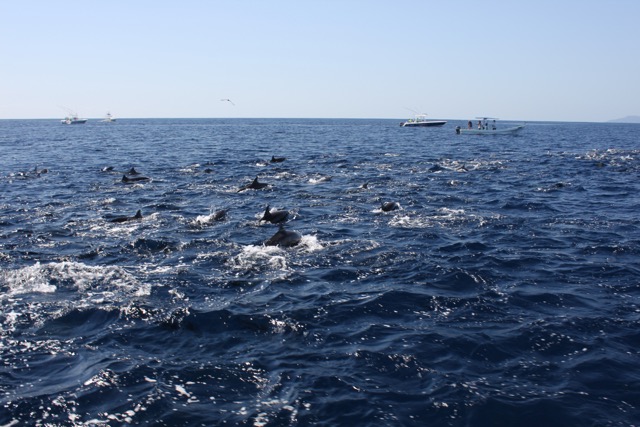 I mentioned the girls earlier, one, in particular, is Olympia. She is Tims favourite and provides us all with refreshments for the next days fishing. Unfortunately Tim always gets a big helping, we cannot understand why this is.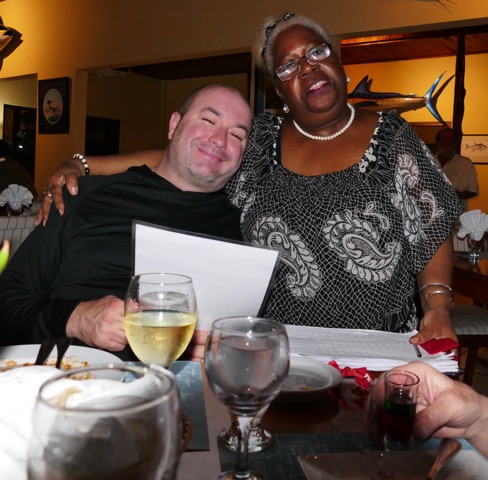 The Shipmates are all tired out, tomorrow is another day and we will be up bright and early for our 5.30am breakfast.
Signing off,

Admiral Marlow