And there we have it, another fantastic hosted holiday to Namibia is over and what a holiday it was. The anglers on this hosted holiday caught some fantastic fish in some of the most amazing landscapes you will see on the Skeleton Coast. Take a look at the report below to see exactly what happened on this 10 day holiday to the wild Atlantic coastline of western Africa.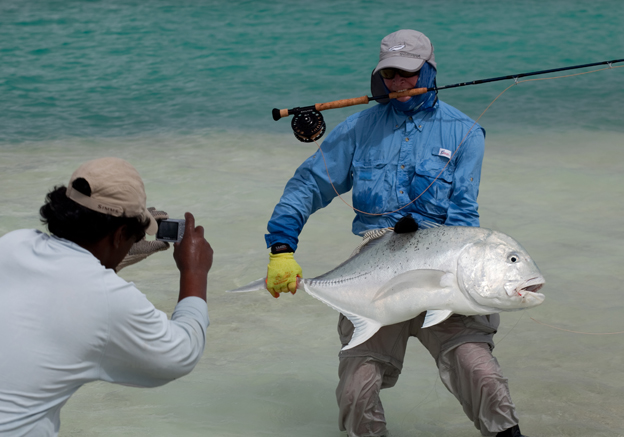 The sunsets on the Namibian coast are stunning
The Journey there
We had an evening departure for the first flight to Johannesburg so after making sure all the customers were there we settled down for a few drinks in the bar in the departure lounge in Heathrow airport. Our flight was unfortunately delayed so we had to settle for the snacks and drinks put on for us by the airline whilst we were waiting to take off. After a while, the call to board was made and we all settled down into our seats for the 11-hour flight ahead of us. With some great entertainment on the inflight videos, it was an enjoyable flight and as morning broke in Africa we touched down at Johannesburg, a short journey through the airport later and we were sat at the departure gate for Walvis Bay in Namibia for our final leg of the journey.
After a 2 hour flight we touched down in the small dessert airport of Walvis Bay and after boarding the transfer minibus we were on our way to the guesthouse in Henties Bay. It only took an hour and a half to reach the guesthouse and that included a stop at the garage for snacks (you have to try the local biltong, it is delicious), first impressions of the guesthouse were fantastic with our hosts for the week greeting us with big smiles and ice cold beers. One of the angler on this trip asked if there was any chance we could go fishing and in the blink of an eye the bait was chucked in the back of the 4×4 and we were off for a couple of hours fishing on the local beaches. With no fish caught, we ventured back to the guesthouse for a superb evening meal of braai'd (BBQ) meat and chips which gave us all full bellies for a good nights sleep ready for the day ahead.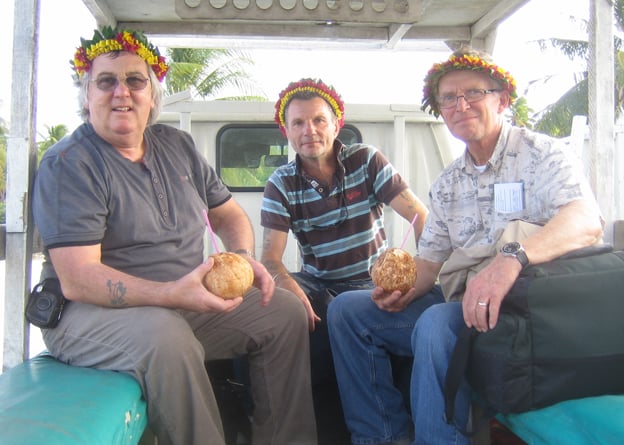 Ricky leans into another fish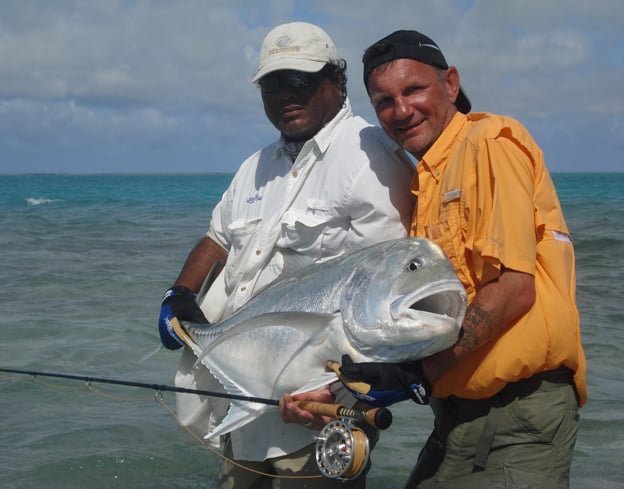 Nick with a huge Bronze Whaler Shark
Big sharks and stunning sunsets
The second day began with a buffet-style breakfast with toast, cereal and eggs and bacon on the menu all washed down with as much tea and coffee as you can physically drink. After breakfast, we boarded the 4×4's and made our way to the first fishing mark. Big blood-filled fish baits were chucked into the water, not very far out at all, with most casts being under 80 yards these fish really are in that close. All the anglers were relaxing on the sand when the guides decided that the first spot was not showing any fish so we upped sticks and moved to another part of the beach, yet again baits were lobbed in and it was not long before one of the rods folded over in the rest a and it was fish on. First up to tackle this big toothy beast was John, it did not take long before a beautiful bronze Whaler was on the beach and after some photographs, we sent her back on her way into the cold swirling waters of the Atlantic ocean.
That was it for the first day with no other hits from bronze Whalers and a few smaller fish caught on the scratching rod close in. As darkness drew closer we witnessed a fantastic sunset over the Namibian coastline, this in itself is something that has to be seen to be believed, it really is stunning and you can actually see the sun falling through the sky before it disappears and produces some truly phenomenal colours in the sky. We were soon on our way back to the guesthouse, cold beers in hand and after a shower, we were treated to yet another gorgeous meal cooked for us before the night descended into fun and frolics with the brandy and whisky flowing freely.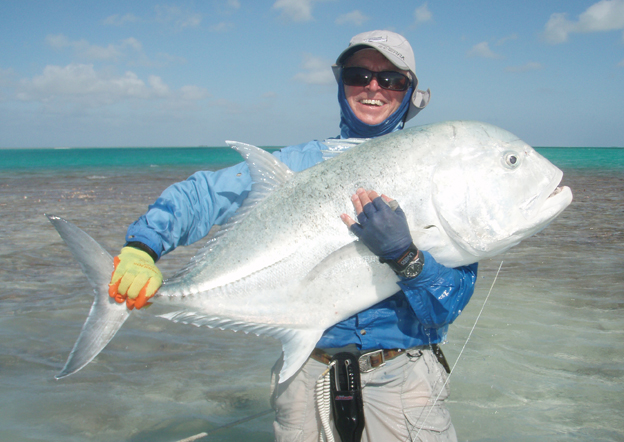 John with his prize capture of an excellent Bronze Whaler Shark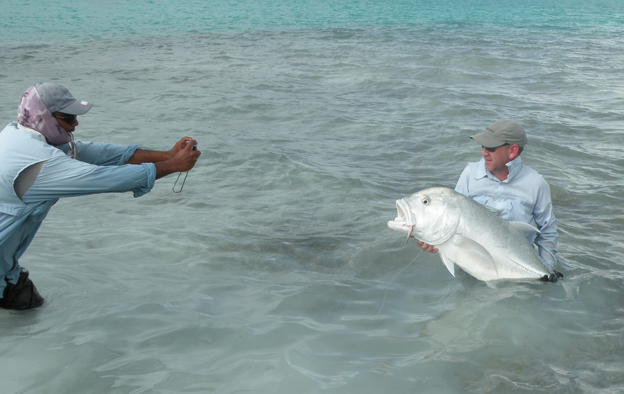 The last sight many fish will ever see!!
Fantastic fishing and 3-hour fights!
With the fishing being good at most marks we had not yet hit a true monster of a fish yet, we had caught them to 200lb but nothing bigger, that was about to change though. We had ventured to a mark called mile 100, the guides had warned us that this deepwater mark has a habit of producing some cracking fish and leaving anglers battered and bruised. The rods were cast out and the big baits were in the water, as well as the big baits here we had smaller baits in as well looking for a wide variety of species that inhabit these waters. Whilst waiting for one of the shark baits to rip off we had great fun catching Kabeljou, Steenbras, St Josef sharks and of course the ever-present Namibian Barbel, these smaller species kept the rod tips twitching and on the lighter tackle gave the anglers a fantastic fight. It was Nick who was first into a fish with his rod tearing off and line stripping from his reel he was in for an epic battle. The fish was really testing his endurance here with a back and forth tussle lasting a fair while before the fish appeared in the surf and the guides slowly guided her onto the beach to be landed. This fish was just over 300lb and a colossal specimen that was a sight to see.
After some quick photographs, she was guided back into the waves and swam away strongly ready to fight another day. An hour or so passed and then robs rod bowed over and the line started to peel off at a rate of knots, Rob lifted into this fish and it was obvious this was a very big shark, an epic fight ensued for the next 3 hours, the tide was ebbing and a large sandbank a couple of hundred yards offshore was starting to show itself with the white water. This beast of a shark spent the next couple of hours making its way back and forth over this sandbank. one minute it looked like she was beaten and then she would produce another turbocharged run into the distance followed by many laughs from those of us who were watching Rob do his best with this fish. Over 3 hours later she was finally beaten and the guides landed her on the beach, what a fish, a true monster going well over 320lb in weight. A true powerhouse of a shark, she was photographed and released and Rob slumped back into his chair tired but happy that he had managed to get such a beautiful fish onto the beach.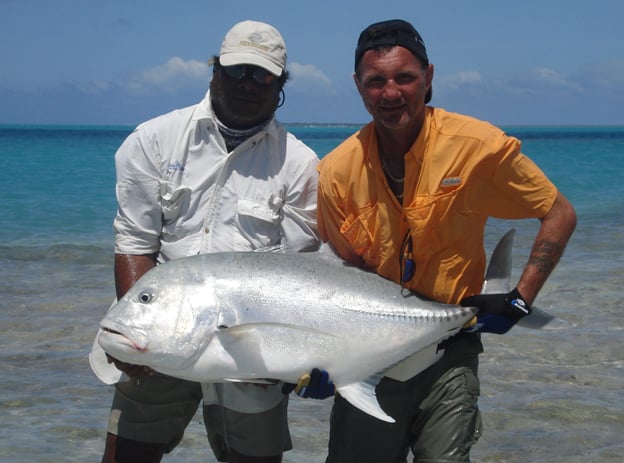 Ricky with a monster of a Bronze Whaler Shark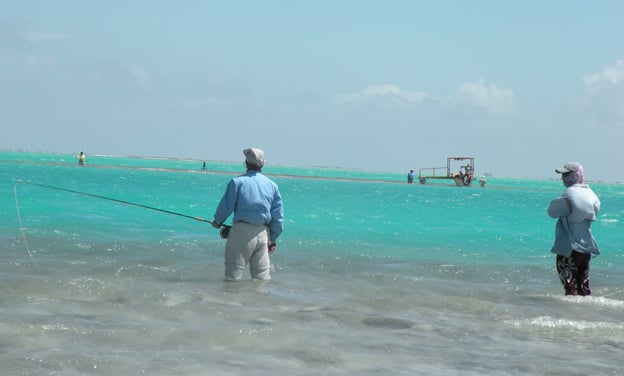 Jock had to take a seat after the epic battle with this shark
Beware the local homebrew!
The fishing was ticking along nicely at the with some great fish being caught by all the anglers out there. We spent a morning fishing for Spotted gully Sharks at one mark and it was carnage with quadruple hookups and fish hitting left right and centre at one point. With these fish going up to 60lb in weight it was some great, I even managed to hit into a big gully Shark on the rods that had much lighter tackle set out for smaller species. We had caught more Bronze Whalers of varying sizes, none of the huge sizes that were caught earlier in the week but we had them to over 200lb and even a couple of much smaller ones. There was even one that Kieron managed to pick up for a picture but not before the shark had tried its hardest to take a chunk out of his arm, it made for a great photograph though. Now this local homebrew which is mentioned earlier in the report, Louis the guide is a match angler at heart and loves nothing more than a competition.
He offered me, when fishing with the lighter gear, to fish and not catch the pest like Namibian Barbel, the deal was that for every barbel I caught I had to do 2 shots of the local homebrew but for every other species that were caught then he would do a shot of the evilness that is the Ogogoro drink. Well suffice to say it started well for me with some great bites, then it happened, winding in I could feel the weight and I was left hoping it was a Sand shark but in fact 2 Barbel slid out of the surf. The rod was quickly packed away and at dinner that night I was presented with a cup full of this foul-smelling, high percentage drink which was rapidly dispatched with a grimacing face, if you do head to Namibia ask Louis about the local brew and I am sure he will be happy to pour you a glass to try.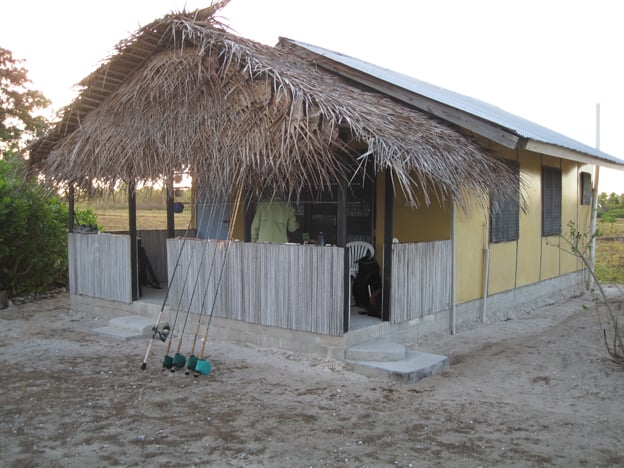 Keiron was chuffed with this smaller Bronze whaler Shark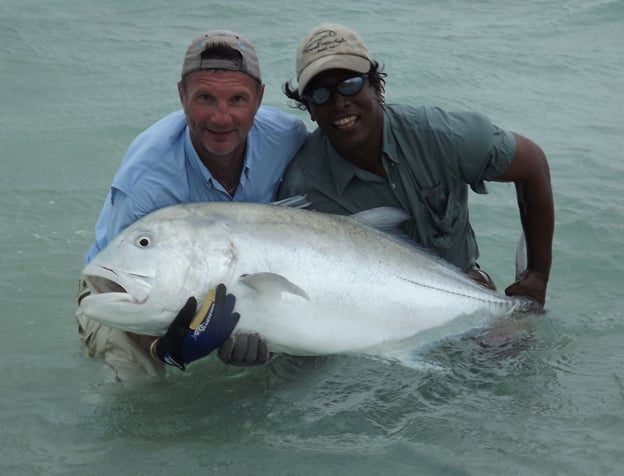 A great Spotted Gully shark for Ricky
Excellent food and great company
With the week nearing an end, we were still catching some big fish and the group of customers that were on the trip had all become great friends, the banter both on the beach and back at the guesthouse was great and everybody was always laughing, joking and smiling. The food at the guesthouse that is cooked for you every night is one of the highlights of this holiday. Every night we were left with bellies full of amazing food from Antelope steak and chips, all you can eat Lamb chops, steak cooked to perfection and some fresh fish dishes that leave the whole room in silence whilst eating as every last mouthful is savoured on the tastebuds. The anglers on this holiday agreed that the hospitality we received from both Louis and his wife Anneke at the guesthouse was fantastic, from start to finish they make you feel like you are part of the family and nothing is too much trouble to ensure your stay is as perfect as it can be. This truly is a fantastic place to visit, big fish, big food and guides that work as hard as I have ever seen guides work, they put every bit of energy into finding the fish that you want to catch and I for one would like to thank Louis and Andrew our guides for the work on the beach and also Louis wife Anneke for everything that they did for us at the guesthouse.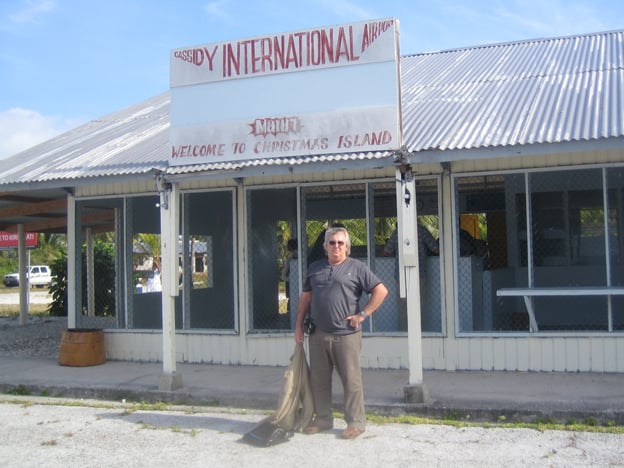 On the last day the whole team pulled together to land this big Shark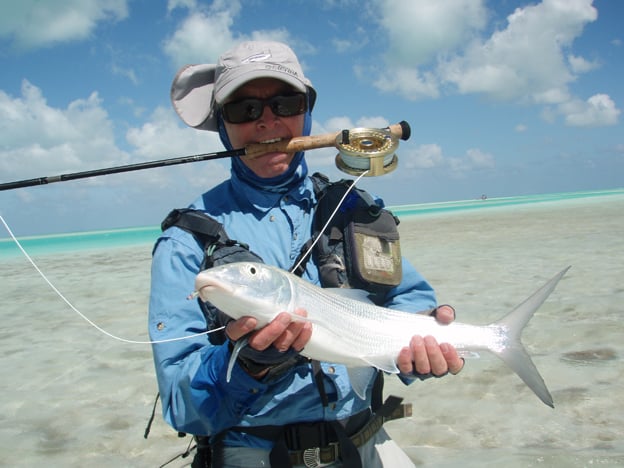 Keiron landed this shark after a very intense fight in the waves.
What a trip this was and I can not wait for 2021's hosted Namibia Shore shark fishing holiday when we return to the land of the Bronze Whaler shark.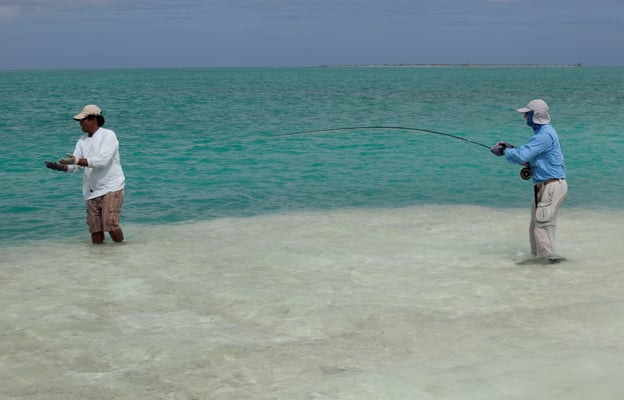 Rob with his beast that took 3 and a half hours to land.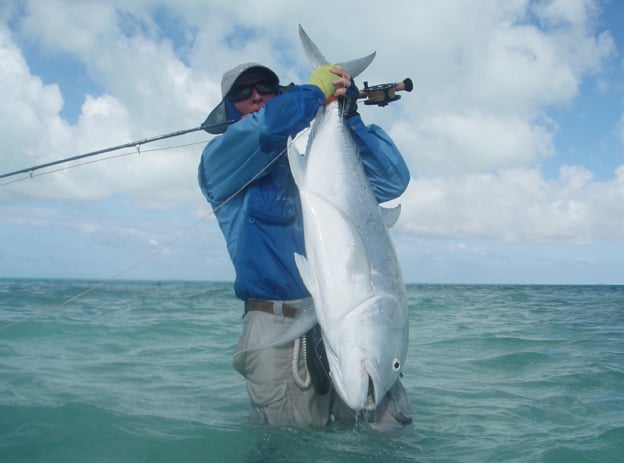 Louis and Andrew who guided us on this holiday did an amazing job
Contact Us: If you have any questions on any of the hosted Namibia Shark fishing trips we offer then contact us in the office, our team will be happy to help you with any queries you have. Additionally, you can request a free brochure.
You can find all of our hosted Namibia fishing destinations here.
Tight lines,
Matt