Water Conditions
Water Color – clear 
Water Level – low 
Weather Conditions
Temperature – Average 32ºC Sunny everyday without any rain

Fishing Conditions
Weather is being way hot right now and the rain has not started yet. This means that the water is still too warm and the river level is so low. Therefore, finding Payara was not easy for all of us once this fish prefers the rising river and cooler water.
We had to work hard to catch some Vampire fish at Xingu Lodge during this very first week. We had to go real deep to find better opportunities for the Payara bites.
They seemed to be more activated during late afternoons than early mornings, often at last the hours, just before the sunset. Luckily our guests understood the situation and insisted a lot on casting and letting to sinking real deep, knowing this method was the best way to make it happen!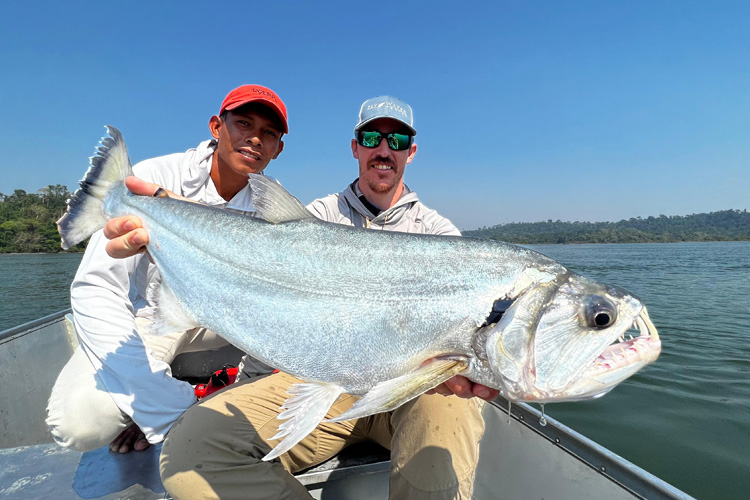 Fishing Stats
Anglers: 4
Total number of fish landed over this week:  38 (Payara, Peacock bass, Bicuda, Matrinxã, Corvina) 
Total Payara Landed: 13
Total Payara Missed: 28
Biggest payara landed in this week: 15 pounds
Biggest fish landed in the week
– Payara: 15 pounds  
– Peacock Bass: 57 cm 
– Mantrinxã: 46 cm
– Bicuda: 60 cm 
– Corvina: 53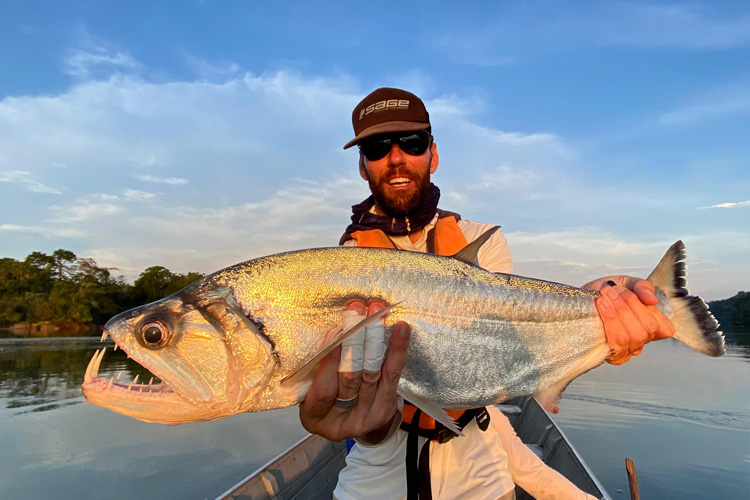 Hightlights
It was a pleasure to have these four anglers at the house opening our 2023 season. They were the first guests to make the Combined Trip "Kendjam – Xingu". Despite tough conditions due to the river level and lack of some rain, they kept their enthusiasm to keep trying for the Payaras.
Landon and Avery did such a great job landing a 14 and 15 pounds Payara, respectively, nicely done guys!
Xingu – Guides Staff
CONTACT US
If you would like to learn more about our Xingu River tour, you can visit the full tour page here. Alternatively, you can contact our fly fishing expert, Peter Collingsworth, on 01603 407596 or by email at peter@sportquestholidays.com.