After a few weeks of ecotourism programs; this week we received a group of anglers. While we continued waiting for the rains in this area, the river began to change its level progressively. Rains in the headwaters gave relief to a climate that is extremely harsh for fishing.
The temperature this week was held between 32 and 36º, descending to a few graduable 28 and 26 at night.
Peacock Bass fishing was good at the beginning of the week. Fishing with poppers and Sliders made the days much more fun. We were able to perceive a negative change in the action after the water level rose.
Matrinxas and Pacus are still active, with fishing improving a lot on rainy days.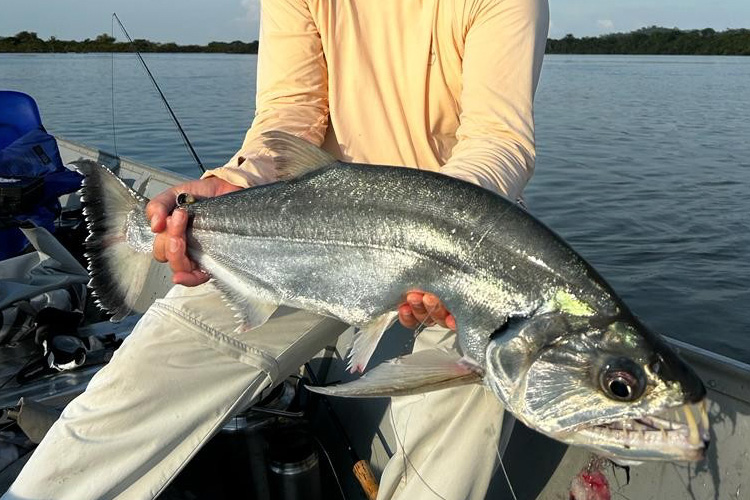 The places to wolfish didn't change much. Streams and their mouths continue to be the preferred place to wait for some prey to pass by.
For their part, the payaras began to move gradually. We started to have more action, but the number of captures remained low until the end of the week. All guests had the chance to face these elusive opponents.
For equipment, we still recommend 10 or 11 rods with fast sinking lines. Custom tip 462 grains continues to be the preferred choice of guides. Dark flies and Peacock Bass-type colors always with trailer hooks continue to be the most effective for now.
Don't forget to bring your light equipment with a floating line. A number 7 rod is a great alternative to use during the day and try other species such as Matrinxas and Peacock Bass.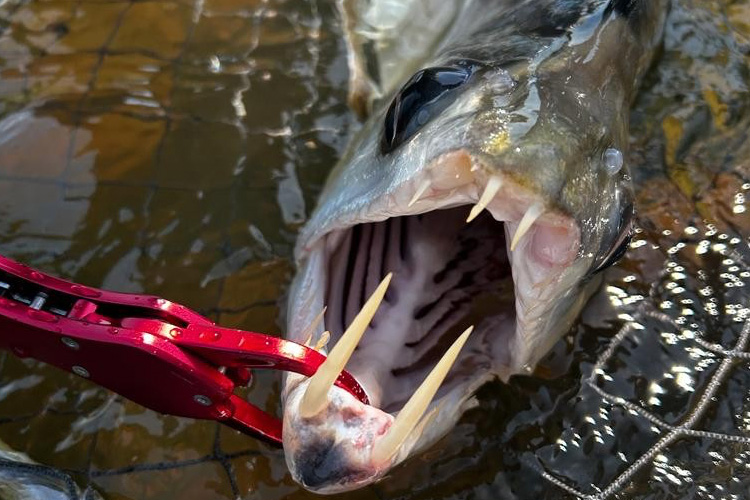 Fishing stats:
Total number of fish landed in the week – 200
Total payaras landed: 15
Biggest fish landed in the week:
Vampire fish: 90 cm
Wolf Fish: 70 cm
Peacock Bass: 59 cm
Mantrinxã: 50 cm
Pacu prata: 24 cm
Bicuda: 80 cm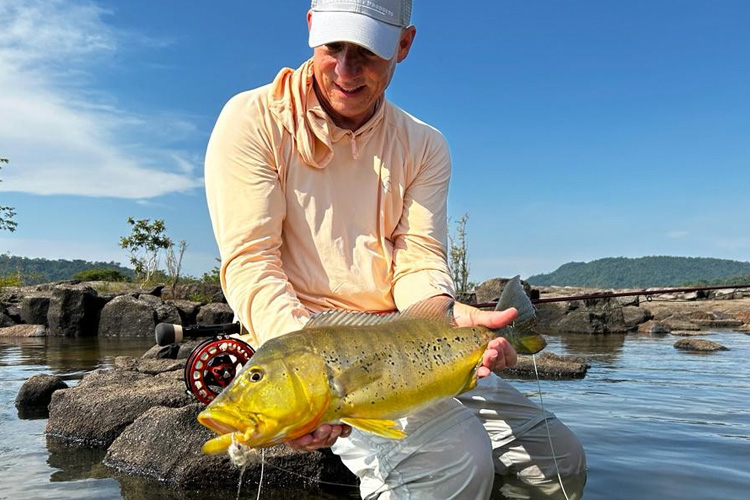 Highlights:
Tomas Wölfe along with Andre Kolbe decided to take a morning to appreciate the wildness of the area where our Lodge is located. The idea at first was to try to find monkeys and birds and photograph them. We never expected that in this short adventure, Xingu would give us the unique experience of meeting a jaguar along the way. But Tomas will tell more about this incredible experience in his next magazine article. Be ready!
Xingu team