Top Tips On Sight Fishing
Sight fishing has to rank amongst some of the most exhilarating ways to target fish within the sport. Every year thousands of anglers travel to far-flung parts of the world to spot and get shots of a vast array of different species.
Making the most of a sight fishing trip can take practice and it is safe to say the more you have done of this type of fishing the better you will be at it. There are some tips and methods that can help newcomers hit the ground running as well as give those more experienced anglers something to think about.
Great fishing holidays that these tips would be most applicable for would-be places such as Oman, Mexico, Seychelles, Christmas Island as well as many more Caribbean based countries.
Listen to your guide
This is something that goes for all guided fishing. 95% of fishing guides will know more about the fish and the fishing in the destination that they are guiding you and when It comes to sight fishing this can be even more important. A good sight fishing guide will be able to take you to the best places to spot fish, have the ability to spot them and then help you to see the fish. From here, they will be able to get you into a good casting position. However, leaning these skills as well will make the process a whole lot easier and will result in more hooked fish.
Learning to cast
People tend to think about learning to cast further when thinking about casting lessons.
Though the ability to cast further is very important when sight fishing, it is nowhere near as important as being able to cast accurately and without to much fuss.
When you can spot fish you can normally devise a plan with your guide to get closer without spooking them but if your cast lands 20meters away or too close it could result in a missed chance. The other problem is if you add unnecessary false casts it can cause line flash that can lead to spooked fish. Casting instruction and practice is always a good thing to seek before trips and many of the different casting instruction organisations can be found at fishing shows or on the internet.
Knowing your quarry
Although in most cases your guide will know the ins and outs of the fish species they guide for, it doesn't hurt for you to research and study the behaviours of what you intend to catch. This will allow you to spot fish more easily as you will know where to look. Also, you will start to learn the body language of fish and how best to approach them with regards to stalking and cast placement.
Learning to spot fish
Learning to spot fish is something that gets better with practice but there are a few tips that can help along with knowing your quarry. Invest in a good pair of polaroid glasses as these will really help you cut through the glare on the water. Being able to concentrate on the water can be a massive help in spotting fish, if you look long and hard in likely looking spots often fish will give you the most subtle hint of where they are. The flicker of a fin or the slight disturbance of sand can just be enough to give you a target.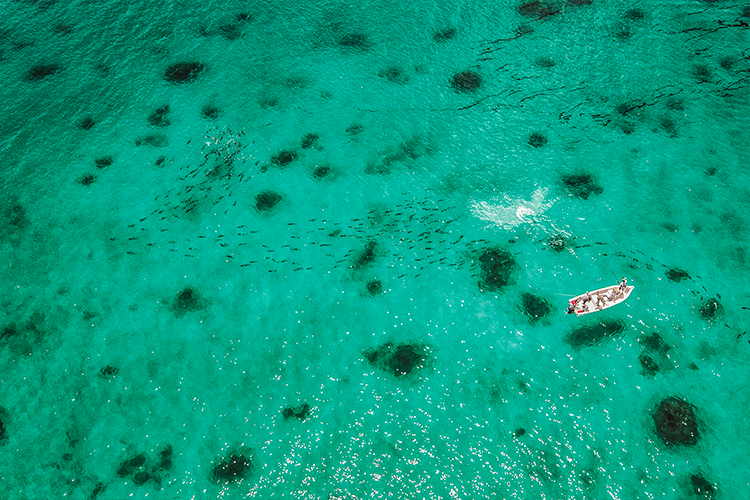 How to approach fish
Once a fish is spotted, being able to approach a fish without detection is most important as this is a really good opportunity to convert this 'shot' into a hooked fish. Think about using the sun to your advantage by not putting it directly into your eyes but also not casting a shadow on your intended fish. Sound and vibration also is something that you want to try to avoid, so don't shout to your guide and try to move stealthily as you stalk in closer for your cast. If you are onboard a boat try not to bang the side of the hull or drop anything as you approach you casting spot. Although a large part of sight fishing does come down to the ability of your guide, remember you are working as a team to help you catch more fish. The better you can become at the skills above the easier it will be for you and your guide to put you onto targets and convert them into landed fish which is enjoyable for all involved.
Contact us
Do you have any other tips or questions on Sight Fishing? If so leave them in the comments below.
Do you have any other tips or questions on Sight Fishing or any of our Saltwater fly fishing destinations, please feel free to contact us on 01603 407596 and our experienced team will be happy to help.
Tight lines,
Peter