The quality of Cod fishing in the UK is not the same as it used to be no matter how many Sea fishing tips for Cod you're given. The older generation has told tales of many double figure fish being caught in a single sitting but this is extremely rare now. This has led to more sea anglers travelling to colder climates, such as Norway and Iceland, in search of the very popular Cod.
Sea Fishing tips for Cod
Because of this, we have asked our Sportquest Holidays expert Paul Stevens to give some Sea fishing tips for Cod.
What time of year would you suggest to our customers to book up if they want to target massive Cod?
It all depends on what you would like to achieve from Cod fishing. The real Cod Season for targeting the big fish is in March and April. These Cod are called Skrei Cod and are a migratory Cod coming in from the Barents Sea to feed up and spawn. Once this happens and they have laid millions of baby Cod, they then drift back out to mega depths of water not to be seen until the following year.
The Skrei Cod that inhabit the coast of Northern Norway can grow to over 100lb, and this is your best chance of catching that dream Cod. However, you have to be aware that the weather can be cold at this time of year, and if you choose to travel at this time, be prepared for some cold weather as it's really the winter Cod season. However, the rewards are there.
What destinations would you recommend to our customers for the best chance of catching the Cod of their dreams?
One of the best destinations I have been to target these huge Skrei Cod is Sørøya. On our hosted trips we have landed them to 94lb and my personal best is 84lb. Sørøya is the home to the world record rod and reel caught Cod at 104lb. The Skrei Cod get caught all along the coast of northern Norway including the Lofoten islands at both our Nappstraumen location and Å and another great location is Mefjord. All these destinations produce awesome catches and all offer different options, so if you would like some advice just call me.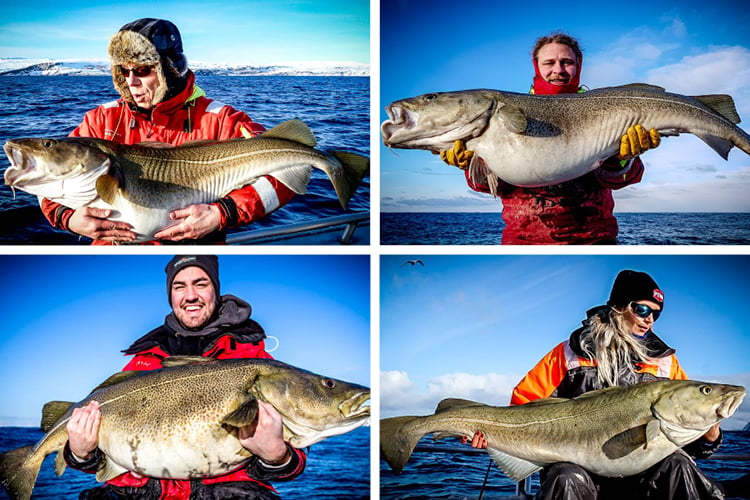 What main tackle (rods/reels) would you suggest our customers use when fishing for the Skrei Cod?
Starting with the rod, I like to use the shortest rod as possible. My personal fishing rod is 5.5ft and weighs hardly anything (you have to remember you will be holding this all day). A rod rated to cast in the 20-30LB class is perfect for these Cod. Many people don't really think Cod fight, but let me tell you when you hook a 50-60lb Cod in 50-60m of water you know about it.
My reel of choice is a Daiwa Saltist. These are fairly expensive but well worth the money as the clutch is smooth and they are built to last. At this time of the year, it is important to use quality reels as I have seen people turn up with cheaper options and lower quality fixed spool reels for them to fail due to the cold temperatures. Why spend your hard-earned money on a quality fishing holiday and then scrimp on the one thing that connects you to the fish of your dreams.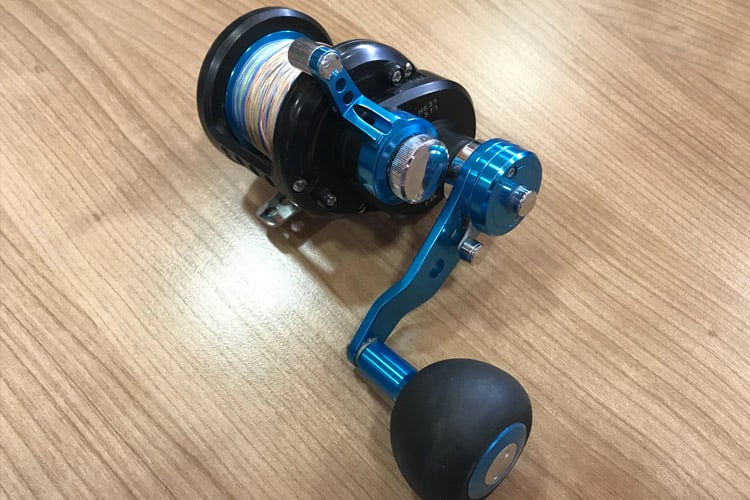 What mainline would you say is best for Cod fishing?
When targeting the huge Skrei Cod the most important piece of equipment is depth marked braid. Many companies produce this line but I like the power pro depth hunter in 60lb or Daiwa Accudepth. It is very important to have this braid due to fishing your lure at certain depths and knowing where your shad is, is the difference of a 30lb to an 80lb Cod. If you lower your shad to far you will constantly get 10 – 30lb Cod (which sounds great) but you are not going to Norway in these conditions for this sized Cod you are after the proper ones.
More information on Norway Sea Fishing:
Is the fishing for Skrei Cod different from fishing for normal Cod?
It certainly is. I will try and explain a little about how to fish for the Skrei Cod – Once you have found your big shoals of Cod, you need to slow your boat down and keep your eyes fixed on the fish finder. What you are looking for are the tops of the shoals, this will be where most of the bigger Cod can be found. Once you know the depth of the top of the shoal, you need to lower your shad down, counting the colour-changing braid as it goes. Once you have got to your depth the rest is up to the Cod. Small movements are what you need to do, if you move your shad in an erratic manner you will attract the attention of the smaller Cod, so keep the movement down. TOP TIP: Another very useful thing to be aware of is if you see an odd random fish sitting mid-water on the fish finder well above the shoal and looks like a single fish this really is the big one and it is vital that you hit the spot and know exactly where your shad is in the water column. In situations like this, I have seen the biggest Cod get caught and is how I managed to get my huge Cod so make sure you are watching the fish finder at all times.
What shads would you recommend to catch the Cod?
When the Skrei Cod are feeding I like to offer them the biggest shad possible, Westin (a Scandinavian fishing company) produces a shad called "Big Bob" and offers two different sizes. I prefer the big bait of the two which is 40cm weighing 720g. When the Cod go off the feed a little then I will drop the size of my shad down to try and temp a bite. These shads are slowly dropped off the sides of your vessel so you will not have to worry about casting distance and long-range casts.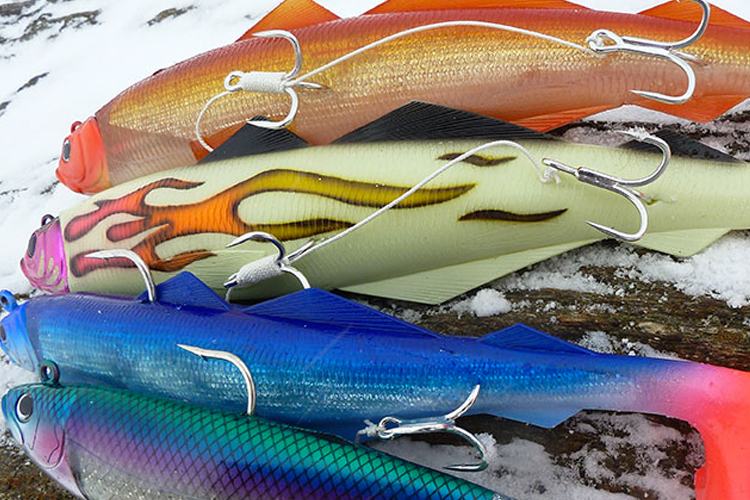 What is the best way to make the shad work and how to get the Cod interested?
When the Cod are feeding simply lower the shad down to the top of the shoal knowing how much line has come off your spool and with quick sharp movements of the rod tip, work your lure. Don't move the shad too much as you will attract the smaller Cod. Little sharp quick movements are what the bigger Cod like or even sometimes, no movement is best.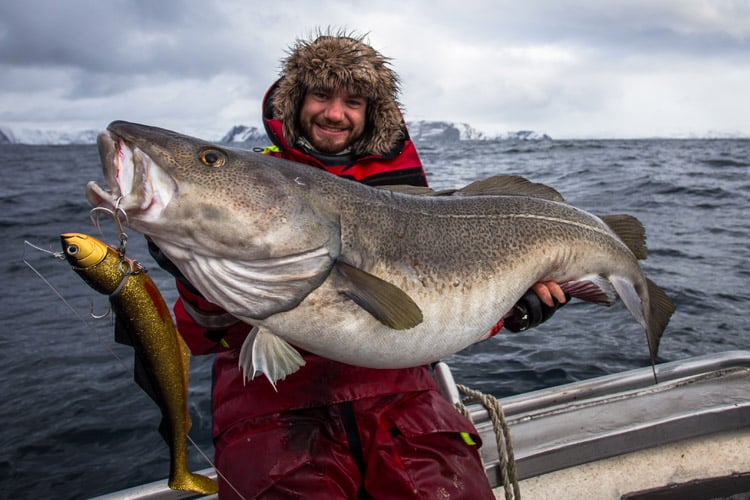 How do you practice catch and release with the Cod, how do you handle them in the boat?
If you plan on putting your prize Skrei Cod back then there are a few things you should practice. The first (once hooked) is to reel the Cod up until you can see it appear beneath the boat. You should start to see the Cod around 7–8m below the boat, as soon as you see this, stop reeling. The Cod will sit there and expel all the air from its swim bladder and once all the bubbles stop hitting the surface and the Cod starts to fight again then it is time to reel your prize fish up for weighing and photos. Please try to chin the fish out of the water rather than gaffing it, have everything ready to weigh and photo as quickly as possible so you can return your Cod.
How will I know if the Cod are feeding?
When you are driving the boat around searching for Skrei Cod, you will notice that sometimes the fish are hard on the bottom and other times they are really spread out in the water columns. When they are spread out and not tight to the bottom it is dinner time.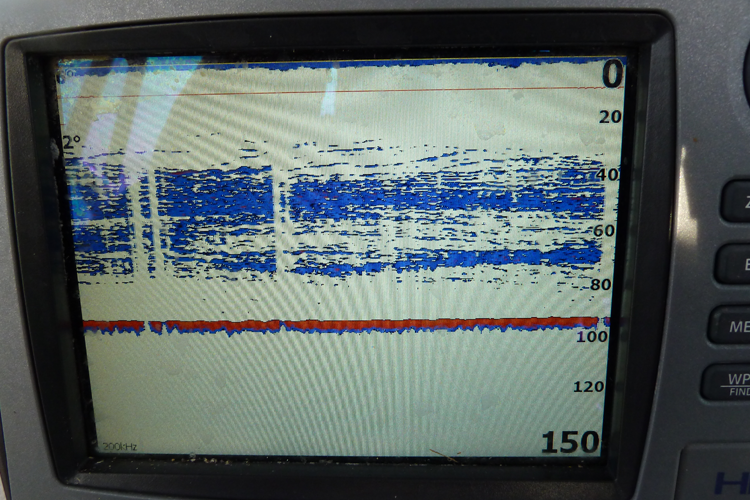 Can I catch any other species whilst Cod fishing at this time of year?
It is possible to target other normal Norway species but when you have the chance of a world-record Cod, why would you want to fish for anything else? There are better times of the year to target the other species.
Contact us
If you have any other Sea fishing tips for Cod or questions about Skrei Cod fishing, leave them in the comment section below and we will answer them for you. If you would like to speak to us personally, you can contact us using 01603 407596 or by emailing info@sportquestholidays.com.
If you are looking for more information and advice on Sea Fishing in Norway other than Sea fishing tips for Cod, then head over to our complete Norway Fishing Guide here. For some fantastic footage of some of the Skrei Cod action that can be had in Norway, take a look at this video which can be found on our Youtube Channel.
Tight lines,
Paul