Norway really is the destination that sea anglers from all over the world are wanting to travel too. This fantastic fishing destination located up in the Arctic Circle is world-renowned for the huge fish that live there, big Cod, Halibut, and Coalfish are the targets on many anglers hit lists.
Sportquest has many great destinations in Norway and each one is unique in its own way, each one offers something different to the visiting angler and here we will go through them one by one giving you a great insight into what each camp has to offer the angler visiting Norway. We also offer fully hosted trips to all our sea fishing destinations so if you can only travel on your own or would like to benefit from our hosted trips then why not look at all our Hosted Norway Fishing destinations
We have also given each destination a score rating for difficulty with 0 being easy up to 10 is more challenging
SANDBAKKEN
The destination of Sandbakken is the perfect place for anybody wishing to visit Norway for the first time. The cabin and boats are located within a Fjord and provide anglers with the ideal base for some simple fishing that will not stretch the first time Norway anglers boat handling skills. Here are some of the things that make Sandbakken a great place to visit.
We would class this a 2 out of 10 for difficulty
Ideal first-time destination, easy to use boats and normally calm waters.
Weatherproof as it is situated within a fjord, so you will normally get to fish each day.
They have a fantastic run of Coalfish push up the Fjord in the summer with some superb specimen fish being caught.
Each cabin has its own private sauna
---
MEFJORD BRYGGE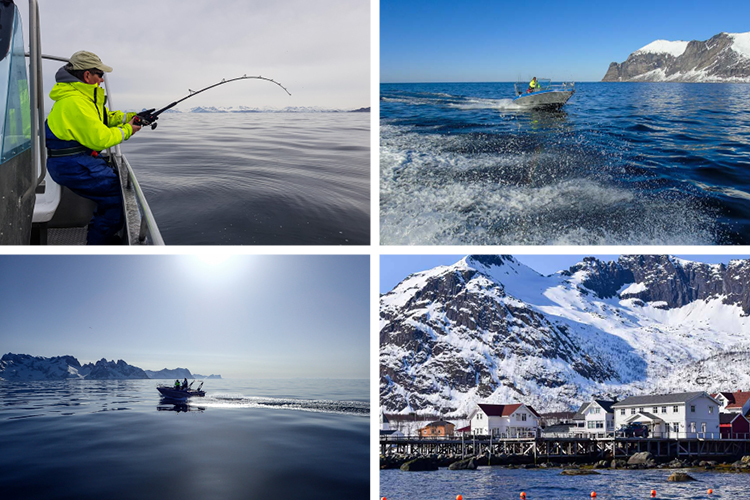 Mefjord Brygge is situated on the island of Senja in northern Norway, this beautiful destination is renowned for its early-season Skrei Cod fishing and is also recognized as one of the best places in Norway to see the Northern lights. When at Mefjord you are situated within a fjord but you are within a 15 minute steam from the open ocean giving you the choice of where to fish. This is perfect for those that do not have super steady sea legs as if the sea gets a bit of a swell you can head back in and fish the fjord which is also filled with fish. Below are what we believe makes Mefjord a great place to visit.
We would class this a 3 out of 10 for difficulty
They have a superb bar/restaurant on site which is the perfect place to relax after a long day out on the water.
Easy and basic to handle boats
Fjord and open ocean fishing
A huge variety of different styles of cabin
---
SØRØYA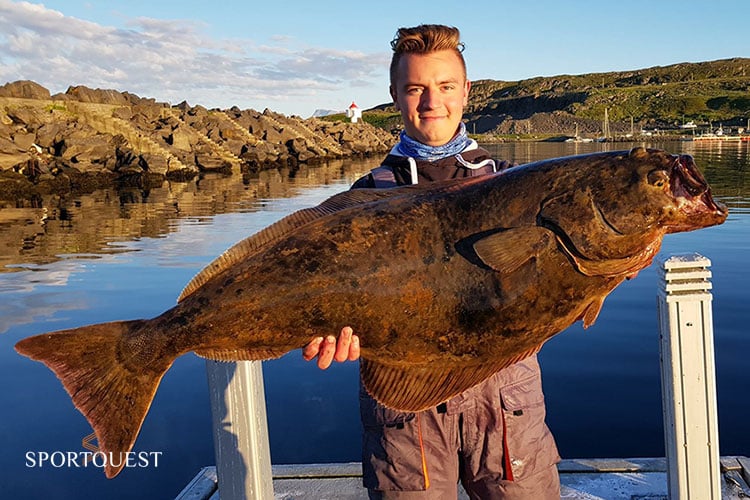 Soroya has a reputation for being the land of the big fish. This island is located right up in the Arctic circle and has some of the most fish-filled waters surrounding it. We have different sized boats available at Sørøya, meaning that if you wish to have a little bit more comfort then the option is there. Guides are also able to be booked when visiting Soroya if you wish to have a helping hand with your fishing. Just give us a call in the office and we can discuss options for you. These are what we believe makes Soroya a fantastic place to visit.
We would class this a 6 out of 10 for difficulty
Very good fishing all year round with many big fish showing to visiting anglers throughout the season.
Different sized boats to hire if you require something slightly larger or more luxurious.
Easily accessible as you fly onto the island and then it is a short 15-minute drive to the camp.
There is a bar/restaurant on the main site offering full board option
---
VESTERALEN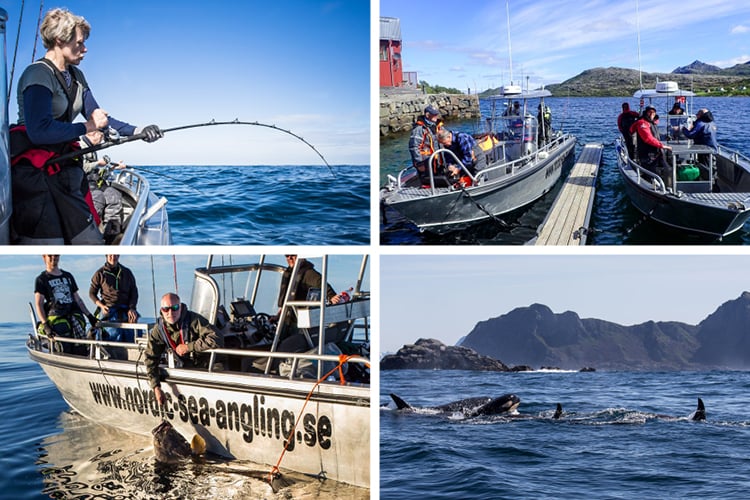 Located above the Lofoten Islands up in the Arctic Circle, the destination of Vesterålen is one that should be on every sea angler's list of places to visit. Located within a fjord Vesterålen is one that we like to class as weatherproof, meaning that when the wind blows up you should be able to still get out fishing around the camp. When fishing here you can fish within one of the many surrounding fjords for the many fish that live here, you can also head to the open ocean and fish some superb marks. These include one that is offshore and holds some huge Ling.
Another big attraction to Vesterålen is the deep-water marks accessible from here, 800m plus in-depth, these hold some species that you will not be able to catch at many other destinations. We also have guides at this camp which are on hand to help with any questions you may have, you can also book these guides if you wish. If you would like any more information about this then contact our office. Here is what we believe makes Vesterålen a superb place to visit.
We would class this a 5 out of 10 for difficulty
Some of the best Ling fishing in Norway, specimens of 70lb plus have been caught here and bigger fish have been lost.
Fishing here you have access to marks that are over 800 metres in-depth, this gives you the chance to catch species such as Ratfish and Blue Halibut.
Sheltered accommodation and harbour meaning that the chances of getting out fishing when it is windy is high.
Top of the range boats with all modern electronics
---
NAPPSTRAUMEN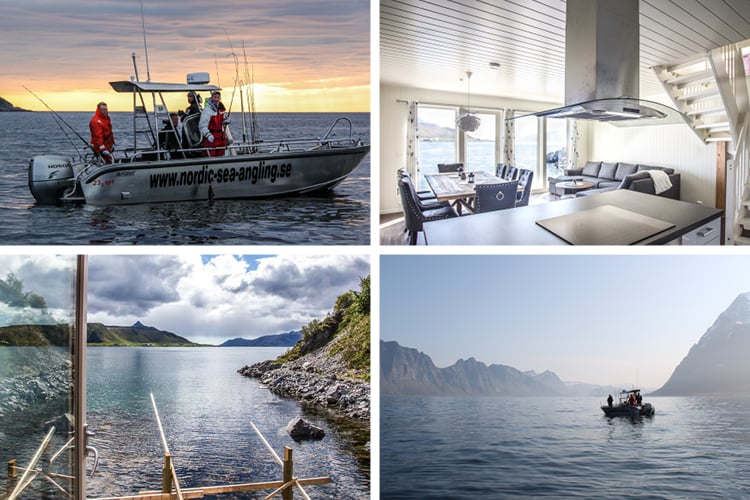 Situated on the Lofoten Islands this great destination is one that provides visiting anglers with not only superb boat fishing but also some of the best shore fishing available in Norway. The boat fishing here can be very good, you are situated within a fjord so are fairly weatherproof. This also means that if you do not have super sturdy sea legs then you will be able to fish in the more relatively calm waters of the fjord. The open ocean is only short steam from the camp, this gives you the chance to fish along the southern coast of the Lofoten Islands which are filled with fish.
The shore fishing is from this destination as well and it is not to be missed. When fishing from the shore here you are fully guided all week by our head shore fishing guide. He will drive you to the marks and advise on the best way to fish them, unlimited fish baits here are included in the cost of your holiday too. The chance of some very big Halibut from the shore here is a real possibility as well with fish of over 100lb swimming very close to the shore.
Whether fishing from boat or shore at Nappstraumen all anglers will have their own room, meaning no sharing with snoring friends! Guides at the camp of Nappstraumen are available to answer any questions if needed and can be booked up to aid in your fishing, please call the office for more information. Below you will find reasons why we feel Nappstraumen is a fantastic place to visit.
We would class this a 4 out of 10 for difficulty
Every angler visiting Nappstaumen gets a Single room.
Full-time fishing guide onsite
Huge walk-in fast freezer
Close to a local town for shopping and days out
---
HAVOYSUND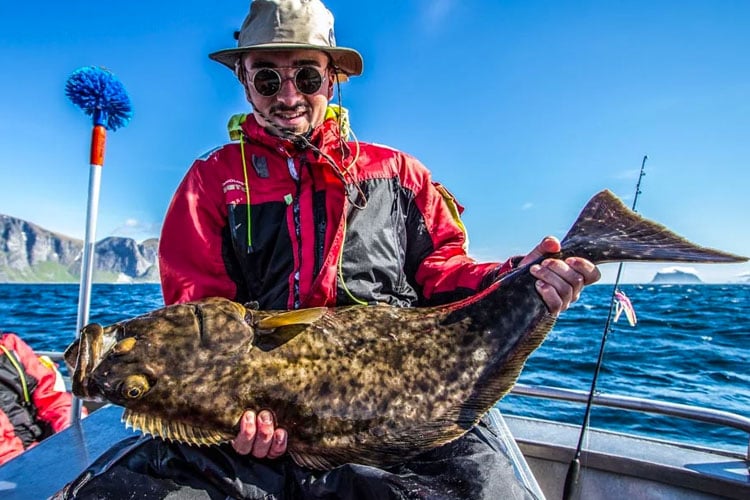 Havoysund has a reputation for producing some fantastic halibut fishing and with it being called the Kingdom of the Halibut you can see why. This stunning fishing camp is located on the island of Havoysund in the far north of Norway. Here you have access to some excellent open sea fishing as well as the many little bays and channels that are located close by to the camp. Guides are available here to answer any questions you may have and are available to be booked up, give us a call in the office for more information about this.
When staying at Havoysund the local shop is only a 5-minute walk from your cabins and an all you can eat buffet-style breakfast is included in the cost of your holiday. Below are what we believe makes Havoysund a great Norway destination.
We would class this a 6 out of 10 for difficulty
Superb Halibut fishing around the camp, big fish are sometimes caught very near the harbour.
Breakfast is included in the cost of your holiday meaning it is one less thing to worry about.
The boats here are 23ft Arronetts with 150hp engines, these make great fishing platforms. This is perfect for hauling up a 200lb plus Halibut from the depths.
Free days guided fishing subject to availability
---
Å ON THE LOFOTEN ISLANDS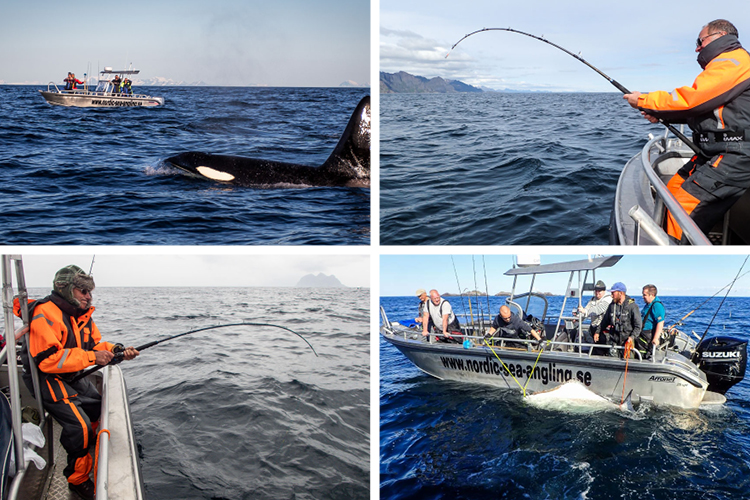 The camp of Å is located at the far south of the Lofoten Islands and has earned a reputation for being one of Norway's top sea fishing destinations. Year on year this camp has produced some phenomenal Halibut to over 300lb throughout the seasons, with many 100lb fish being caught too. Another big attraction for anglers visiting Å is the "stream", this area where two moving tides converge is not one for the faint-hearted.
Those who fish this area though will be rewarded with some of the best specimen Coalfish fishing you will find in the world, many fish can be taken off the surface using popping or shallow-diving lures. It is not only Coalfish that can be caught from the stream, with big Halibut and Cod being caught here too, below you will find some reasons why we would advise anglers to head to Å.
We would class this a 7 out of 10 for difficulty
You have the chance to fish the world-famous stream and target the huge coalfish that live here.
This destination produces 300lb Halibut each year to visiting anglers.
Local guides are available at the camp if you need any advice.
Onsite bar/restaurant offering breakfast, lunch and evening meals
---
Hopefully, this information has given you a bit more of an insight into the different destinations we have on offer at our camps in Norway. I am sure you will agree that each one is individual in its own way, but each one always gives anglers the chance to catch fantastic fish in the Arctic Circle and from the beautiful country that is Norway.
For more insights, articles, and expert travel advice for all things Sea Fishing, make sure to visit our Ultimate Guide To Sea Fishing.
If you would like to speak to a member of our sea fishing team then call us on 01603 407596.
Tight lines
Sportquest Holidays